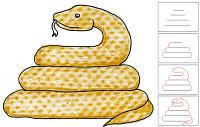 You can buy plastic texture plates for making crayon rubbings, or you can be thrifty and use one of those convenient store coffee cup holders for free.

1. To first draw a snake, follow the diagrams shown above. Start by making 4 parallel lines that shorten to make what somewhat looks like a pyramid.
2. Connect the lines with curves, leaving the top right side open.
3. Add a curved neck and head.
4. Finish with a mouth, tongue and end of tail.
5. Trace the snake with a thin marker. Open up one of those brown paper coffee cup holders (mine was from am/pm) to lie flat. Place drawing over cardboard and rub with a crayon to make snake skin.
CA Visual Art Standard: Creative Expression, Grade One
2.1 Use texture in two-dimensional and three-dimensional works of art.