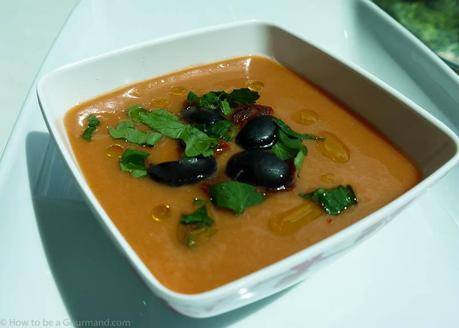 Dragon boat Gazpacho
The end of June/start of July marks the season of Dragon Boat racing in Hong Kong. Teams line up donned in their colourful lycra to do battle against each other in pockets of the South China Sea. The most popular and well attended event for Dragon Boat racing takes place in Victoria Harbour and thousands pack the Tsim Sha Tsui waterfront to cheer on the participants.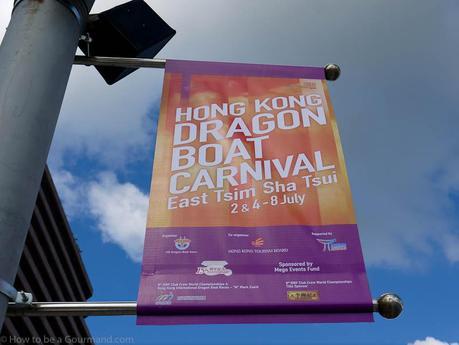 Dragon Boat Carnival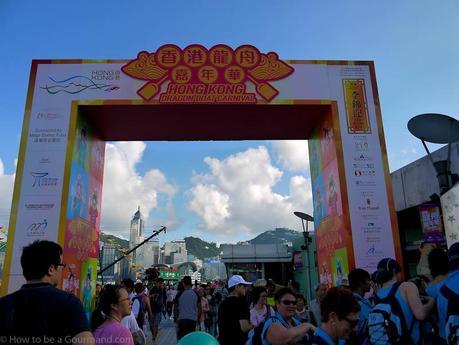 Entrance to the Dragon Boat Carnival
This year was especially symbolic as 15 years have now passed since the handover from UK to Chinese control. To honor the occasion, Chinese President Hu Jintao flew in to lead the main events and swear in the new territory leader. This in itself caused a lot of protest and heated debate more of which you can read about here, but for the thousands that attended the Dragon Boat Carnival, they were there to celebrate and enjoy the fun of such a great sporting occasion.
For a good part of the year the sky of Hong Kong is covered in clouds, but on this day we got a sneaky peek at a blue sky which meant that the teams were competing under a baking hot sun. Good from a photo perspective but tiring from a participant's point of view.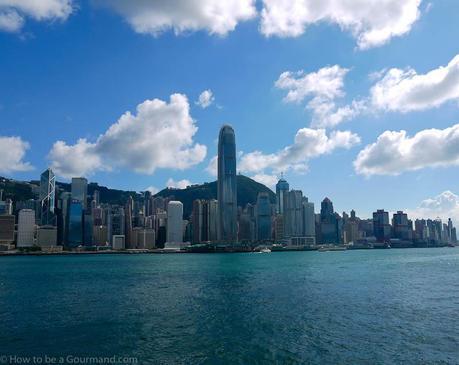 Hong Kong Island under a baking hot sun
It was very hard to take shots of the teams in motion as crowds of supporters and visitors packed the promenade, coupled with very fast and determined teams, the best I could manage was a photo post finish line!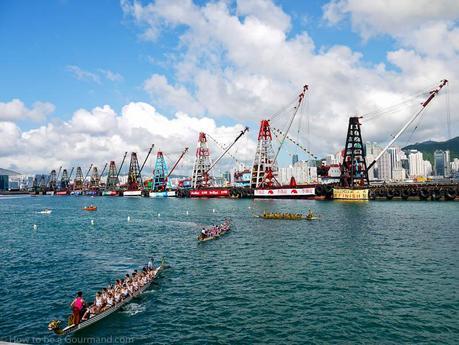 Dragon Boat racers post race
Then I got to thinking… if I was taking part in the Dragon Boat race, apart from water, what would be the one thing I would like to have just to make me feel human again. How about Gazpacho? That might do the trick…at least as a starter anyway. Cool and refreshing and full of ripe juicy tomatoes. Just the ticket, eh?
I then did a bit of digging and noticed that Felicity Cloake had done quite a bit of research on making the perfect gazpacho.  You can read all about it here. I'm using Felicity's recipe as a base with a few changes.
Felicity's recipe promotes a generous portion of extra virgin olive oil at 150ml. I'm a huge fan of extra virgin olive oil but I just couldn't bring myself to put that much in and reduced the measurement down to 80ml (even that was worth a wince!)
I couldn't get my hands on sherry vinegar so I used balsamic instead. Although red wine vinegar also works well with this recipe.
I also used a yellow pepper instead of a green pepper.
Just like the dragon, I like a bit of heat so I added 1 bird's eye chilli to the recipe. This wasn't overpowering but provided the subtle heat I was looking for.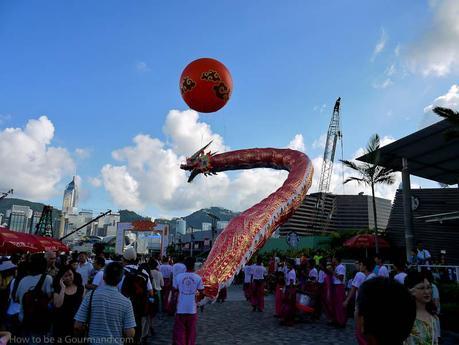 A Dragon watches over us
Like all my recipes, they are extremely easy to reproduce. I would say the most effort associated with the recipe is passing the mixture through a sieve but it is an absolute must for this recipe. Otherwise traces of pepper and tomato skin will coat the roof of your mouth and if you are really unlucky, get caught in between your teeth. Not a great look! You could peel the skin from the tomatoes and pepper before blending but I find the sieve method less fiddly.
As gazpacho is an Andalusian dish, I thought I would garnish with grilled chorizo, Spanish olives and parsley.
Felicity has recommended other garnishes including hard boiled eggs, cucumber and pepper which would suit my Vegetarian chums.
Here are the ingredients I used for the Dragon Boat Gazpacho. Have a go and see what you think: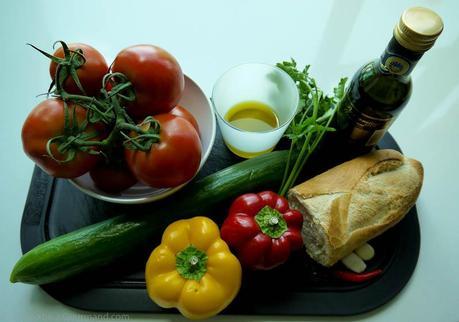 Ingredients for Gazpacho
Print Dragon Boat Gazpacho
Prep Time: 30 minutes
Total Time: 30 minutes
Serving Size: Serves 4 for Starter or Lunch
A wonderful Summer soup. Ideal served as a starter at a dinner party or for lunch. Extra time is required for chilling the soup.
Ingredients
For the Gazpacho
100g slightly stale crusty white bread, soaked in cold water for 20 mins
1kg very ripe tomatoes, diced
1 ripe red pepper and 1 yellow pepper, deseeded and diced
1 medium cucumber, peeled and diced
2 cloves of garlic, pressed
80ml extra virgin olive oil
2tbsp of balsamic vinegar
1 bird's eye chilli, finely sliced and deseeded.
Salt, to taste
For the Garnish
2 slices of grilled chorizo * 4
2 black olives *4
A bunch of roughly chopped parsley
Instructions
Mix the diced tomatoes, peppers and cucumber with the crushed garlic, chilli and olive oil in a food processor or blender.
Squeeze out the bread, tear it roughly into chunks, and add to the mixture.
Blend until smooth, then add the salt and vinegar to taste and stir well.
Pass the mixture through a fine sieve, then cover and refrigerate until well chilled (ideally overnight)
When sufficiently chilled serve with diced black olives, grilled slices of chorizo and freshly chopped parsley.
Schema/Recipe SEO Data Markup by ZipList Recipe Plugin2.0http://howtobeagourmand.com/dragon-boat-gazpacho/Unless otherwise stated, text and photographs © 2011 How to be Gourmand. All Rights Reserved. Kindly request permission from the author to copy or reproduce elements of this blog.
I'm adding this entry to the blogging challenge called One Ingredient for July which is the Tomato. This challenge is run by Laura at howtocookgoodfood and Nazima at Londonworking mummy. There are so many tasty entries so far. Have a look and indulge yourself!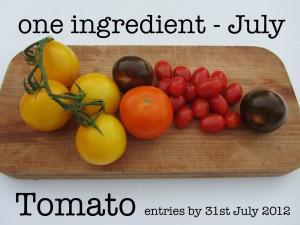 What are your thoughts on Gazpacho and how would you garnish it? Do let me know in the comments below!
Like How to be a Gourmand on Facebook.