We apologize for our lack of weekly jewelry and Anglophilia dish, but we're back with one last Downton Abbey jewelry recap for the season 3 finale. We begin with the entire upstairs household (but not Branson) preparing for a 10 week trip to Scotland to visit Duneagle, Downton's doppelganger. The maids flutter about, debating which jewels to bring (the diamond stars and just one tiara) while the male staff loads Louis Vuitton "inspired" luggage into the cars (we know Lady Mary would use strictly authentic Louis Vuitton trunks). But this week's lengthy and devastating, life-ruining Christmas special provides plenty of Downton jewelry eye candy, even if it does break our hearts. Spoilers and fabulous antique jewelry ahead!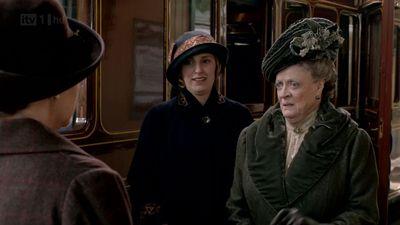 The Countess' traveling jewels give us our first taste of jewelry goodness. Her green gemstone earrings and brooch are understated, elegant, and perfect for the countess's casual apparel. In other costuming, it's not jewelry but attention must be paid to Cora's stunning travelling cape.
The tiara came in handy for dinner and bagpipes with the Duneagleites.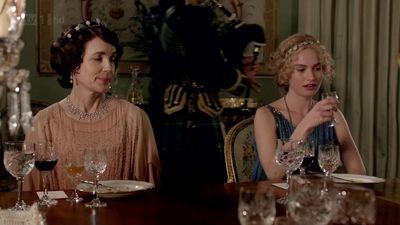 Lady Mary wears her Georgian wedding tiara, the countess is in her favorite opera length diamond necklace and an understated tiara. Cousin Rose is wearing fun briolette earrings, a diamond studded headband tucked into her curls and a long beaded necklace. Even Edith gets blinged out in a long necklace featuring what looks like rose cut diamonds by the yard.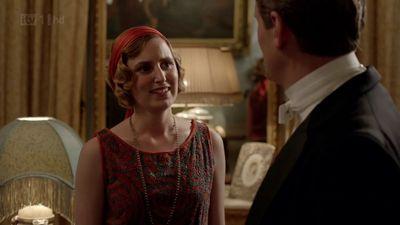 However it's Susan's tiara and ruby bead necklace that take our breath away.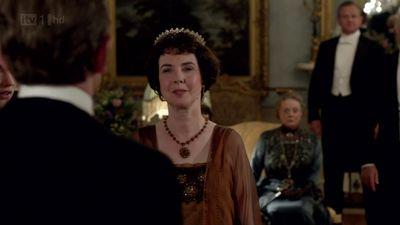 Dinner the next evening gives us our next favorites (of course). Cora's tiara and diamond necklace with matching earrings prove that the lady of the house has no qualms about wearing carats by the dozen.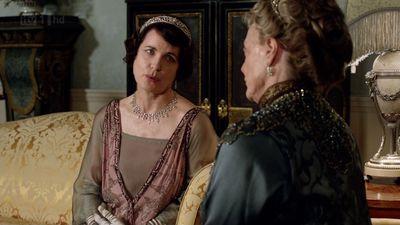 Rose's flapper headdress – amazing! Beaded, deco, and worn completely without irony. If we could be reborn, it'd be in the 20′s.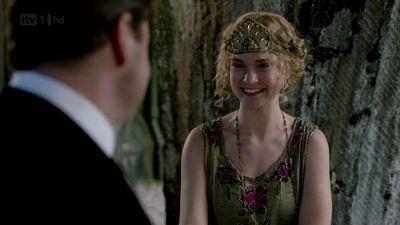 Another dinner, another tiara for Susan (baguettes that look smashing with her tartan sash and gorgeous diamond and emerald necklace.)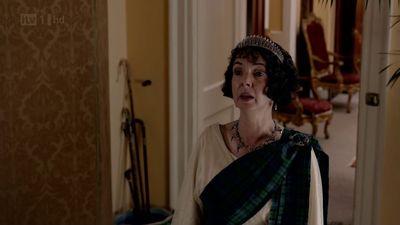 The Countess wears her smaller tiara along with her diamond choker and long diamond necklace; the ultimate traditional style of her jewelry is in direct contrast with her jovial advice for poor Rose, who just wants to wear the latest fashions (like an amazing silk drop waist dress and diamond head wrap) without critique from her mother.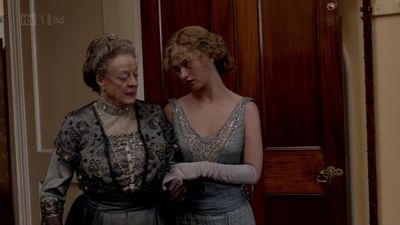 Later, at the Gillie Ball, kilts abound and Mary dons her own diamonds by the yard necklace – we know Edith would never let her borrow hers – that cascades down to her baby bump. She again breaks out the family tiara – this is one aristocrat unafraid of repetition!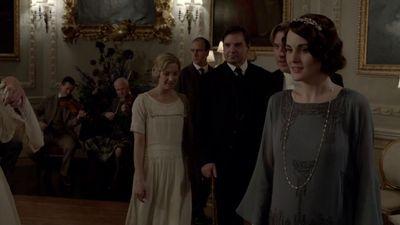 Cora, who apparently did end up bringing more than one tiara, repeats her gorgeous diamond necklace, but adds a new tiara to the mix. However the joyous dancing and lovely tiaras come to an end with Mary's departure. Given the hefty dose of foreshadowing, we're scared but not surprised that Lady Mary takes the first train home and doesn't even stop back at Downton before heading to the hospital.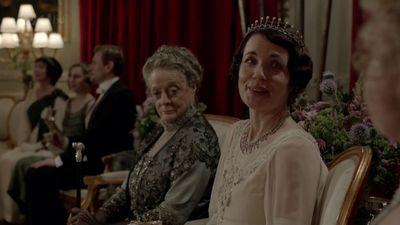 That sweet baby Crawley is born without any complications is the small favor we can take away from this heartbreaking finale. With some of our most beloved cast members dropping like flies, we can only hope that next year brings on the bling to compensate for our loss.