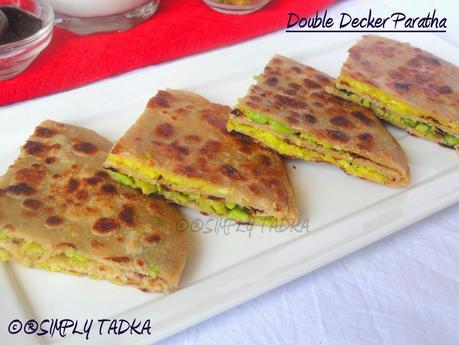 Here is my second recipe
"Double Decker Paratha" under theme of celebrity chef recipes.
 I adopt this recipe from Tarla Dalal's food portal , she is very famous Indian cook book author. I love her recipes because of simplicity. 
Double decker paratha is a layered paratha which stuffed with two different types of filling. For this recipe, I choose one, spicy peas filling and second, potatoes and paneer filling. You can change the filling as per your choice and serve with curd/ lassi and pickle.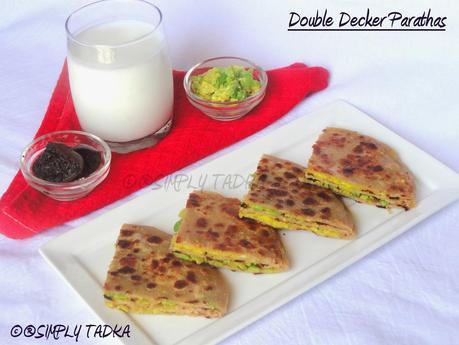 Preparation Time: 25 Minutes
Cooking Time: 30 Minutes
Servings: 4 Parathas
Recipe Source: Tarla Dalal
Category: Indian bread
Ingredients:
3 Cup Wheat flour, dough
Clarifying Butter/ Desi ghee, shallow frying
For Peas Stuffing
1 Cup Fresh Peas, boiled
1 Tsp. Green Chili, chopped
1 Tbsp. Green Coriander, chopped
1/2 Tsp. Roasted Cumin Powder
Salt to taste
Red chili to taste
1 Tsp. Coriander Powder
1/4 Tsp. Chaat Masala
1/2 Tsp. Lemon Juice
For Potato Stuffing
2 Potatoes, boiled and mashed
1/2 Cup Cottage Cheese, grated
1 Tsp. Green Chili, chopped
Salt to taste
Red Chili to taste
1/2 Tsp. Turmeric Powder
1 Tsp. Coriander Powder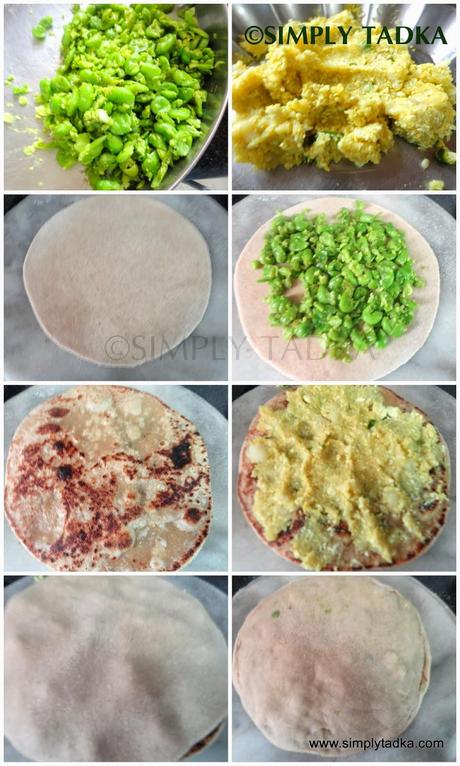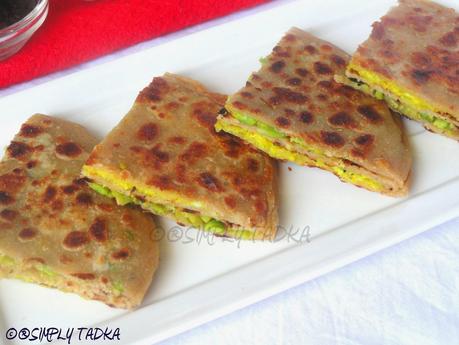 Instructions:
Combine all ingredients of peas stuffing together in one bowl.
Combine all ingredients of potato stuffing together in separate bowl.
Prepare the firm dough with wheat flour and water.
Divide the dough into equal 12 portions and roll out the portion as paratha.
Cook 4 parathas lightly on tawa and keep aside.
Place the one uncooked roti on a dry surface and spread the peas stuffing.
Cover with cooked roti and spread the potato and paneer stuffing.
Again cover with another uncooked roti as sandwich form and close the edges tightly.
Heat the griddle or tawa on medium flame and place the paratha on tawa.
Cook and turn the paratha from the both side until to golden, grease with ghee.
Serve hot double decker paratha with curd.
Note:
You can change the stuffing as per choice or taste.
Blogging Marathon page for the other Blogging Marathoners doing BM#33
Enter your email address:
Delivered by
FeedBurner