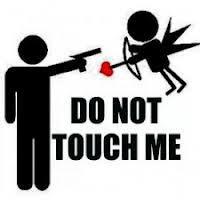 It's six days past Valentine's Day. Whether you're basking in the afterglow complete with wilted roses and an empty chocolate box, or hoping for better luck next year, Dorothy Parker's poetic take on love should bring a smile to your face. She threw more barbs at men than cupid shot arrows. Yet despite her razor sharp cynicism, I suspect she may have been a romantic at heart. Below are seven of my favorites along these lines.

The Lady's Reward
Lady, lady, never start
Conversation toward your heart;
Keep your pretty words serene;
Never murmur what you mean.
Show yourself, by word and look,
Swift and shallow as a brook.
Be as cool and quick to go
As a drop of April snow;
Be as delicate and gay
As a cherry flower in May.
Lady, lady, never speak
Of the tears that burn your cheek-
She will never win him, whose
Words had shown she feared to lose.
Be you wise and never sad,
You will get your lovely lad.
Never serious be, nor true,
And your wish will come to you-
And if that makes you happy, kid,
You'll be the first it ever did.
                              –Dorothy Parker
Unfortunate Coincidence
By the time you swear you're his,
Shivering and sighing,
And he vows his passion is
Infinite, undying -
Lady, make a note of this:
One of you is lying.
   –Dorothy Parker
A Very Short Song
Once, when I was young and true,
Someone left me sad-
Broke my brittle heart in two;
And that is very bad.
Love is for unlucky folk,
Love is but a curse.
Once there was a heart I broke;
And that, I think, is worse.
— Dorothy Parker
I Know I Have Been Happiest
I know I have been happiest at your side;
But what is done, is done, and all's to be.
And small the good, to linger dolefully-
Gayly it lived, and gallantly it died.
I will not make you songs of hearts denied,
And you, being man, would have no tears of me,
And should I offer you fidelity,
You'd be, I think, a little terrified.
Yet this the need of woman, this her curse:
To range her little gifts, and give, and give,
Because the throb of giving's sweet to bear.
To you, who never begged me vows or verse,
My gift shall be my absence, while I live;
But after that, my dear, I cannot swear.
  –Dorothy Parker
One Perfect Rose
A single flow'r he sent me, since we met.
All tenderly his messenger he chose;
Deep-hearted, pure, with scented dew still wet -
One perfect rose.
I knew the language of the floweret;
'My fragile leaves,' it said, 'his heart enclose.'
Love long has taken for his amulet
One perfect rose.
Why is it no one ever sent me yet
One perfect limousine, do you suppose?
Ah no, it's always just my luck to get
One perfect rose.
–Dorothy Parker
Social Note
Lady, lady, should you meet
One whose ways are all discreet,
One who murmurs that his wife
Is the lodestar of his life,
One who keeps assuring you
That he never was untrue,
Never loved another one . . .
Lady, lady, better run!
–Dorothy Parker
Symptom Recital
I do not like my state of mind;
I'm bitter, querulous, unkind.
I hate my legs, I hate my hands,
I do not yearn for lovelier lands.
I dread the dawn's recurrent light;
I hate to go to bed at night.
I snoot at simple, earnest folk.
I cannot take the gentlest joke.
I find no peace in paint or type.
My world is but a lot of tripe.
I'm disillusioned, empty-breasted.
For what I think, I'd be arrested.
I am not sick, I am not well.
My quondam dreams are shot to hell.
My soul is crushed, my spirit sore;
I do not like me any more.
I cavil, quarrel, grumble, grouse.
I ponder on the narrow house.
I shudder at the thought of men….
I'm due to fall in love again.
   –Dorothy Parker