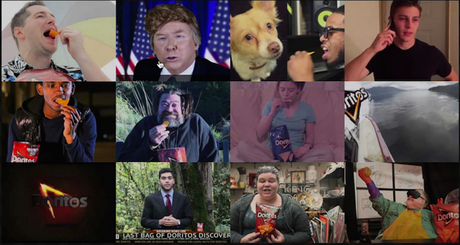 November 17, 2015
0

Email This Post

Print This Post
Doritos Crashes One Last Time
Crowdsourcing was a brand new buzzword back in 2006.
That's when Doritos first launched its "Crash The Super Bowl" campaign to encourage consumers to create and submit their own original 30-second television commercial for the Super Bowl telecast.
But like all good things, the Doritos "Crash" campaign is coming to an end.
"We're giving consumers one last shot to make their mark and see their homemade ads air during the Super Bowl broadcast," said Jeff Klein, vice president of marketing at Frito-Lay, quoted in AdWeek. (The deadline to enter just passed this week.)
"We've had a tremendous run with the program," said Klein. "The Doritos brand sparked a marketing industry in terms of crowdsourcing. 'Crash the Super Bowl' has played a major role in legitimizing consumer content."
As an outgrowth of the integrated "Crash" effort, Doritos has lead in other ways. The brand was among the first to release its TV advertising online early, well in advance of the big game.
Since 2006, Doritos has received over 32,000 "Crash" contest submissions and awarded $7 million in prize money. In 2013 the contest expanded to include global entries.
How the Contest Works
Doritos will select five finalists from the approximately 3,000 entries. The fans then vote on their favorite ad to appear in the game, while Doritos picks a second spot. This year's grand prize-winner will receive $1 million, plus a "dream job" with director Zack Snyder, as well as Warner Brothers and DC Comics.
What About ROI?
Engagement has been up for the brand. Unique visits to the "Crash" website reached 1.5 million in 2013, up 121% from the prior year. Ad entries were viewed 3.7 million times, a 320% increase. The spots have also been consistent crowd favorites in post-game viewer polls.
As for sales, the data from 2013 was mixed. In the four weeks while "Crash" was being promoted, sales increased by 7.49% — slightly below the tortilla/tostada category average, according to SymphonyIRI. In the four-week period following the contest, Doritos sales grew 5.45% — less than the 6.44% growth for the entire category.
Don't have a super-sized advertising budget? You can still take advantage of the kind of tactics used by innovative marketers like Doritos. For more ideas, check out: What You Can Learn from Super Bowl Advertisers.