Doomseeds Has Arrived!
Posted on 
April 8, 2014
The exciting second novel in the Botanicaust Series is now available!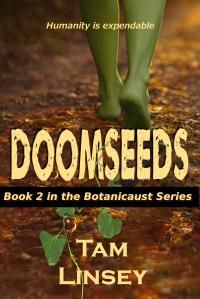 How could a rescue mission go so wrong?
When Jubal, a friendly trader, arrives at the Holdout with news of Eily's lost twin sister, Eily doesn't hesitate to head into the cannibal wasteland to save her. But the government insists she carry a tracking device she knows will be the end of the people she once called family.
Jubal has always avoided two things: slave trading and the green-skinned Flame Runnas. But now a cannibal king is holding his father prisoner until he brings back a Flame Runna slave. Beautiful, green-skinned Eily makes the task easy, volunteering to come along. Easy until Jubal falls in love…
With a father's life at stake on one side and a sister's on the other, someone is going to have to lose. And the loser might just be humanity.