Doodly is a robust desktop software that allows anyone to use point-and-click and the drag-and-drop features to create doodle style videos.
It has more than 200 custom poses, 200 props, 20 scenes, and the option to upload your images.
The platform allows anyone to create videos from the desktop for marketing needs without any limit.
You can pick either whiteboard, blackboard, green board, or any glass board style to create unlimited videos by a simple drag-and-drop method.
It comes with hundreds of characters, sounds, images, and fonts. It allows users to upload their sounds, fonts, and images and export the videos in multiple formats and quality levels within minutes .
Doodly is the NEWEST tool marketers are using to increase conversions in their marketing efforts.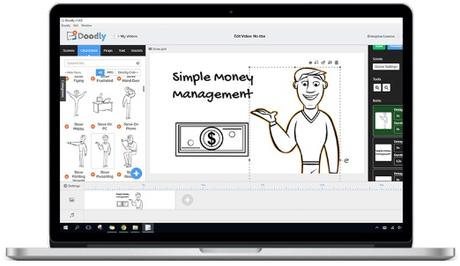 The animated videos are fast becoming the standard for video marketing. They are eye-catching, exciting, creative, and have proven they can convert.
When you use, these videos, you will experience 3 times the conversion rate making it very powerful.
Usually, getting such videos would cost thousands of dollars and takes weeks to complete, however, with Doodly, it is way cheaper and takes just a few minutes.
Why is Doodly considered special?
A vast library of animated images;
Drag and drop feature makes it easy to use;
Allows you to upload custom images and sounds;
Can create a whiteboard, blackboard and green board videos;
Images are drawn realistically as you want them.
Since Doodly can create realistic animated videos in less time and cost, it is worth considering your marketing videos. It is simple yet very effective for converting more leads.
The powerful interface allows you to create your marketing videos for promoting whatever you desire. Whatever your goal for the videos, it will deliver, be it more conversions or more traffic.
P.S. - Doodly is a desktop application and needs to be installed on your computer. It also requires an active internet connection.
How simple is Doodly?
Doodly has focused on making it very easy to create doodle videos. Just drag and drop the backdrop, props, characters, logos among many other items right into one workbench.

You also have the freedom to upload your images to add to the ones provides.
It is even easier to add sound and music to your animation once you have added the images.
All the items in Doodly are resizable at the click of the mouse to fit your design. Once you have done your part, the program will take over to produce amazing sketch animations.
Previously, this would have cost you a fortune, but with Doodly, you can create your videos as you want them to be at a significantly lower cost.
Quick Demo of the Software

The user interface is very simple and anyone can use it.
At the top of the screen, you will see the options to add scenes, characters, text, props, and sound.
All you have to do is drag and drop them into the work area then resize as desired.
Add props and everything you want from the large catalog of images.
Once you drop them, Doodly will convert the images into amazing sketch animations.
If you need text animations there is no problem. You can animate text on black/white/green board or even on a glass board.
It allows you to upload your images and set a draw path to make the end result look as if it has been drawn. You have the freedom to combine as many scenes as you wish and overlay texts as desired.
The finished result is easy to export for the intended use. Doodly allows you to produce high-quality HD videos of up to 1080 megapixels. You have the option to adjust the frame rate for a perfect finish.
You can save the videos for use on YouTube or website, once you have selected your desired quality level, just export it.
The standard Doodly version
20 characters that you can both manipulate and animate
200 character poses to suit any situation
20 drawn scenes and backdrops
200 additional props and beneficial drawings
My Doodly Review

As far as my opinion, I review Doodly 4.80 stars. If you have checked the quality of your videos lately and found them to be boring, Doodly is your solution.
The videos are stunning and realistic making them attractive for your target audience.
Without sugarcoating the product, Doodly can make significant changes to your marketing efforts. It is drastically changing how videos are made at a low cost and quickly.
Moreover, the software allows you to add audio files, import multiple fonts and is compatible with PNG and JPEG files. Each image will automatically have a pre-determined " draw path," that you can customize as you wish.
In addition, regardless of the package you choose, your membership includes on-going development and all new feature releases . You don't have to pay extra to access them.
Limitations
Doodly is a desktop application and needs to be installed on your computer. This requires you to update the software each time you see an alert from the server (It is important that you follow the alert instructions as it will help you take full advantage of the updated features).
Also, since everything has been stored on a cloud server, it requires an active internet connection. This enhances you to fetch the inbuilt media files and add more (auto-saves).
In addition, the only file format you can generate at the moment is .mp4. However, the team is working to add more formats to the software.
Overall, the easy to follow videos at each step shows you everything from creating a video, adding your images, and even exporting. You won't imagine how EASY it is to create animated instructions, promotional videos, and tutorials!
Now, this is tricky but I think according to the functionality and features it is absolutely worth subscribing.
When it comes to pricing, they have TWO payment plans which you can pay monthly or annually.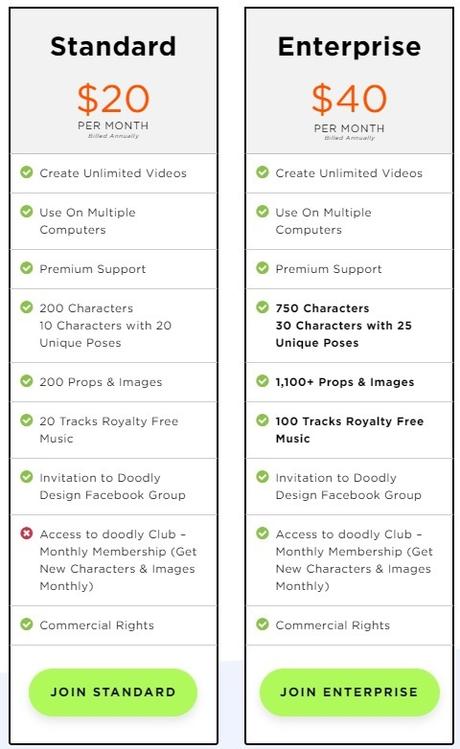 Their customer support
Pretty quick! I had a few questions earlier and they were being answered well on time. Of course, not within seconds but yes, within a few minutes. If you are lucky, Jimmy Kim and Brad Callen may personally reply to your email 🙂
You can reach out to them at [email protected] or visit their online FAQs at http://support.doodly.com