While web comics have ported their existing web sites into the Facebook platform in the past, Donnie Goth marks the first time a web comic creator has chosen to develop and distribute his web comic entirely through Facebook. "There's no other website, no other app to view it on. I'm putting all my efforts into Facebook." claims the strip's creator, Ricardo Porven.
Facebook, the popular social network who's installed user base of 720 million members continues to grow on a daily basis, has been a popular provider of casual gaming entertainment for many years. Marketers have also looked to Facebook to promote their brands and products to its members. But this marks the first time a comic creator has looked towards Facebook as a sole means of distributing his work to the masses.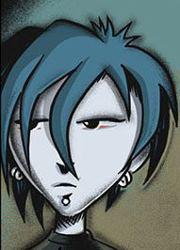 When contemplating the relaunch of the Donnie Goth strip, Ricardo decided that beyond using social networking as a marketing tool, he could also use it as a viable distribution vehicle with opportunities for fan interaction, instant feedback and even monetization options.
"Facebook had all the tools I needed to run a successful webcomic. And the viral capabilities to position it for rapid growth. It was the perfect fit." says Ricardo Porven. "But it's not all about the technology, you still have to put out a product people want to read and come back to."
The Donnie Goth Web Comic strip Facebook-app chronicles humorous and poignant moments in the life of a middle school goth boy, Donnie, and his pet salamander who can raise the dead to do his bidding. Things always go hilariously wrong and Donnie never seems to get exactly what he wants.
The app is slick with a video intro theme you would be more accustomed to seeing on the cartoon network, followed by a well-designed app complete with 3-D page peels for each panel, skeleton hand navigation buttons and links to the Donnie Goth Shop for merchandise.
It's gory, shocking and funny. The first strip, "Back to Cruel" deals with the discomfort of being the new kid in school and the dangers of making judgements before you have had the chance to get to know people better. But it isn't a lesson. There's no preaching here, just bloody fun.
The Donnie Goth Web Comic marks the first of its kind to exclusively launch and use Facebook as its sole distribution and revenue generating platform. While its ultimate success and those of web comics on Facebook platform remain to be seen, this comic has certainly raised the bar.