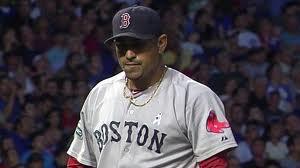 And that would be Franklin Morales, who was terrific in his emergency start at Wrigley Field in place of Josh Beckett, as the Sox took the series from the lowly Cubs, 7-4.
Morales went five innings, struck out nine, threw 80 pitches, of which 65 were for strikes. Morales was originally a starter when he came up in Colorado.
The Sox scored two in the first, but the Cubs got one back off Morales. He left with a 3-2 lead in the sixth, but the Red Sox defense made two critical errors that led to a Chicago run that made sure Morales would get a no-decision.
But the awful Cubs bullpen got torched by the Red Sox in the seventh and eighth innings, which included RBIs by new boy Ryan Kalish and Will Middlebrooks. Daniel Nava laid down a perfect suicide squeeze that made it 6-3.
Alfredo Aceves gave up three straight hits to start the ninth, but got the last three hitters (which included a sac fly) to end the game.
The Red Sox are once again back to .500, at 33-33, and play the Miami Marlins (beginning tomorrow) and Atlanta Braves at home as the scourge of interleague comes to an end this week for 2012.