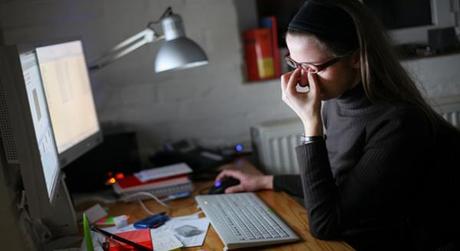 Working late night is a trend nowadays, as people are struggling hard to cope up with the demands of the family and work. There is a standard of living and an expectation in everyone's life. To meet with all these expectations, one needs money. This struggle of living a rich and luxurious life surely affects sleep time and patterns leading to health related risks. Further, some companies work in the night shifts, as they are working for the client who is in a different time zone. To meet up with his official time, the companies hire people in the other corner of the world to work in the night for them.
It is proved that working late nights affects the health of the person and is a hidden epidemic. It is observed that 43% of Americans rarely get enough sleep and cannot focus on their work. This ticking time bomb needs to be defused before it takes a toll on your health.
Does working late night affect your health?
These night shifts change the biological clock of a person and hence the first thing that gets affected is the sleep and digestion. The eating and sleeping patterns are fixed in a human being and night shifts change them to a great extent.
Human Beings require minimum 7 hours of sleep. The person tries to sleep in the daytime when everyone is awake and have their own work to do. Even the family members have to work during the day. The person cannot get that 7 hours of sleep due to the noise and disturbances around.
The digestion and the metabolism rate of the body are affected due to this less sleep. Indigestion, mood swings and a sick feeling are always there.
Less sleep is the reason you won't feel like eating, hence you reduce your appetite. Reduced appetite and no specific time to eat will lead to indigestion hence the person will lose weight in the long run.
Graveyard shifts, which are complete night shift, can make you look ugly and pale. Common areas which can be noticed are the dark circles under the eyes. The person can look less fresh and tired. Dark spots on the skin and dry skin without any glow can be observed.
Less sleep can affect the vision and concentration and hence can lead to accidents. Alertness is required in manufacturing industries for safety precautions. Wee hours of night can be difficult and which can lead to accidents.
Even the working of late night shifts is commonly seen in the medical profession. Lack of sleep can lead to lack of concentration, hence prescribing wrong drugs and medicines resulting in fatal mishaps.
One cannot give much time to the family causing rift. During the day when your family is awake, you need time to sleep. When you get up in the evening you are preoccupied with work and in the night you are about to get ready for work. Especially your partner can have the feeling of left alone and can lead to serious consequences. In some cases, it can give rise to loyalty issues of the partner, as it hampers the sex life and can result in divorce. Less sleep can have problems like impotency and infertility
Certainly, late night shifts do affect the health of a person leading to many diseases. So, decide if the money you are getting weighs more or your health.