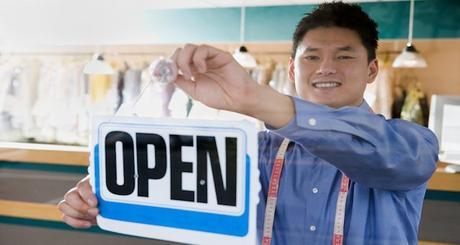 December 27, 2016
0

Email This Post

Print This Post
Don't Overlook These 6 Steps to Better Business Signage
What does your external signage say about your business? Are signs, posters banners and window clings fresh, new and helpful, or drab, dark and dated? Your customers' first impression may be based on what they see when approaching your building and whether the physical pieces tie seamlessly into your brand.
The Small Business Administration recently took a look at six areas integrated marketers should consider to create more effective external signage.
Know Your Local Regs
Every city has distinctive zoning regulations for commercial business signs. These may be dictated by a zoning board, municipal code or city division, and impose limits on the size of your signage, lighting, color palette, etc. Your physical location—for instance, within a business park—may also necessitate a uniform look with surrounding businesses.
Keep Your Look
Your main external sign is a key branding tool for you, visible to customers and potential customers 24/7. This is essential when considering those elements critical to your brand: logo, color, style, font. If zoning or other restrictions apply, adhere as closely as possible to the look and feel of your brand.
Remain Practical
Your office or store may not have control over the precise font used on your sign, or specifically where it hangs, but you can control its clarity and legibility. Help customers and prospects find you by ensuring that your sign is as readable for those leisurely strolling past your offices as for those zooming by in a car. A hard-to-read sign in a script font may be attractive, but will ultimately be counterproductive.
Consider Location
The placement of signs is also important. Think about appropriate lighting for a sign that is hard to see in direct sunlight or at night. Test the location for potential obstructions (buildings, vehicles, awnings, overhangs). Your signs' effectiveness could be compromised by poor placement, bad lighting or other impediments.
Think About Supplementing
Determine if additional signage would help attract more customers. Is your business difficult to see from the road? Perhaps you need supplementary banners, window clings or posters that help customers find you. You may be able to join with other tenants to ask the landlord for secondary signage in front of the building.
Keep Signs Spotless
Put the time and effort into proper maintenance and cleanliness. A dingy sign surrounded by burned-out bulbs tells prospects you don't care about your business—so why will you care about theirs? Be a diligent and effective integrated marketer by keeping your signage current. If you refresh your branding, refresh your signage to ensure cohesive messaging.