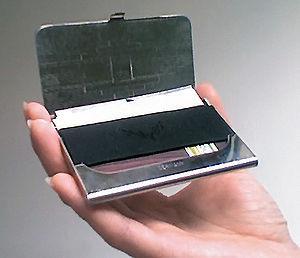 Image via Wikipedia
I'm going to blame it on my new ipad – which I adore – however because I want to take it everywhere it's forced me to shift handbags, configure the things I carry with me.
The bag that fits the new ipad – makes my usual bag, my small compact, carry everything I need bag – obsolete – so I left it home – transferring only my top of mind essentials – like money into this bigger bag –
What didn't make the transfer were my business cards – the ones I needed for the networking event I attended last night.
So besides feeling like a ninny – I have the opportunity to follow up with those who asked for my card – always a gift – and I can fix this faux pas for next time – plus help you not make the same mistake.
Here's what's on the agenda this morning –
Placing business cards:
In every bag I have – just a few cards and then no matter what bag I grab or use I have them.
Adding business cards to briefcases
Putting cards in our vehicles – so no matter where I go I've got those great little networking gems –
That should do it – short of taping them to my body I should have them at the ready when I meet amazing people who are interested in what I do –
Plus – I can continue to live what I teach – which is good people skills – making it easy to do business with me –
And I've had the opportunity to share that I was less than wonderful last night – because apologizing for not having an essential tool of business is an awkward and uncomfortable place to be – and yet – it's human – and forgivable – and for a person who teaches about people skills – funny!
Love to hear what you do to remember your cards – or how you use life lessons to evolve!
Blessings, Shawna
www.PeopleSkills.us