Have you ever found yourself flipping through a magazine or browsing the internet and found yourself depressed because your bathroom doesn't measure up? It can be easy to take a look at luxurious bathroom designs and feel like our own is too small, not exciting, or just plain boring. Now this may be true on occasion if you have the worst bathroom on the block, but you shouldn't let design blogs discourage you from creating a bathroom design that is welcoming and speaks to you.
In today's media savvy environment, we are constantly told that image is everything. Similar to the pressures of placed on a person to wear all the right brands, capture the right "look," and stay away from taboo's to avoid a social faux paux, you probably have the same issues with your home.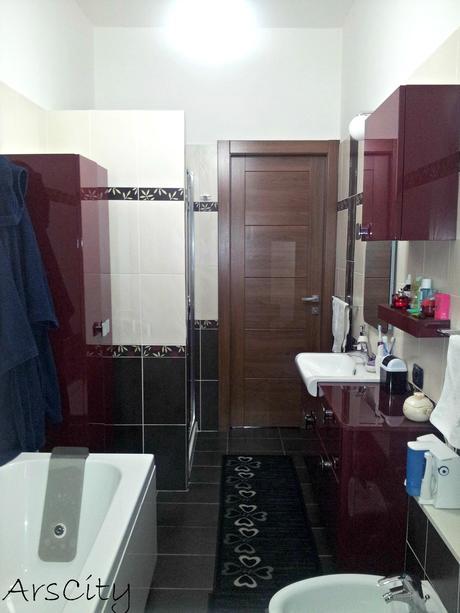 A reader submitted bathroom from BagnidalMondo's #ShareYourBathroom Board.
Ever get last minute notice that you're having company over in the next half hour? The mad dash to tuck your mess away so that is safe, sound, and out of sight. The turbo-vacuum cleaning session where you frantically race your Dyson across the floor as if it were competing in the Daytona 500. Tossing the kids in the bathroom and commanding them to wash up in less than 2 minutes with the look of a drill sergeant on your face screaming "it's go time kids!"

The Vision of Bathroom Design
We all do it and fantasizing about the images we see in magazines and on the television screen don't help to assuage the cracks in our self-confidence. Life isn't like the faultless designs we see on Pinterest. We seek to improve our kitchens and bathrooms out of guilt, believing that they fall short of the glamorized images we see in print. Don't let these occurrences place a shadow of doubt over your bathroom remodeling project.
Most of you Pinterest may be reluctant to admit that your new addiction (Pinterest), may be the ultimate culprit. We logon and drool over ornate designs that are fit to be the backdrop of a Hollywood film. Truth is, this isn't as common as media might have you believe. Have you ever been to a household filled with kids? Then you know what we're talking about!
How to Decorate Your Bathroom
Keeping your home tidy and creative doesn't mean that it has to be an off limits zone for your kiddos. You can make washing up a fun-time for your kids with Squidsoap's new soap dispenser.
Too often, picture perfect bathroom designs have been staged to be in prime condition at the time the photographs were taken. Think of taking Christmas pictures for the family. You didn't look like that when you woke up, but when all the make-up and accessories came on, you shine like a star!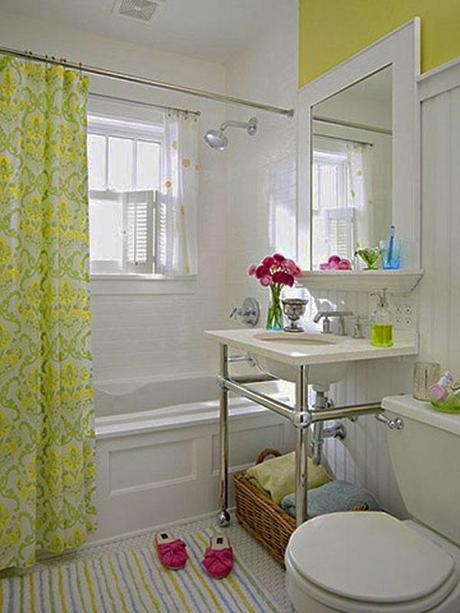 Keep you bathroom simple & beautiful! Image via Fresh Home.
Home Staging
If you're preparing for an open house or simply expecting company (the holidays are already here, yikes!), you will want your bathroom to be presentable and enchanting. You want your guests to feel like they've stepped into a pampering studio that finds your inner calm and places all of the focus on you! Try these simple tips:
Fold towels nice and neatly. This will make your bathroom inviting and coddle guests as they realize this bathroom has everything they need.
The vanity is the focal point of the bathroom, and as such, you may want to place your focus on this keystone piece. Depending on the character of your home, you can look to preserve the history of your home with a vintage vanity or update it with a contemporary look.
Having trouble with space? Check out these Small Bathroom Ideas Floating vanities may also be something to think about because these wall-mounted units make your bathroom appear larger than it actually is.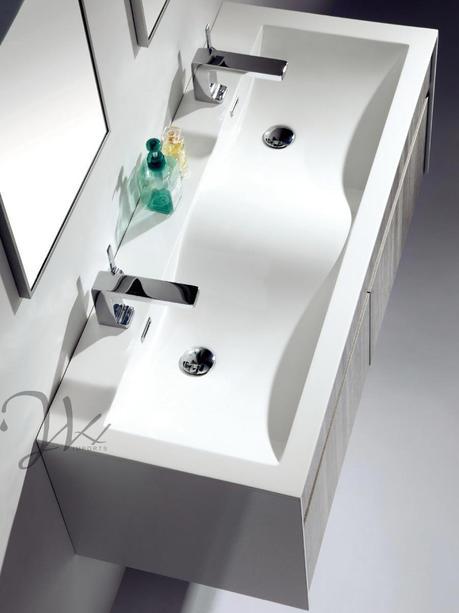 The Flen Floating Vanity was November's Featured Product of the Month. Read More Here.
TIP
: Get rid of that unsightly shower curtain and replace it with a gorgeous glass door. The transparent nature of the glass will allow you to see more of the room and expand the perceived size of your bathroom.
Details Mean Everything
Small details can have an enormous impact. To stay within your budget, try changing electrical faceplates, lamp shades, updating trim, and adding decorative pieces to your bathroom. Check out the Top 10 Ways to Decorate for Less.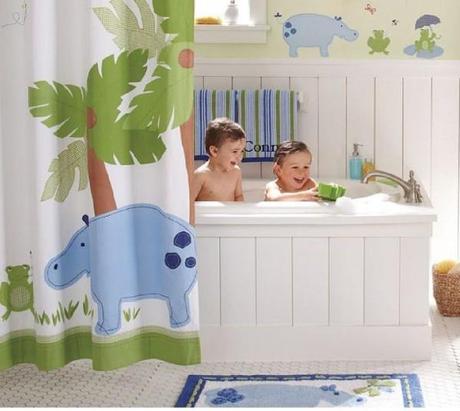 Design a bathroom that your kids will love! Image via Fresh Home.
Try capturing pictures of your bathroom for fun and upload them on the computer to see how they look! With the right lighting and focus, you might be surprised how the pictures of your bathroom turn out! Add comfort and improve usability with soft close drawers that are quiet and easy to use. While there are many brands, Blum 230 glides have been highly recommended for their durability and efficiency.
Tying it All Together
In conclusion, spruce up your bathroom but don't worry about keeping up with the Joneses. Decorate your bathroom in a way that speaks to you without compromising functionality. If you're like most people, your bathroom is used every day but the aesthetics seem to dominate your concerns.
Remember what your bathroom is intended for and stop worrying about what you think is wrong with it. Chances are, guests won't even notice it unless you point it out. Even with our bathrooms, we're harder on ourselves than anybody else!
About this Post
Cheryl Khan is a designer and freelance writer. She reluctantly admits that she has been guilty of promoting these embellished ideas of the bathroom and hopes to take more concerns for everyday people!