Have you ever been in the shower and suddenly fumbled that hard-to-hold bar of soap that never seems to sit still? How about all of your shampoo bottles? Reach for one and "BAM!", a dominoes effect ensues as you watch all of your hair care products clang into the bottom of the bathtub. Frustrating, we know.
A new company has released a handy new product that allows you to consolidate your bathroom products into one dispenser! The tubotec multi-use bathroom dispenser can be utilized for an assortment of personal hygiene products including shampoo, lotion, liquid soap, toothpaste, hair conditioner, and hair gel! The aim of Tubotec was originally to address a mindless problem that we all deal with.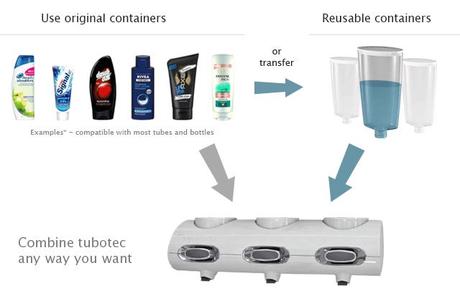 "
Our goals was to develop a much more versatile dispenser that can be used everywhere and for every personal care product, independent of its consistency and the shape of its packaging. With tubotec, we are pleased to present the result of our work. Whether you would like to dispense toothpaste from a tube, your favorite body wash from a bottle or refillable liquid soap – tubotec does the work for you.
"
-tubotec.de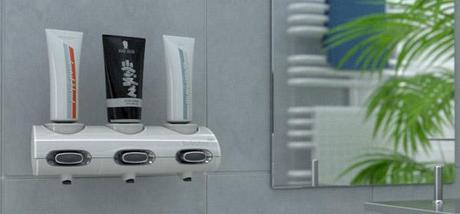 Anything that helps to simplify your morning ritual is a winner to us! What we particularly liked about this new soap dispensing unit is the fact that it is universal. You can place the original bottle in the dispenser or you can transfer the contents into a separate tubotec container if you have OCD tendencies.
What's more, the installation is simple and clean. The tubotec multi-use bathroom dispenser includes a mounting system that is capable of supporting bottles filled with your favorite products!
Looking for more ways to enhance your bathroom experience? You might also enjoy our previous post that will show you how to organize makeup in your bathroom and cut down on unnecessary clutter!
About this Post
Cheryl Khan is an interior designer writer who enjoys taking dips in the spa for weekend rest and relaxation. She can be found on Google Plus by clicking on the link above!