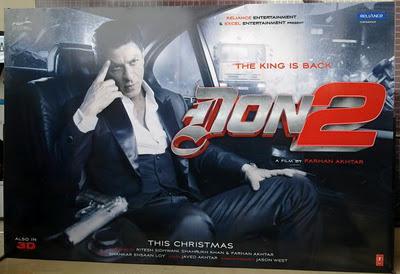 My problem with Don 2 starts with Shahrukh Khan and ends with the story. I've always been an avid Shahrukh film watcher, but off late his acting has just become too repetitive. The worse part is that not having watched My Name is Khan and Ra.One I still felt that there hasn't been any change in his mannerisms onscreen. Now, most people might say that that is his appeal and that's fine, but to me I would love to see a Shahrukh Khan that has grown professionally since his days of DDLJ (which I know he has and hints can be seen in movies like Chak De).
The other major problem with Don 2 is unfortunately the story. Not only was the entire execution of the film a bit drab with not much really happening, the film simply glorifies Shahrukh Khan's Don as the be all and know all. It's as if he can do no wrong and holds some mystical power which as a result made the film extremely predictable after a while.
Don 2 also lacked any real link with the previous Don. Replace the character's name and some of the people who have trickled down from the previous film and Don 2 could have been any other con-caper. It lacked a heart and a soul and simply focused on the look.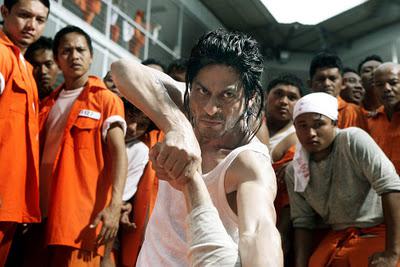 Enough thrashing, the film did have a few elements that really surprised me. I went into the theater ready to lash out at the 3D. Surprisingly, leaving aside a few out-of-focus fight shots, the 3D was pretty good. Now, it would not have made much difference in 2D, but yes I do give credit that although it did not add much to the film, it still was executed well especially during the song sequence.
The locations, the cinematography, and to an extent the direction was spot on. I've pretty much liked most of Farhan Akhtar's directed and acted films so I was not expecting anything less. I also admire the subtle hint to the next Don and the special appearance that no one saw coming.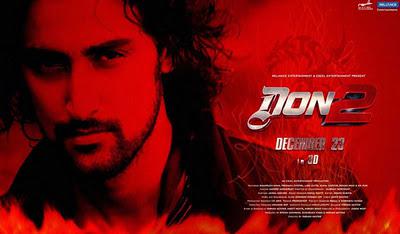 Now, most people might argue that Don has a larger than life persona so that reflects in the acting by Shahrukh Khan, but I felt he needed to be more grounded and take a step or two down from the pedestal that he was on. More human if I may say. The story needed to be faster and meatier with more emphasis on the characters.
Don 2 is a fun watch. It doesn't have the charm of Don and moves more in the territory of movies like Dhoom or the soon to be released Players. I would love to see Don 3 be more bold maybe even darker, but then we can only hope for such things.
Don 2 disappointingly gets 3 stars out of 5. If the 3D hadn't impressed me or had I watched the film in 2D, I would have given it 2.5 stars.