Bayreuth, Salzburg stagings blasted by Plácido Domingo.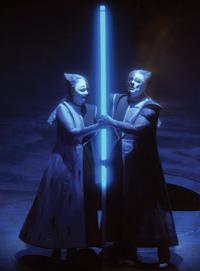 Plácido Domingo (right) in a scene from Achim Freyer's
Die Walküre at the Los Angeles Opera. 
Photo by Monika Rittershaus © 2010 The Los Angeles Opera.


Tenor/conductor/impresario Plácido Domingo has unleashed an attack on both the Salzburg and Bayreuth Festivals. In an interview with Austrian News Magazin, Mr. Domingo expressed his disapproval of new productions of Strauss' Die Frau Ohne Schatten and Wagner's Tannhäuser at the venerable summer festivals.
"This is beyond me," the tenor, 69, said in the German-language interview. "As an opera director I would never allow something (like this.)"
Christian Loy's production of Die Frau Ohne Schatten moves the opera to a replica of the Sofiensaal, the legendary Vienna ballroom converted into a recording studio. The Sofiensaal was the site of many famous Decca recordings in the 1950s and '60s with the Vienna Philharmonic. Ironically, Mr. Domingo sang on Decca's last major production in Vienna: Sir Georg Solti's studio recording of...Die Frau Ohne Schatten.

"In Germany and Austria it is unfortunately becoming a habit," Mr. Domingo continued. He added that he would intervene in productions that did not meet his approval. "If I don't agree with the production, I have the production stopped." Sebastian Baumgardner's Tannhäuser is another in a recent spate of Bayreuth stagings designed to provoke thought and dialogue about Wagner's long-lived operas. This staging moves the medieval song contest and spiritual conflict into a biogas facility, with characters literally recycled into raw materials like ethanol. Elisabeth meets her end in a recycling tank.
Mr. Baumgardner's version of Tannhäuser has met with hostile reactions from the über-conservative Bayreuth opera-goers as well as the Press. In recent years, the Bayreuth Festival, currently under the co-direction of two of the composer's great-grand-daughters, has mounted a Lohengrin where the chorus is depicted as an army of lab rats. This summer also featured Katherina Wagner's Die Meistersinger von Nürnberg. In Ms. Wagner's version, Hans Sachs transforms into a Fascist strongman and Beckmesser becomes an outsider artist.
"The responsibility is always the director," Mr. Domingo added. 
In addition to his singing engagements and occasional moonlighting on the podium, Mr. Domingo currently runs the Los Angeles Opera. The L.A. Opera has recently mounted Achim Freyer's $32 million dollar staging of Wagner's Ring cycle, where the characters are recreated as bizarre tribal puppet figures, armed with lightsabers and papier-maché heads. 
Mr. Domingo approved this production, which has met with puzzlement and even incomprehension from American audiences and critics. But then again, he has cast himself in the role of Siegmund.