Call me crazy, but I love Sofia the First. (Seriously, the theme song is my ringtone!) For those who don't know about Sofia the First, here's a quick history.  Sofia the First is a cartoon aimed at preschoolers that enforces positive themes about friendship, family and confidence (to name a few) that airs on Disney Junior. It has been on the air since 2013.  One of the draws it has, besides the fantastic animation, is that every now and then a Disney princess drops in for an episode to help Sofia learn a lesson.  It's adorable to the max with fantastic animation and some really cute songs!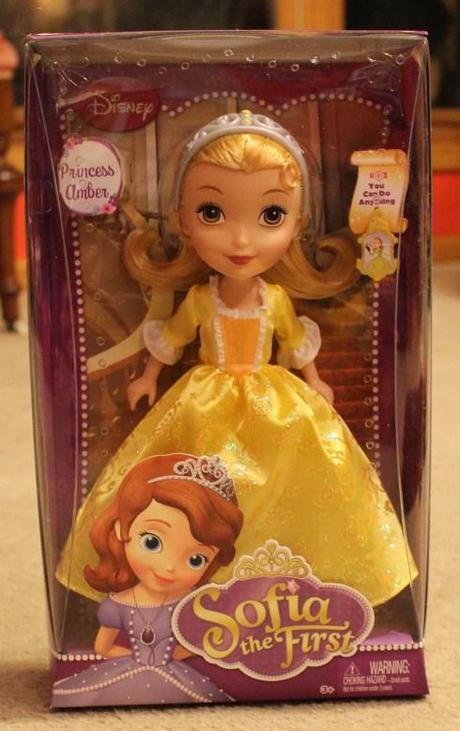 Mattel's Sofia the First
Most Sofia the First dolls and toys aren't my cup of tea.  However, this 10″ doll caught my eye!  For review today is Princess Amber, Sofia's step sister.   Amber is 10″ tall and made of vinyl.  A product of Mattel, she is actually higher quality than I expected. Her limbs aren't as hollow as I assumed, nor do they feel cheap.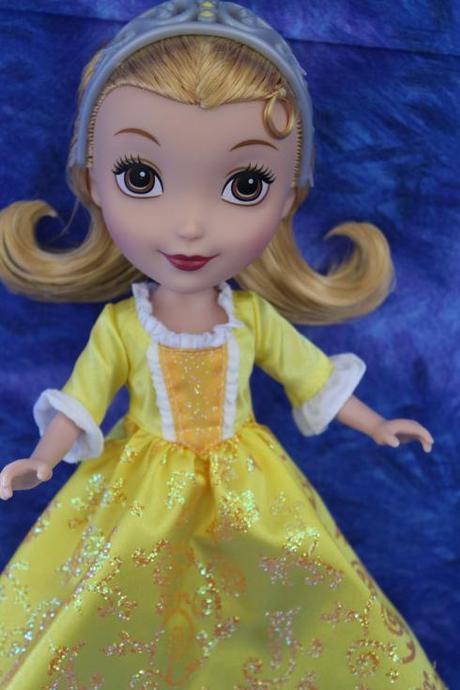 Mattel's Sofia the First
Amber's arms and legs do feel slightly different, her arms are slightly more hollow and smooth than her legs, but overall, the vinyl feels up to par with other fashion dolls.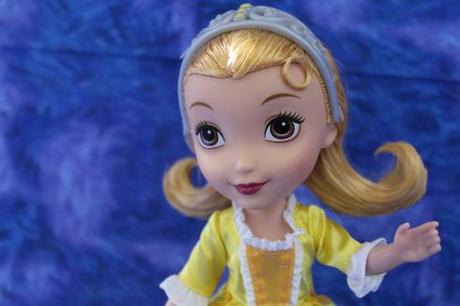 Mattel's Sofia the First
The big selling point for me was Amber's face.  Isn't it adorable?  Her large, round face and features very much resemble her cartoon character. Princess Amber has large, brown eyes done in an anime-esc style.  She has light blushing and raspberry lips.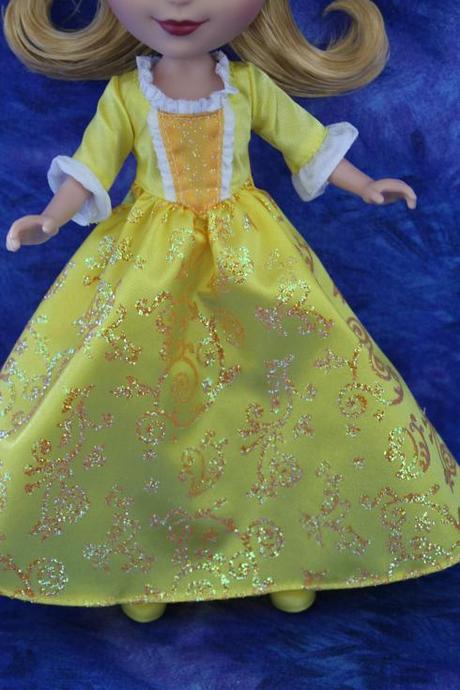 Mattel's Sofia the First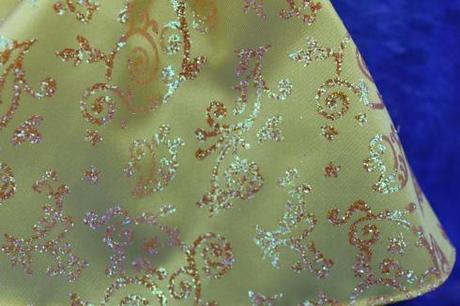 Mattel's Sofia the First
Amber wears a removable yellow gown, similar to the one she wears in the cartoon.  It fits her nicely and is well made, considering this is a doll meant for the preschool market.  The skirt is decorated with a swirly, sparkly design made of, you guessed it, yellow sparkles.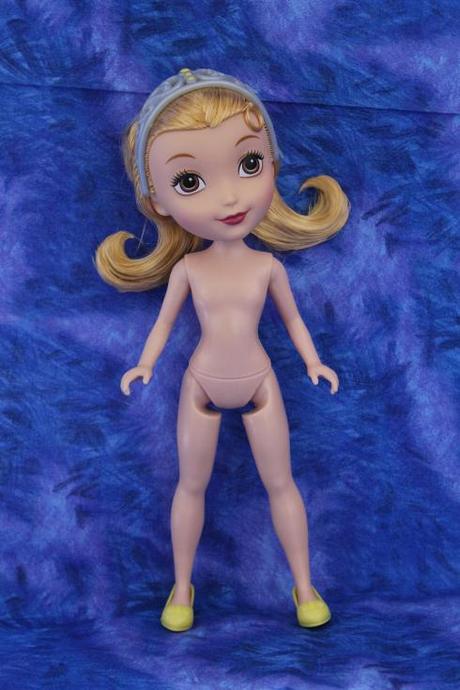 Mattel's Sofia the First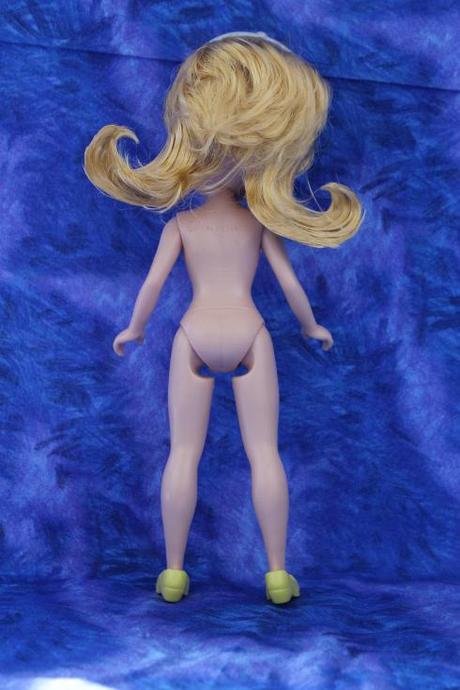 Mattel's Sofia the First
As far as jointing goes, Amber has joints in her shoulders and hips.  They allow her arms and legs to move forward and backward, as well as out and in.  Her neck has great movement, too, and can tilt in many directions.  All her limbs have really nice movement to them.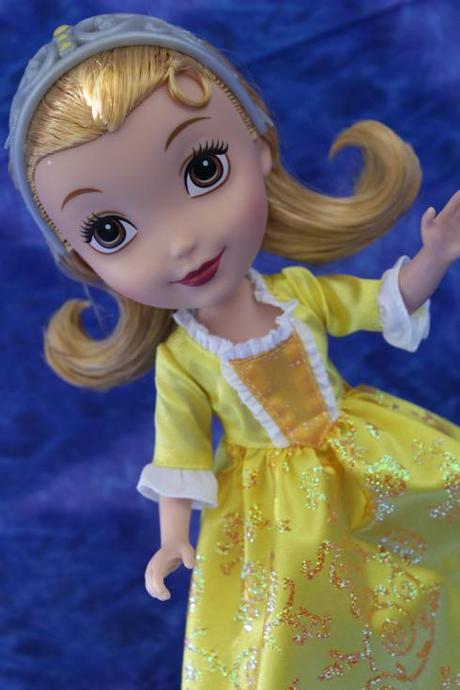 Mattel's Sofia the First
From the front, Amber's hair looks really nice.  However, the back?  Not so much. This is the most disappointing element on an otherwise great looking doll.  The prototype image (as seen on the back of the box) shows a doll with a head of rooted curls.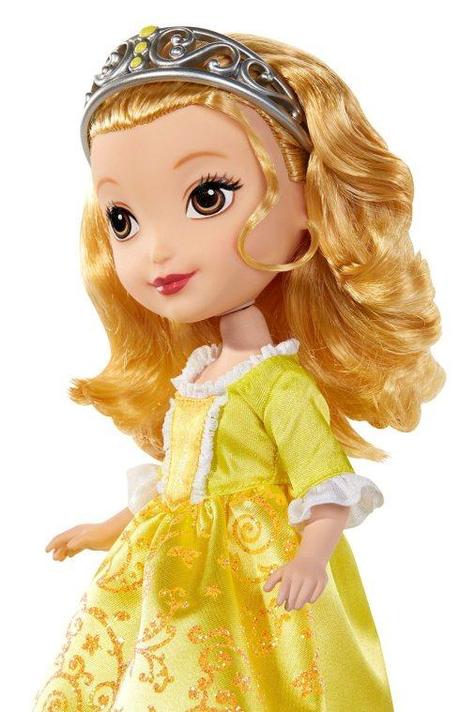 Prototype Image
Princess Amber's rooted yellow hair is far different from the prototype.  Amber's hair is styled in two large curls, swept to either side to look nice in the box or when looking at her straight on.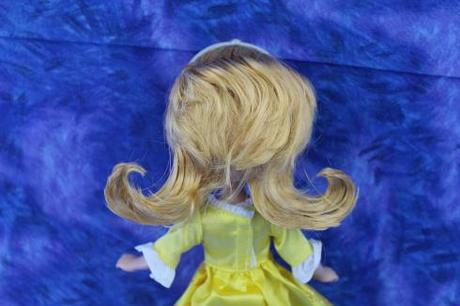 Mattel's Sofia the First
That is, sadly, the only good angle to see her hair. The back is a mess of short hair.  What was Mattel/Disney thinking?  I don't even think her styling could be fixed with a good wash! The hair rooted in the back is clearly much shorter than the bits used to make her curls.  So disappointing, even on a play line doll. Her crown is no winner, either  If you cut the tabs holding it in, I doubt it would stay well on Amber's head.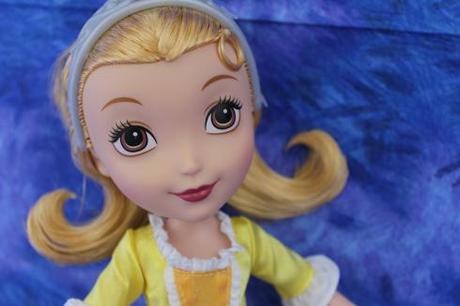 Mattel's Sofia the First
In most cases, this Princess Amber doll delivers.  She's a perfect representation of her cartoon character, was made of quality vinyl and has some nice joints.  However, the glaring problem with her hair is hard to ignore.  (Again, so disappointing!)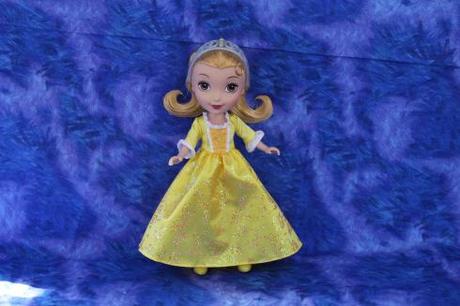 Mattel's Sofia the First
Do you own Princess Amber?  What's your take on her hair? Is it a deal breaker for you? Share your thoughts below.
February 1, 2015. Tags: disney, mattel, review, video review. Introductions & Reviews, Uncategorized.