I should preface this review with this— I love that Mattel is still releasing Skipper dolls.  To be honest, after her initial re-release in 2010, I didn't expect Mattel to run with her very long.  I am thrilled to still be 'on the hunt' for new Skipper dolls, even if they're always paired with Chelsea (or, to purists like me, Kelly).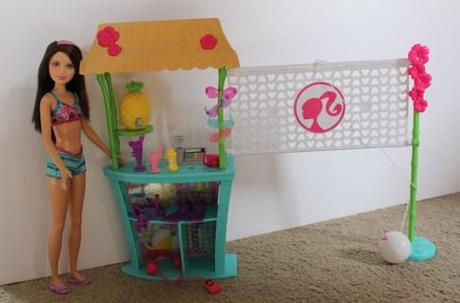 Skipper and her Tiki Hut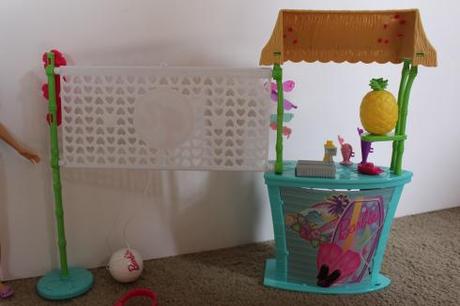 Tiki Hut (back)
That being said, this Skipper and Tiki Hut playset is disappointing.  First, let's talk about what you get in this set.  You get one Skipper doll and a partially put together Tiki Hut, that consists of a volleyball net and a snack stand.  Also included are accessories  like a cash register, pineapple drink dispenser and scuba equipment, amongst other things.  For the most part, this play set is together in the box.  You have to connect the volleyball net to the drink stand, but that's about it.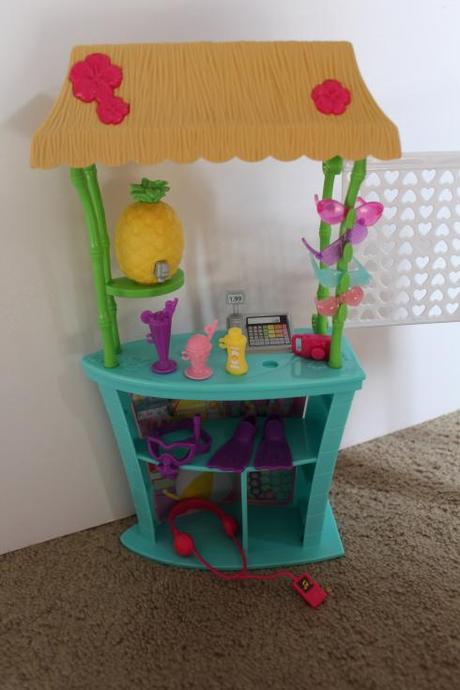 Tiki Hut
The playset itself is average.  Designwise, it's aesthetically pleasing.  The colors are nice and the design is cute and somewhat different than what Mattel has put together for the Barbie and her Sisters line in the past.  The accessories included are a pineapple drink dispenser, two fun drinks, a camera, headphones attached to an MP3 player, four pairs of glasses (ready for Barbie and her sisters), a cash register, sunscreen, scuba fins and a scuba mask.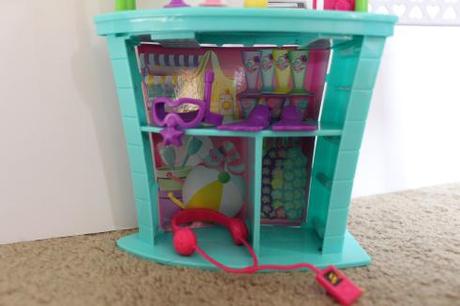 Accessories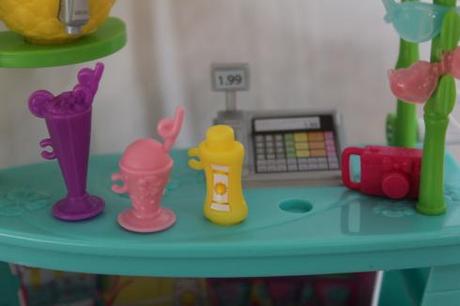 Accessories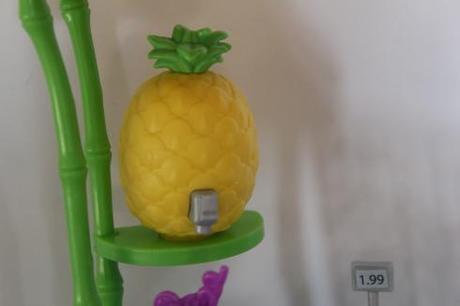 Accessories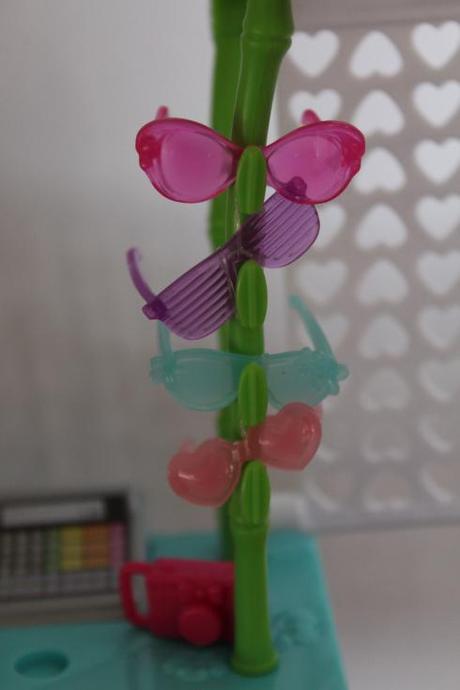 Accessories
The volleyball is attached to the volleyball net with a rope.  It could easily be untied.  The actual play set stays together well and is a nice size for those playing in rooms that may not be large enough for a dreamhouse.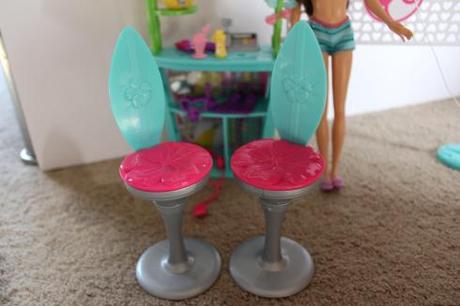 chairs
You also get two chairs with this set, which would be much better utilized if this set came with a jointed doll.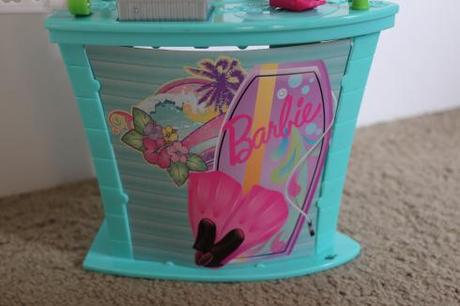 Front Cardboard
The front decoration of this Tiki Hut is made of cardboard.  It has a tendency to fall out.  I wish they'd just made the front plastic, like the rest, and given us a sticker to decorate it.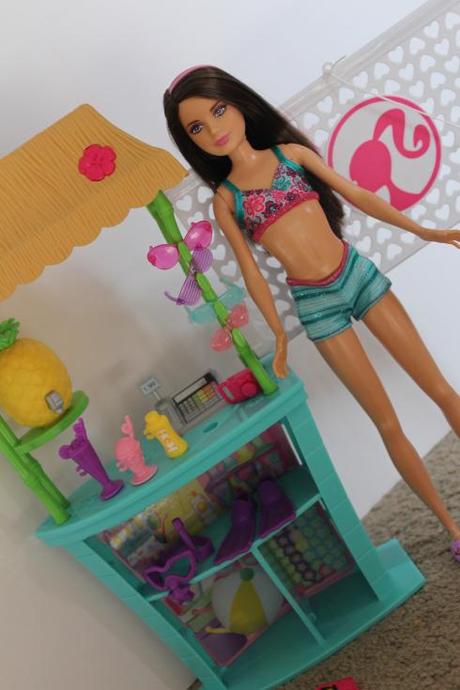 Skipper
For me, the most exciting part of this set is the Skipper doll.  This particular Skipper has a side part in her bang-less brown hair.  She has a pink highlight in her hair.  Mattel seems to be using the pink a lot recently.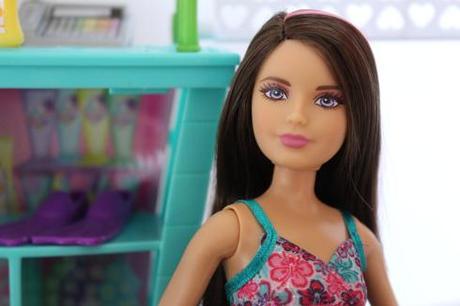 Skipper
Her face paint is pretty much as you would expect.  The main downfall of the Skipper line so far is the lack of variety all round, which has resulted in Skipper looking nearly identical in every release.  I believe Mattel is doing something different with the face make up, though I can't really put my finger on what that difference is.  Skipper has purple eyes, pink eye shadow and brown lashes and brows.  She has very light blushing on her cheeks and a muted pink lip color.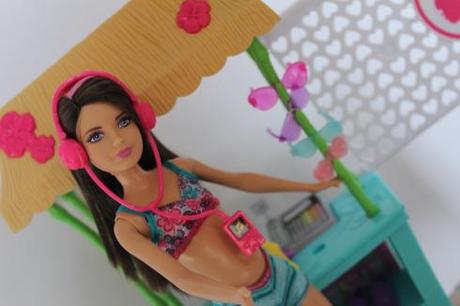 Skipper
This Tiki Hut Skipper's face looks slightly inflated, which I think has something to do with her body type and the slight color difference between her head and her body.  Skippers head is slightly (and I mean slightly) lighter in skin tone than her body.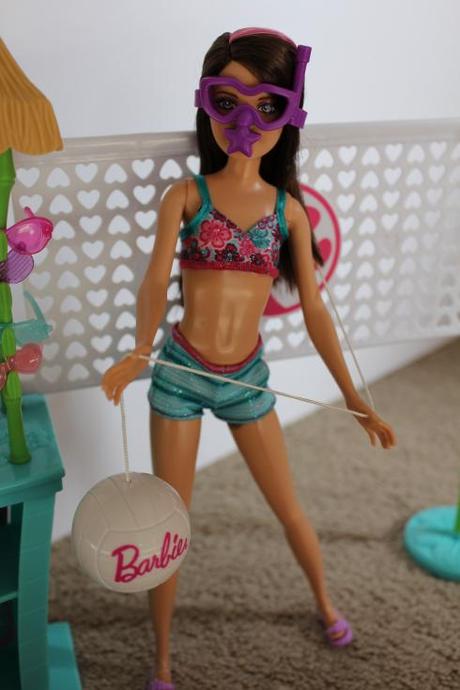 Skipper
The body is where this doll really lets me down.  I won't sugar coat this– her body feels cheap and hollow.  Mattel should know better by this point.  Going back through the past Skipper releases we've seen over the years, Skipper has had many different body types.  Some were jointed at helpful spots, like the elbows and knees.  Others were very heavy and vinyl'y.  Some were much better than others, to say the least.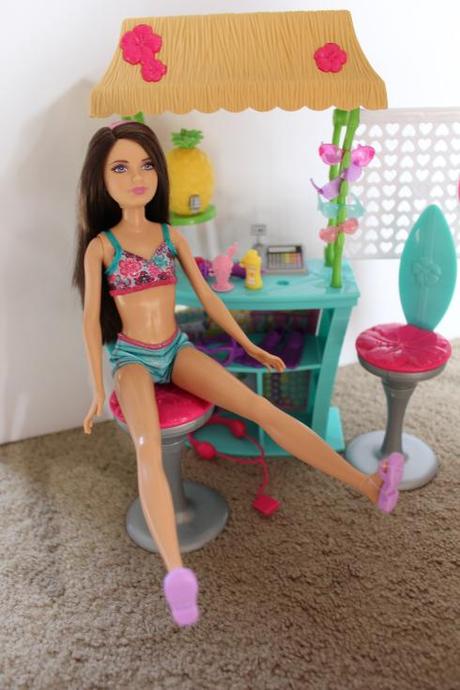 Skipper (no joints)
Tiki Hut Skipper's body is lacking a lot when compared to other releases.  She has jointed shoulders that will allow her arms to move up and down and tilt in other directions.  Thankfully, she wasn't given the annoying 'forever bent' arms Mattel love's to give Skipper.  She does not, however, have any elbow joints.  Her arms aren't as light or hollow as her other limbs, but the hard plastic feel to them is disappointing.  Skipper's torso is just as hollow as her arms.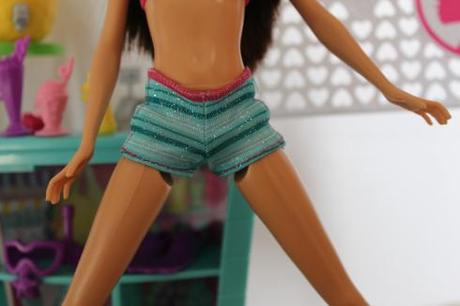 Skipper, weird wide stance
By far the most disappointing thing about Skipper has to be her very, very hollow legs.  While her hip joints allow her to tilt into wider stances, they are extremely hollow.  If these hollow limbs allowed her to stand on her own, I would get it. But, as it stands (pun intended), she can't stand on her own.  The cheap, hollow limbs do nothing but make this Skipper, who is otherwise a pretty example of Barbie's little sister, feel cheap and generic.  If you spread Skipper's legs too wide, you can see gaps between her hip joint and torso.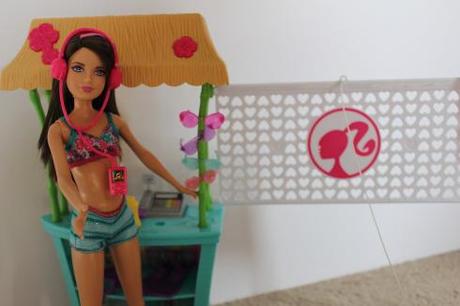 Skipper
Moving to a positive, I love that Mattel stepped out of the box in terms of Skipper's bathing suit.  She's usually in very sporty fashions.  This time around, she's in a cute bikini top with boy short bottoms.  The color scheme strikes me as different than the norm, too, decorated with fun flowers and stripes in teal and pink.  I love this teal color on Skipper.  She wears purple flip flops with stars on her feet.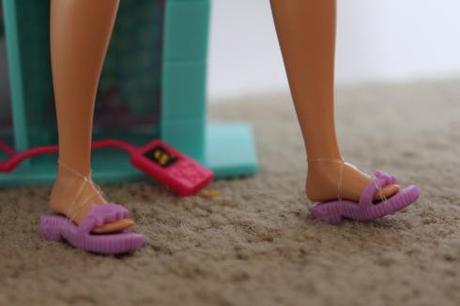 Skipper
Overall, I am disappointed in this release and it saddens me because I'm a Skipper collector.  I should love any and all Skipper releases!  But, really, most releases have been hindered by one or two small things.  Whether it's the body or the lack of imagination in the overall design, many of the recent releases have been 'okay'.  This Tiki Hut Skipper, while pretty, has one of the most disappointing bodies I've seen on a Barbie and Her Sisters release.  It's a far cry from the heavy, vinyl bodies of the past.  I honestly don't think this release would convince people to continue buying Skipper, which makes the Skipper collector in me sad.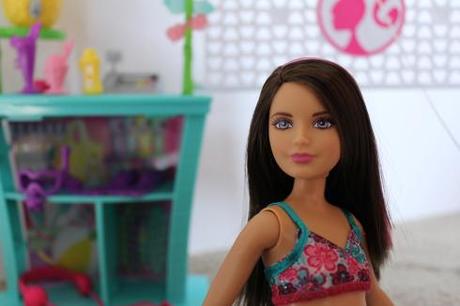 Skipper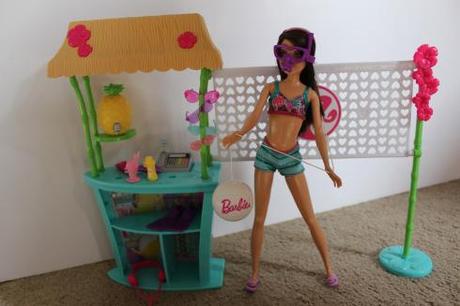 Skipper
What are your thoughts on Tiki Hut Skipper?  Do the hollow limbs on recent releases bother you? Share your thoughts below!
November 9, 2014. Tags: mattel, review, skipper, video review. Category: Introductions & Reviews, Category: Uncategorized.