A few months back, I received a few Paola Reina dolls to review.  The video reviews were posted last month, but I think it's about time to write about them! (See Toy Fair coverage on this brand here!)
Before I dive into the specifics on each doll, let's talk about the common threads on the three dolls you'll read about.  All of the dolls are hand crafted in Spain with high quality european supplies by Paola Reina, a company which has been crafting dolls since 1994. All three dolls came in easy to open boxes and were engulfed in a sweet vanilla scent. Still, months after opening them, they still smell like vanilla. (If you're sensitive to smells, you may find this troublesome.  I personally think they smell really nice!)  There's a wide variety of dolls offered under the Paola Reina brand, but below are three of my favorites.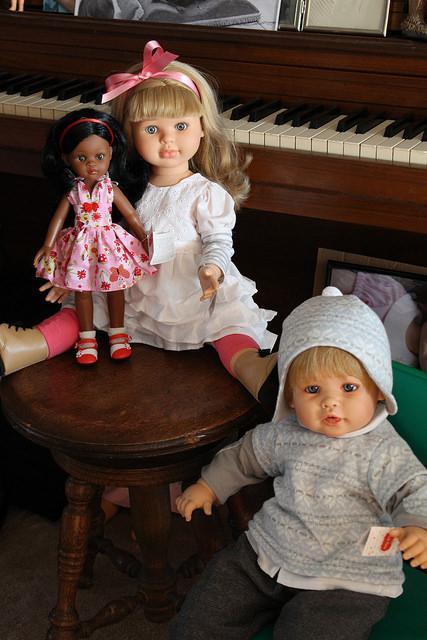 Las Reinas de Paola: Las Reinas de Paola Alma is 23.6″ tall.  Alma is impressive. She's completely vinyl, unlike some of the dolls produced by this brand.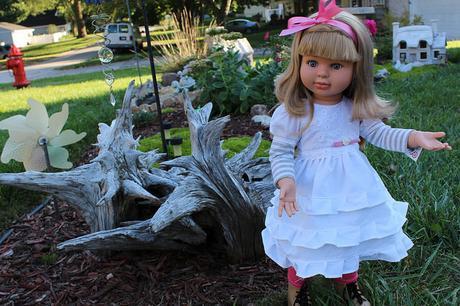 Alma has strange joints. They're not bad, but they are different than what I've come across. Being just over 23″ tall, her vinyl limbs are thick, so her joints have to be strong. The best way to describe them is that her elbow and knee joints have 'bolts' in them. They're not exactly hidden, either. (Check out the video review for photos of her elbows and knees.) The shoulder joints will move up and down, but not out. The same goes for her hips, knees and elbows. Because of the limited movement of her hip joints, she sits awkwardly in a wide straddle and takes up a lot of room on doll shelves. You'll want to have her stand if you're displaying her on a shelf.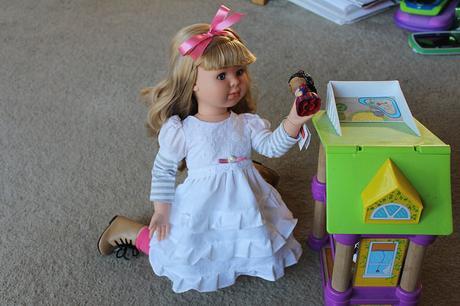 Her neck joint allows her head to turn left and right, but it won't tilt up or down. You can turn Alma's wrist and ankle. They also don't look like your typical wrist and ankle joints.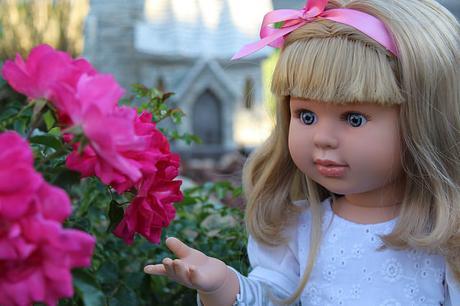 Alma's rooted dirty blonde hair is coarser than expected, but not terribly harsh to the touch. You can comb and style it easily enough, though, and its layers are cut well.
Los Ninos: At 19.5″, Adrian is adorable.  Unlike Alma, Adrian is part vinyl, part stuffed body. His head, arms and legs are vinyl, where as his torso, shoulders and hips are stuffed.  I expected him to be heavy, but because he's not stuffed with beans, Adrian is light enough for a child to hold. In the same respect, since Adrian isn't stuffed with beans, it's very hard for him to sit on his own.  One huge positive of Adrian is that he's very huggable.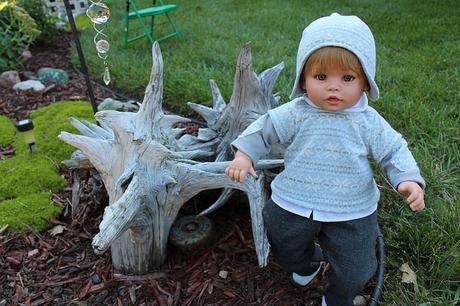 Adrian has one of the cutest baby faces I've ever seen. He has large inset eyes with 'real' lashes, chubby cheeks and an open mouth grin that shows two tiny teeth. His short blonde hair is coarse, just like Alma's.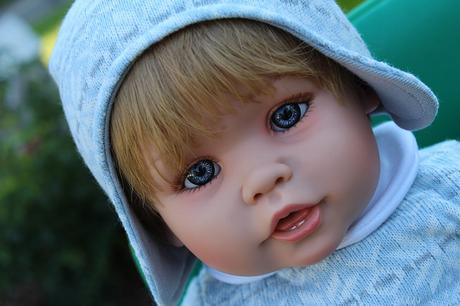 Adrian wears a very snazzy outfit that includes white shoes, charcoal pants and a blue sweater/long sleeve shirt combo. The light blue colors on the sweater work really well with the classy charcoal pants. (At this time, I can't seem to find Adrian on the companies website.  There's a doll named Borja that looks similar, but this guys name was Adrian in the catalog I received, so I'm not sure what is up with that. There is a doll named Adrian on the website that looks completely different than the cutie we're talking about here in this review, so be careful when ordering!)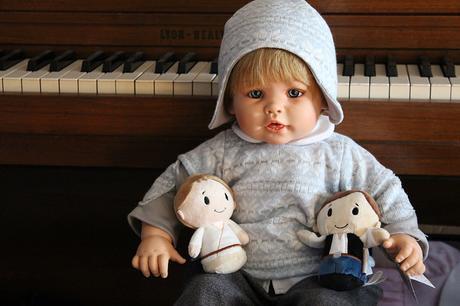 Las Amigas: The smallest of the Paola Reina dolls up for review is Nora. Standing at 12.5″ tall, Nora is made of a very soft, touchable vinyl. It's much softer than Adrian or Alma's vinyl. I really like the unique feel it has to it.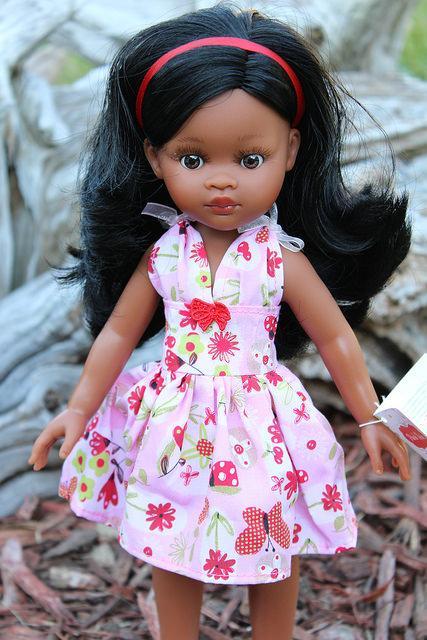 What I like most about Nora is her cute little face! She has glossed lips that are slightly exaggerated, round cheeks, inset brown eyes and 'real' lashes. Nora has a clean face that is make up free.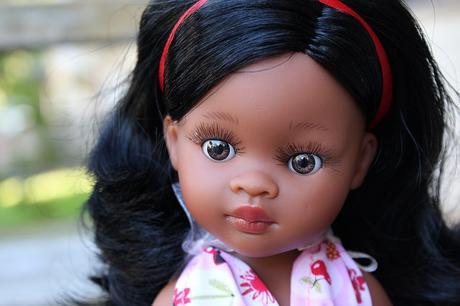 She wears a pink summer themed dress that features red butterfly's, cherries, flowers and the like. The mixture of pink and red tones works surprisingly well.  It's a combination I wouldn't have thought to put together, but it works! To finish off the look, Nora wears super cute red and white shoes.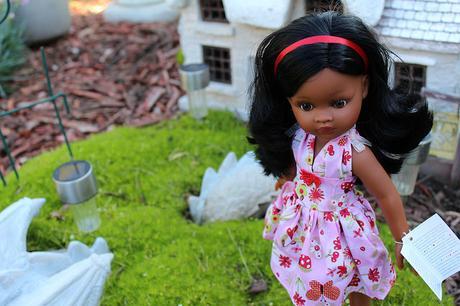 Nora's joints are a bit disappointing. She has shoulder and hip joints that allow her arms and legs to move forward and backward, but they won't tilt out. The same can be said about her neck joint, which doesn't allow her head to swivel in all directions, just to turn left and right. I would love to see better jointing in these 12″ dolls one day.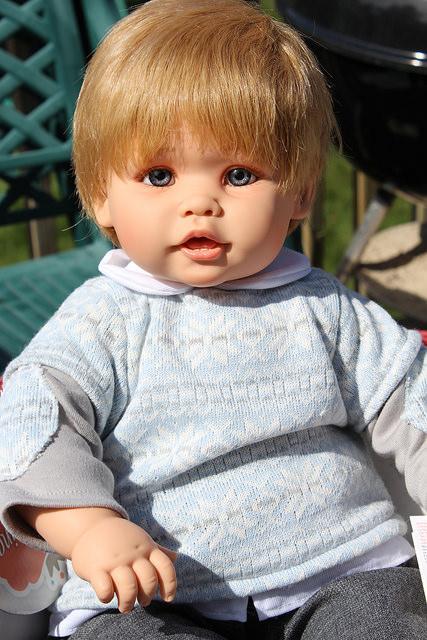 Overall, I'm impressed with the quality of the Paola Reina. These dolls have a 'heirloom' kind of feeling to them. They aren't just dolls that you'll play with and forget about. They're dolls that, I think, kids and collectors will keep and highlight throughout their lives. Not all dolls are made of that kind of quality, especially those meant to be true play dolls like these.
The only thing I would say they need to work on is jointing. Both the first and third doll in this review have joints, but they need more movement– let's get some ball joints in there so they can move their arms and legs out or tilt their head up.  That would make these practically perfect.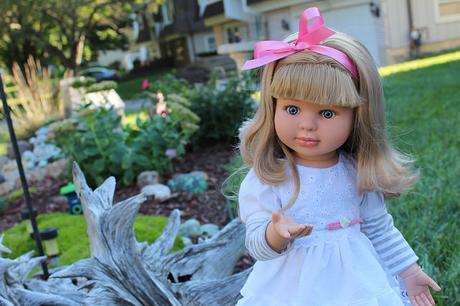 Video Reviews Below:
You can find Paola Reina online, as well as on facebook, instagram and twitter. You can see a few more photos on my flickr page! Which Paola Reina doll is your favorite?  Do you own any?  What do you think of the line? Let me know in the comment area!
December 12, 2015. Tags: paola reina, review, video review. Introductions & Reviews, Uncategorized.