Believe it or not, I don't think I've reviewed any Novi Stars for this blog yet.  We own some, but they just never made their way here.  Well, that's about to change right now.  For here is a review on the new Novi Stars Stellar Skinz Cici Thru.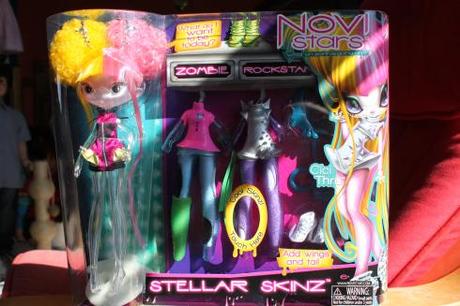 Novi Star Stellar Skinz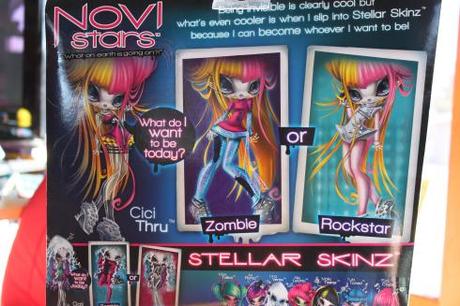 Novi Star Stellar Skinz
Cici Thru's unique characteristic is, as you'd expect, see through, hollow limbs.  What's neat about this set is that not only do you get the doll, but you also get two skins and multiple accesories to dress her in.  The Stellar Skinz set is, essentially, Novi Stars answer to all those 'create a doll' sets out there at the moment.  While they could have just tossed in two fabric outfits and an extra wig, they went the extra mile and tried making it 'theirs', which I applaude them for.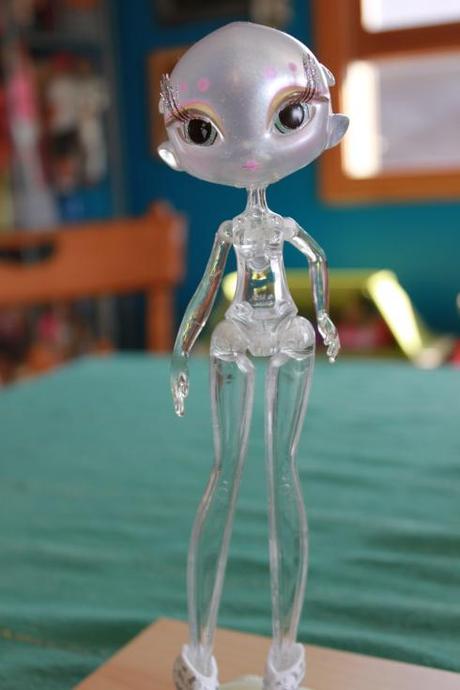 Cici Thru
Let's start of with Cici.  Her see through body seems to be more posable than other Novi Stars.  For example, her legs move up, down, left, right.  She can do the fantastic splits in both directions.  Her knees still don't bend, but I love that the thigh joints allow for more movement than other Novi Stars!  Cici's arms are a bit more traditional.  They still don't bend at the elbow, but they do move up, down, left, and right.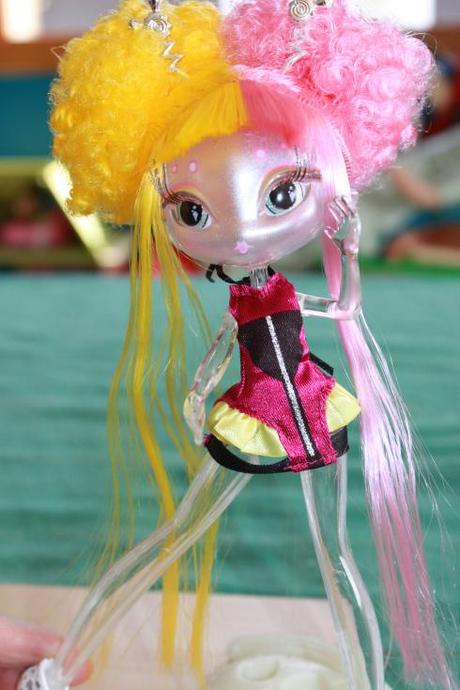 Cici posing in basic outfit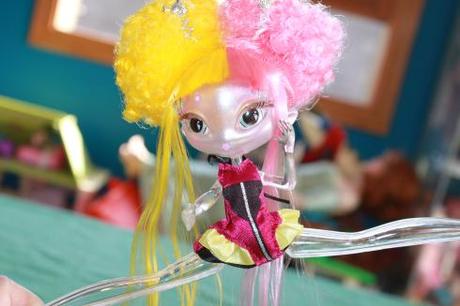 Cici posing in basic outfit
An important thing to note is that this Novi Star is much taller than her original counterpart!  In general, her limbs are longer than the traditional Novi Star.  Her head mold, however, seems the same.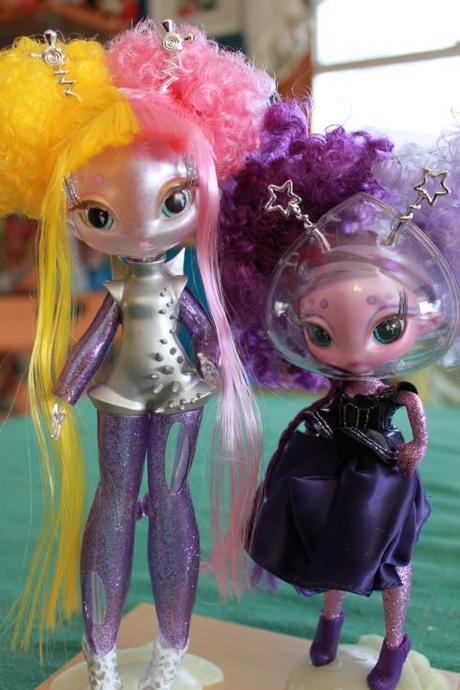 Cici against an original Novi Star
I love her make up. She has Neapolitan colored eye shadow which looks good on her see through pink face.  Her lips are placed well, too.  One thing I think MGA got right on these dolls is the proportions of their faces.  I've always liked dolls with alien like eyes (think Hujoo!), but it's easy to do it wrong.  Novi Stars always have faces that just look 'right'.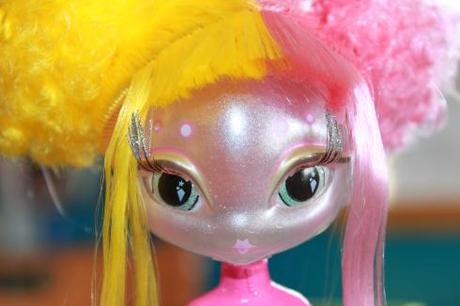 Cici's face paint
Onto her hair…  Surprise!  It's a wig!  Novi Stars of the past have all been rooted, but this one has a removable wig!  I was surprised, because I didn't remember reading that tidbit on the packaging.  About her wig– it is really big.  It fits this doll, but it won't fit a Monster High Create a Monster of a Bratzillaz Switch a Witch or vise versa.  I'm not sure what size Monique wig she would be, but nothing I have fits, which makes me believe you'll need something meant for a doll larger than 1/6 scale.  The wig itself is made with a plastic wig cap.  No pesky pegs.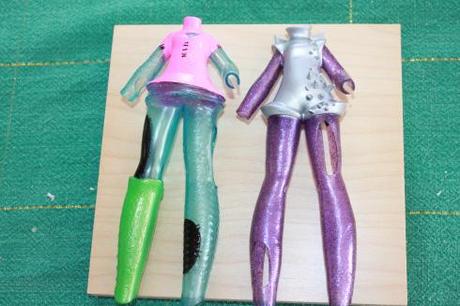 Skins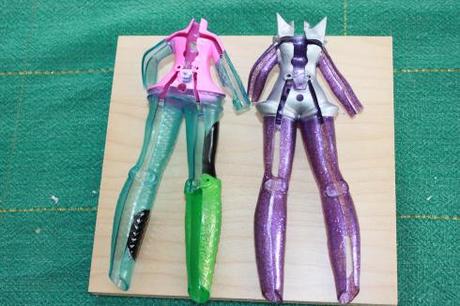 Skins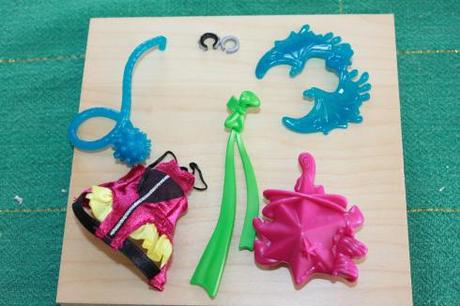 accessories
The meat and potatoes of this set has to be the skins.  We have a skin that transforms Cici into a rock star and a zombie.  The skin itself is super easy to slide on and off the doll.  It's made of a material that has a gel like feeling to it.  I'm not sure how exactly to describe it, actually.  The skin left a bit of an oily feeling on my skin, but overall, they look really cool on the doll.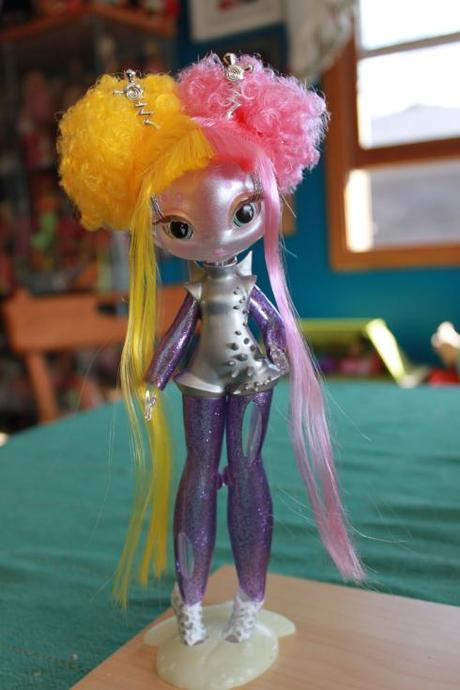 Rock Star Look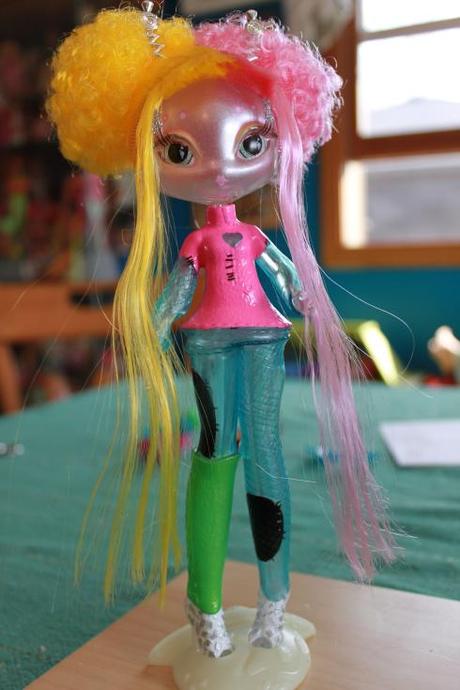 Zombie Skin
The con of the skins is that once you put them on the doll, her posing is far more limited.  Her arms are pretty much stuck in a neutral position and her legs don't move half as much as they did in the fabric outfit.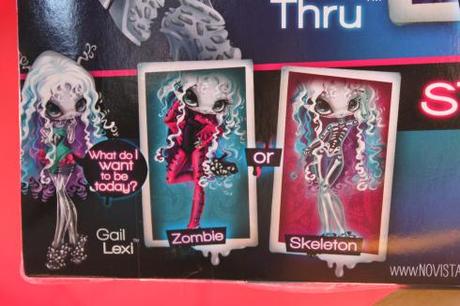 Gail Lexi
Also available is Gail Lexi.  I haven't seen this one in person yet, but the Skeleton skin intrigues me!
For those who like video reviews, check out the video below!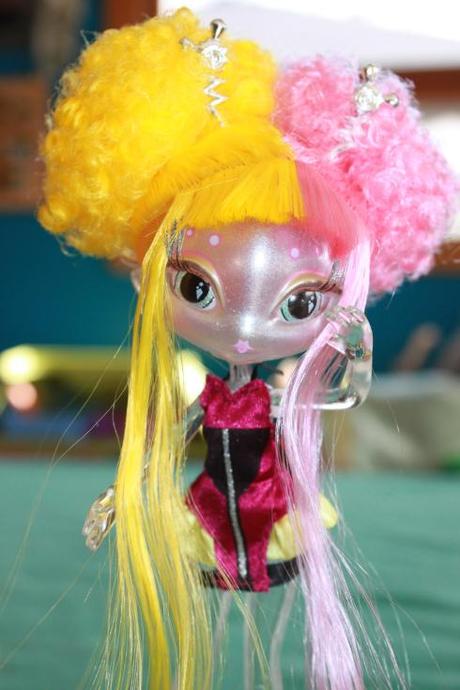 Cici
Overall, I really like Cici!  I love that this 'create a doll' concept isn't an exact copy of any other 'create a doll' on the shelves right now.  On top of that, her skins are really cute.  I recommend checking this Novi Star out when you get a chance!
Feel free to leave a comment below with comments, questions, thoughts, etc!