It's been a long time since I've written about Monster High. Why? Since the reboot, I just haven't been super enthralled by many of the dolls. There have been a few bright spots, like Dayna Treasura Jones, but they are few and far between. Up for review today, however, is one of the more interesting Monster High dolls to be released in 2016– the San Diego Comic Con 2016 exclusive Ghostbusters Frankie.
This Frankie isn't super luxe or over the top, in fact she's relatively basic when you look at her. But, it's because the doll itself is less 'exciting' that the outfit and props really shine, making this one of the more unique Monster High's produced during the series run. If memory serves me right, this is the first 'mash up' we've seen in the Monster High line. It makes me wish we'd seen more cool tie-ins when we were guaranteed releases with articulated bodies. But, let's get onto the review, shall we?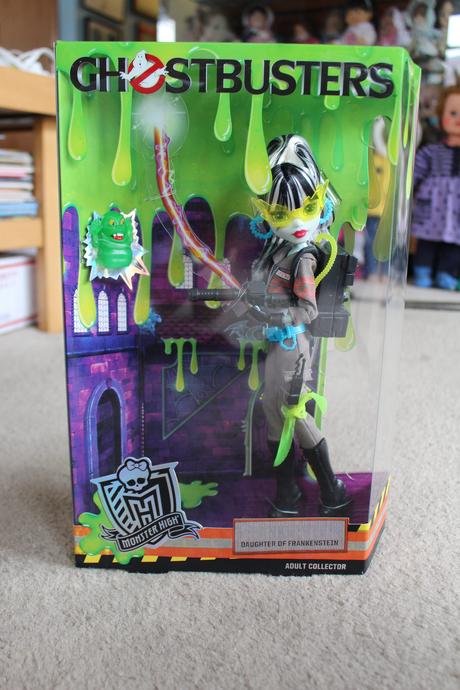 Frankie, as I stated, is pretty basic when it comes to her face and hair. Her face is as you'd expect with large two toned eyes and her scar. It's free of make up and has a clean, fresh look. Frankie's hair has decently rooted highlights in black and white. They're pulled up into a simple ponytail. And of course, she has bangs/fringe.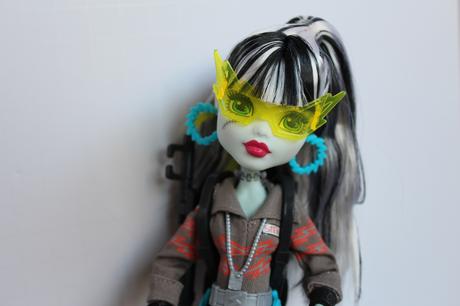 What makes this Frankie stand out among the rest is her super cool Ghostbusters uniform and proton pack! Frankie wears the uniform of the Ghostbusters proudly. Mattel did a great job on this element of Frankie's look. She has the Ghostbuster logo on her shoulder and her last name printed on the front of her uniform.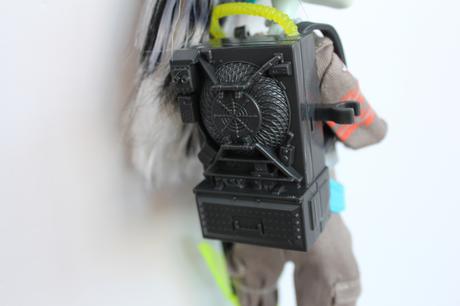 On her back is the ever important proton pack with a removable handheld ray gun that wraps around Frankie with enough room to have her hold it. Her outfit is complimented with knee high boots, a belt, a black bracelet, plastic ID/Dog tags, earrings and cool yellow glasses.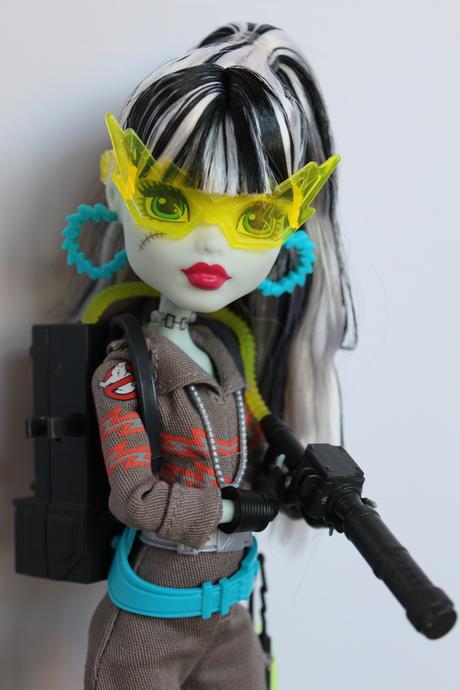 This Frankie has all the articulation you'd expect from a good, old fashioned Monster High doll, with shoulder, elbow, wrist, hip and knee joints. Her suit limits her movement a bit, but I'm so happy Mattel didn't skimp on the body type for this exclusive! (The fingers on my Frankie are a bit hyper extended due to how she was placed in her box, so you might encounter this, as well, if you pick one up.)
One other thing they included that is worth noting is Slimer! Monster High's Slimer is much smaller than his movie/cartoon counterpart. He's hollow on the inside, which means you can pretend he's 'sliming' someone easily by being propped on a Monster High's hand.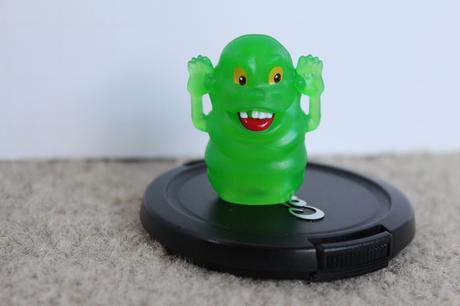 Overall, I am very happy with this Frankie. I love how Mattel incorporated Ghostbusters into the Monster High line. If you search Ghostbuster Frankie on eBay there are a number of dolls available. Most are overpriced, in my opinion, since she was pretty easy to get through Matty Collector post comic con. But if you can find one for under $40.00 or so dollars, I think she's unique enough to be worth the money.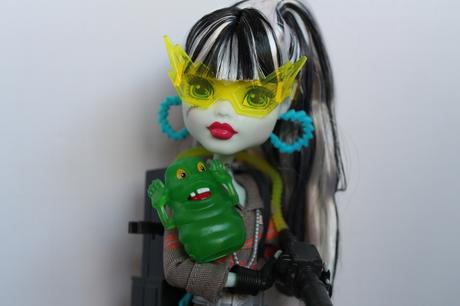 Do you have this Frankie? What are your thoughts on her? Let me know in the comment area!
October 19, 2016. Tags: mattel, Monster High, review, sdcc, video review. Introductions & Reviews, Uncategorized.