I had high hopes for Lorna and, for the most part, she lived up to them. However, not everything was as expected.  Lorna is the daughter of the Loch Ness Monster. She's a younger student and as such is on a body similar to Twyla and Howleen.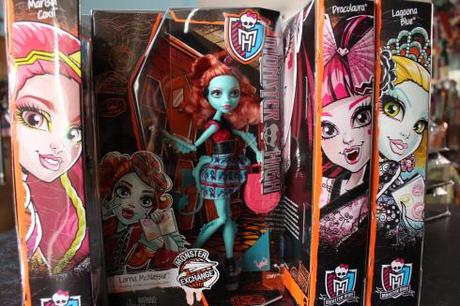 Lorna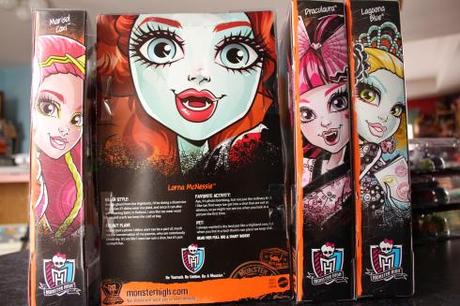 Lorna
Lorna has a fantastic head of rooted burnt orange and peach hair.  It's curly and has some bounce to it.  Her fringe-less style is done up in a half pony tail with sausage curls.  I was happily surprised to see her hair wasn't super sprayed down like some Monster High dolls and was still somewhat light to the touch.  Her burnt orange pony tail does employee a lot of spray, but the peach that hangs down is very natural.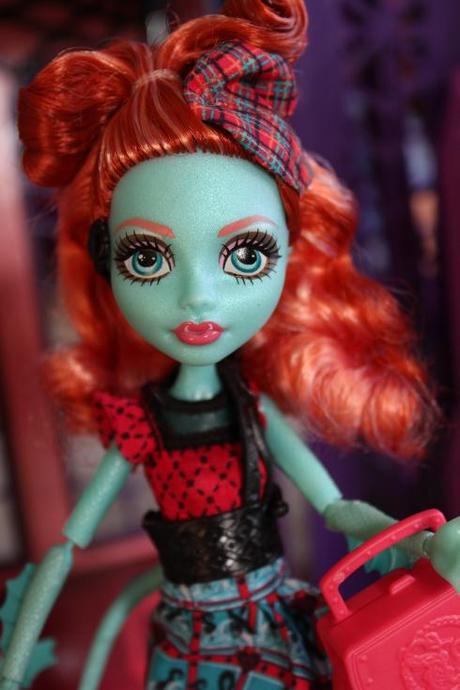 Lorna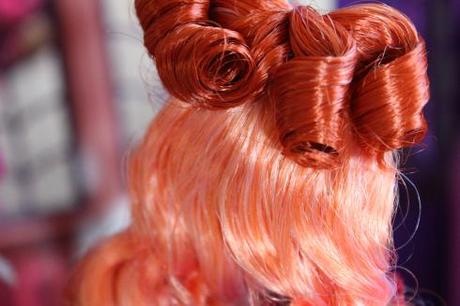 Lorna
Her skin is an iridescent sea foam sort of green with molded scales.  She has fins on her arms and legs.  I love the color of her skin, especially compared to her hair.  The contrast is really neat.  Lorna has fun, fin-like ears.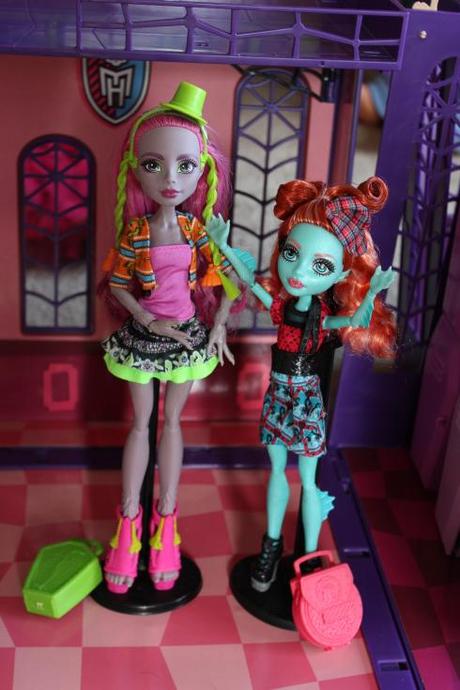 Lorna
Lorna has joints in the usual spots.  Here, though, is where my main problem with this doll comes into play.  Poor Lorna has an elbow issue.  Her forearm doesn't go all the way into her upper arm.  This, as you could imagine, limits her posing in a big way.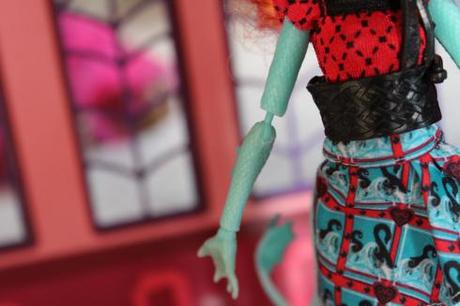 Lorna
We called Customer Service at Mattel the same day we opened her and were sent a replacement forearm.  That didn't fix the problem, though, so they eventually shipped a new Lorna with a working arm.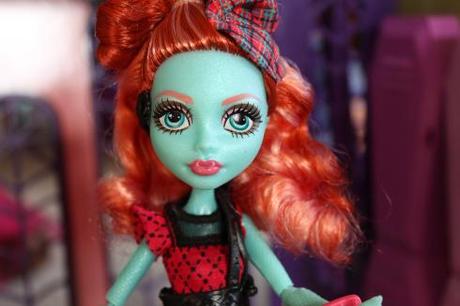 Lorna
Lorna has a fun face!  Her green eyes are very large.  Instead of the heavy black lashes we've seen recently on many releases, Lorna has long, thin lashes. Highlighting her eyes is a thin layer of baby pink topped with a muddy military green that goes around her entire eye and an iridescent white.  Her brows are painted in a burnt orange sort of color.  Lorna has white fangs painted on her pink lips.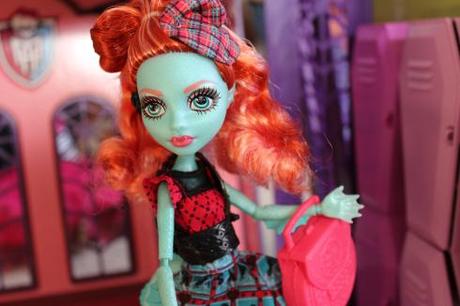 Lorna
My favorite part of Lorna's face are her large eyes. The matte paint on her lips and brows is a little strange on the sparkly skin, but I don't get the same feeling at all with her eyes.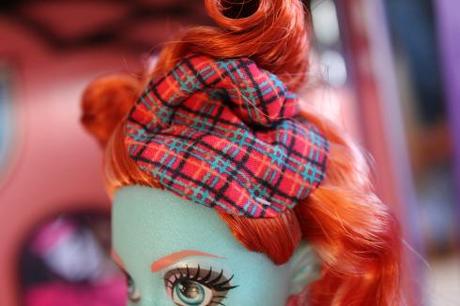 Lorna
Lorna wears a Scottish tam on her head, which blends nicely with her outfit. Her cap sleeve top is red with a line design and black neckline.  She wears a plastic sash of sorts that is removable.  Her skirt is my favorite part of her outfit.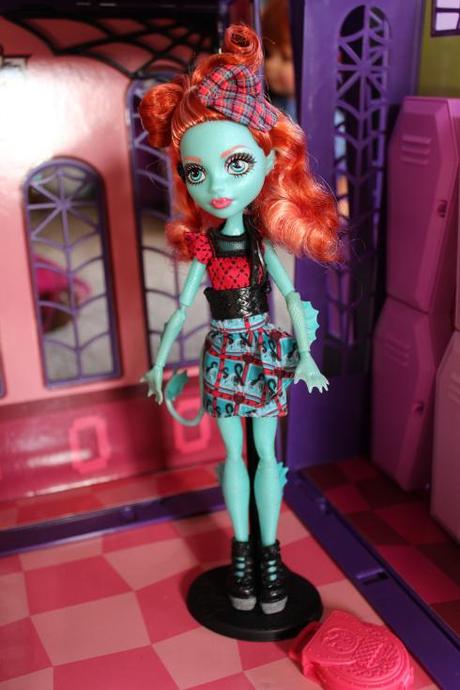 Lorna
Similar to a row of picture frames, it features tiny, repeated images of Nessie, the sea monster. Last, but not least, Lorna wears amazing shoes.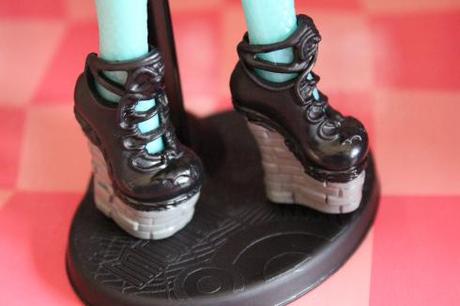 Lorna
Her shoes play on the idea of stone walls, it seems, with a grey, stone-like platform that lead up to a black mary jane-esc style shoe.  For some reason, while I love her shoes, I find them really hard to describe!  The best description of them?  They're fantastic!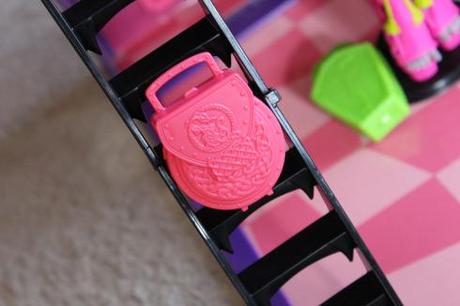 Lorna
Like the rest of the Monster Exchange dolls, Lorna comes with a less than awesome purse.  It opens, but is pretty much a piece of flimsy plastic.  She also comes with a passport, diary, stand and comb.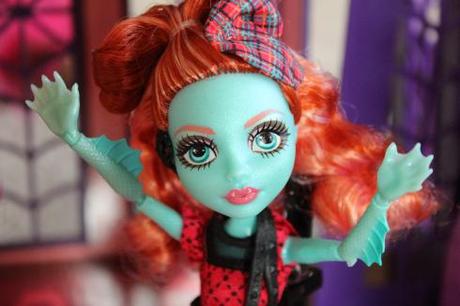 Lorna
Overall, Lorna is a nice doll.  The fact that there are still quality issues with the fish limbs is a bit of a problem for me, but Mattel took care of Lorna's issue in a quick and timely manner.  Her face and contrasting body and hair colors will most likely not please everyone, but I personally love them!  And her shoes– can I have a pair in size 5, please?
What do you think of Lorna?  Leave your thoughts below!
December 22, 2014. Tags: dolly review, mattel, Monster High, review. Category: Introductions & Reviews, Category: Uncategorized.