She's finally here!  Freak du Chic is hitting store shelves, which means Gooliope is making her debut. At the moment, she seems to be all over the stores in my area, which I guess is the perk of being the only character her size in an oversized box design.  Let's jump to the chase, shall we?  What do I think of 17″ Gooliope?  I love her!  She's everything I expected her to be.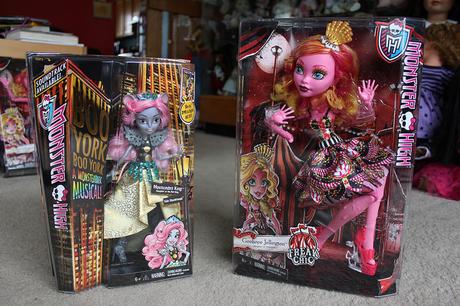 As mentioned before here on the blog, Gooliope is 17″ tall.  That's much larger than your traditional Monster High doll. Her size is massive, especially when you compare her to dolls outside of the Monster High brand, like MSD ball jointed dolls or A Girl for All Time. It's mind-boggling to see a Monster High stand nearly shoulder to shoulder with these kinds of dolls.  That being said, I love it!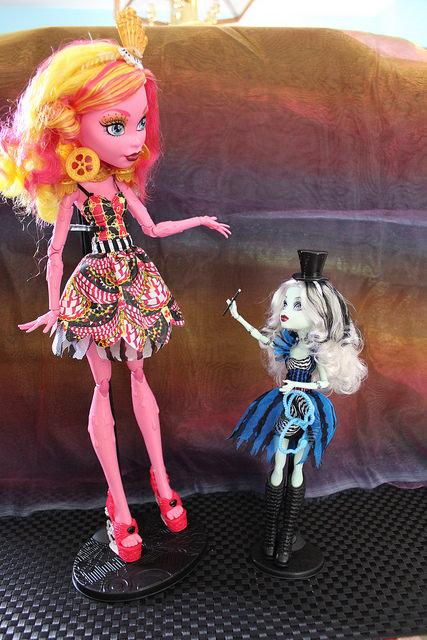 Gooliope has rooted pink and yellow hair styled in curls.  Now, my Gooliope has a nice mixture of both colors and has recognizable ringlets, but my mothers doesn't.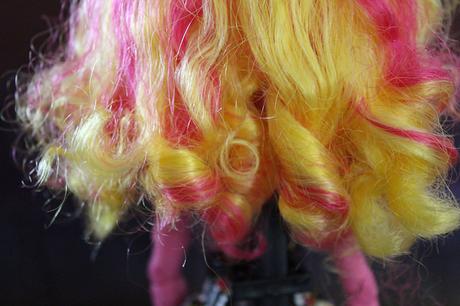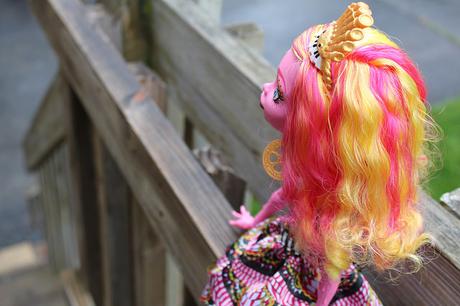 Her Gooliope has more yellow hair than pink and has frizzier hair, as if someone in the factory combed out the curls and tossed her in the box.  It looks like this girl is going to be one of those Monster High releases where you will have to carefully look at each individual doll to judge her unique elements.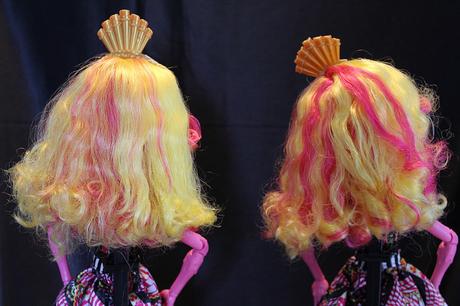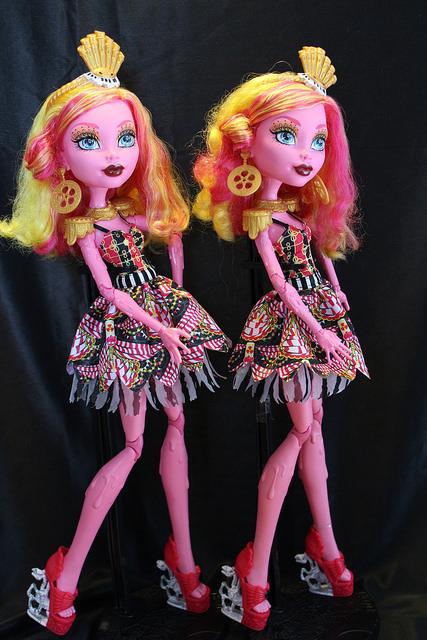 Her head is a soft vinyl, as expected.  It moves better than some smaller dolls, to be honest!  It tilts up and down and turns left and right. It's also massive and perfectly proportioned for this 17″ size.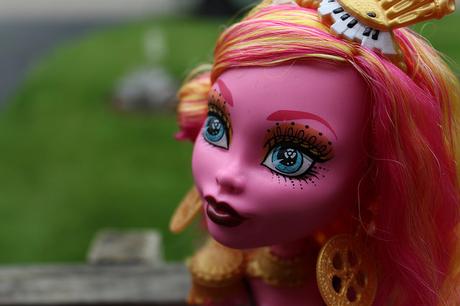 My favorite part of her face design has to be her eyes.  Gooliope's eyes are very large and anime-like.  I especially love the eye lash design.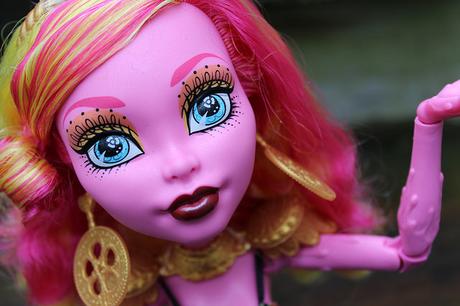 Gooliope's outfit is very much inspired by the circus.  The designers put a lot of thought this time around into all the elements of her outfit from head to toe.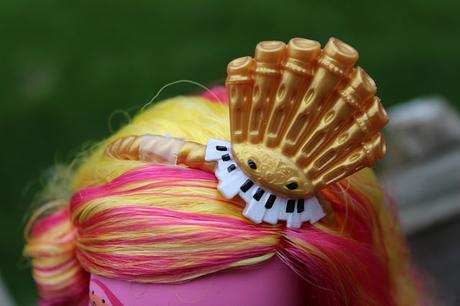 First, she has a Steam Calliope, a pipe organ, as her headband. Upon her shoulders, she wears a gold plastic shoulder element similar to what the ringmaster would wear.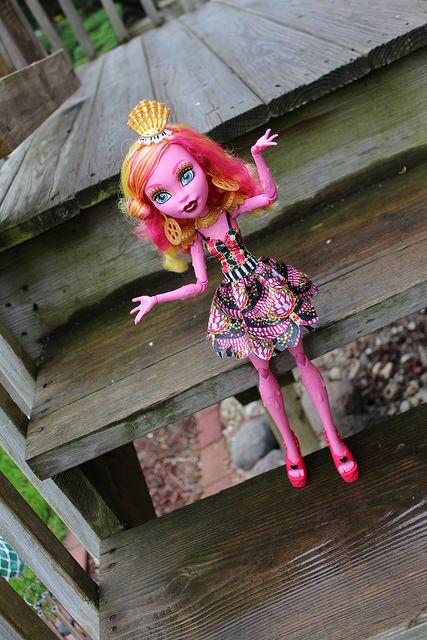 The top of her dress is simple and sleeveless. The skirt portion, however, is full of action. The satin like fabric showcases many circus'y elements, like golden ropes, drawn up curtains, the monster high emblem with a color scheme of pink, black and white. Beneath the top layer is a second thin fabric with black and white stripes running down it.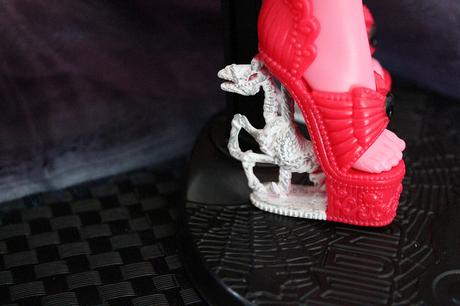 And her shoes? They're the definition of 'creepy cute'. They have the bones of carousel horses done up in an antique finish as their heel. The rest of the platform is pink with the Monster High emblem in the front.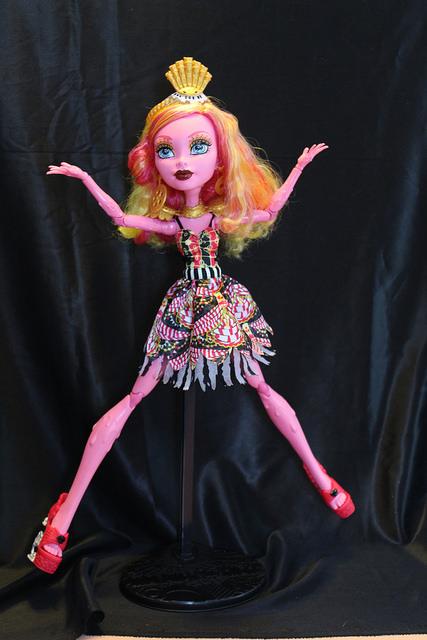 You want to know about this new body type, right? Her body is really neat! I didn't expect them to make so many changes to the smaller body, to be honest, but they made a lot of great improvements.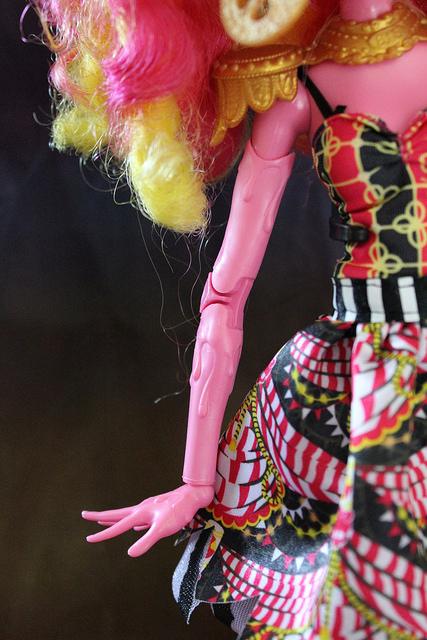 Unlike your regular Monster High bodies, where their upper and lower arms plug into each other with a peg, Gooliope has a separate elbow joint, making her double jointed.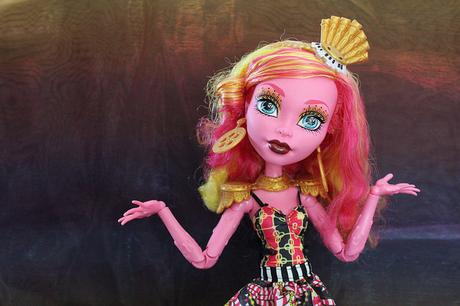 This allows for her to pose really well. She also has a shoulder joint that does plug in like your traditional monster high body. When I bought mine, her arm somehow detached itself. I was a little freaked out, but it popped back in easily.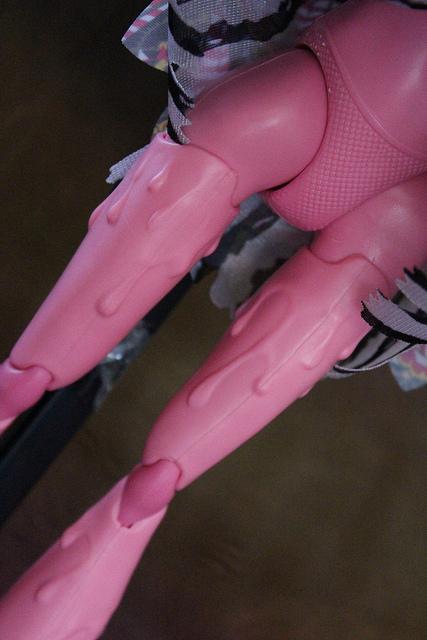 Even better than her elbow joints are her new knee joints. They allow her to pose better than the smaller Monster  High dolls. Gooliope also has an extra joint right under her hip. They look like they are pegged, like the upper arm joint. I haven't tested it or anything, though, so I would suggest not taking her apart unless you have to.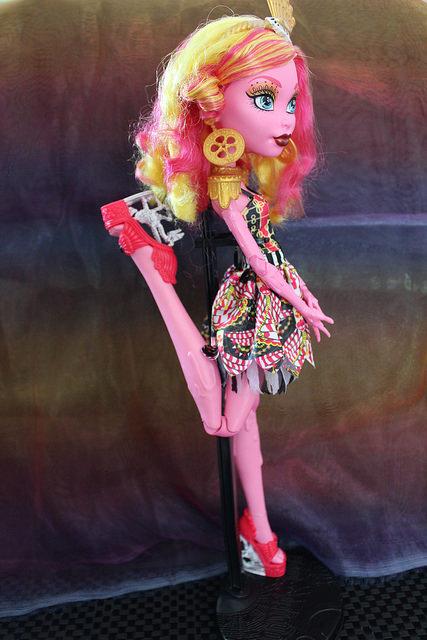 Her legs are a little plastic'y in feel, but solid. Both the arm and leg molds are designed to look like 'goo' is dripping from Gooliope.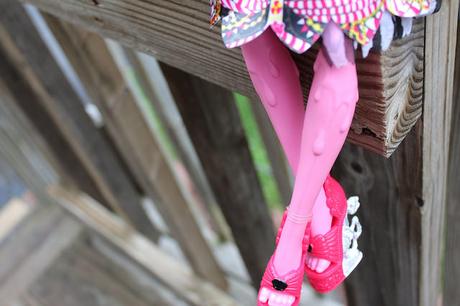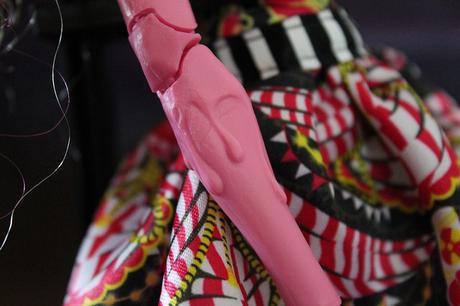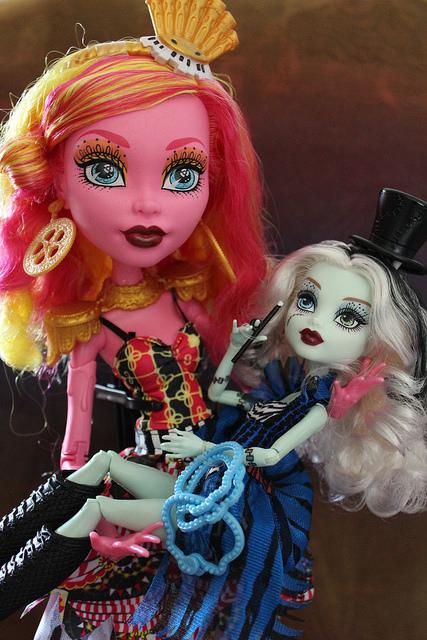 Overall, I am a huge fan of Gooliope. She's one of the most exciting things to come out of the Monster High line in a while. (The whole Freak du Chic line is quite refreshing, actually!)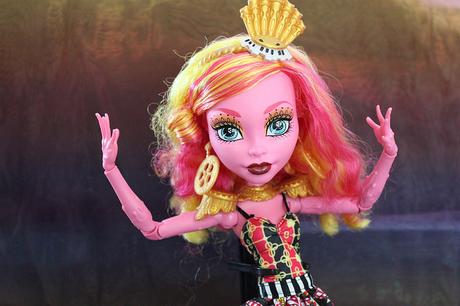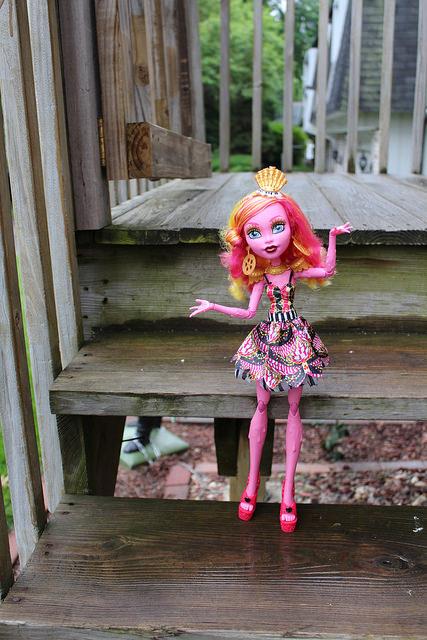 Video Reviews:
For a few more photos, visit my flickr album. What do you think of Gooliope? Share your thoughts below!
June 29, 2015. Tags: mattel, Monster High, review, video review. Introductions & Reviews, Uncategorized.