Up for review today are two 7″ Travel Friends International Collection. Manufactured by iconic doll company Madame Alexander, these two travel friends are part of a larger line of vinyl travel themed dolls. Representing 9 different countries, Madame Alexander's Travel Friends celebrate a multicultural world.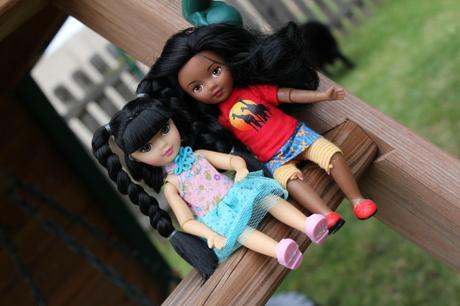 Madame Alexander Travel Friends
This doll represents China.  As you can see, she has long rooted black hair styled in braided pig-tails.  Some hair lays outside the pig-tails and is curled. Be careful when you take this doll out of the box.  I accidentally pulled one of the curls the wrong way and made it a little messier than it was meant to be.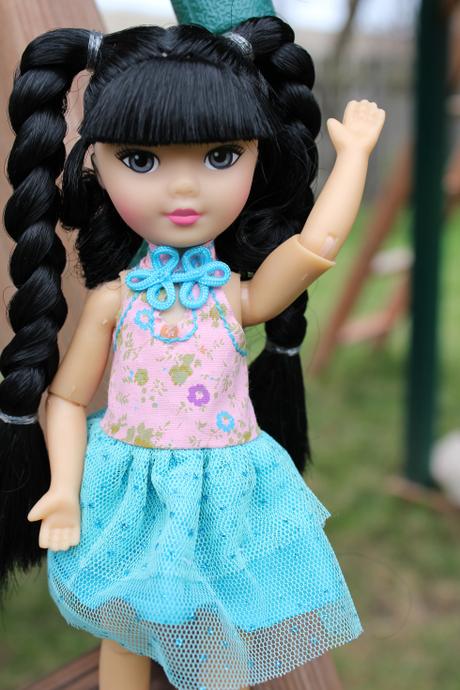 Madame Alexander Travel Friends
Kenya, also seen here in this review, has silky black, medium length hair. While these don't come with combs, you can comb their hair.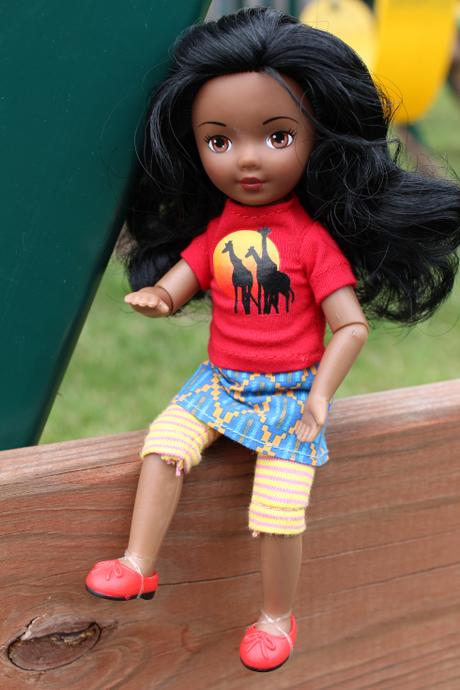 Madame Alexander Travel Friends
Kenya and China share the same vinyl body type.  Both Kenya's dark brown body and China's tan body have joints in a few places.  Their heads can turn left and right, but won't tilt.  They have shoulder and elbow joints, as well as hip and knee joints.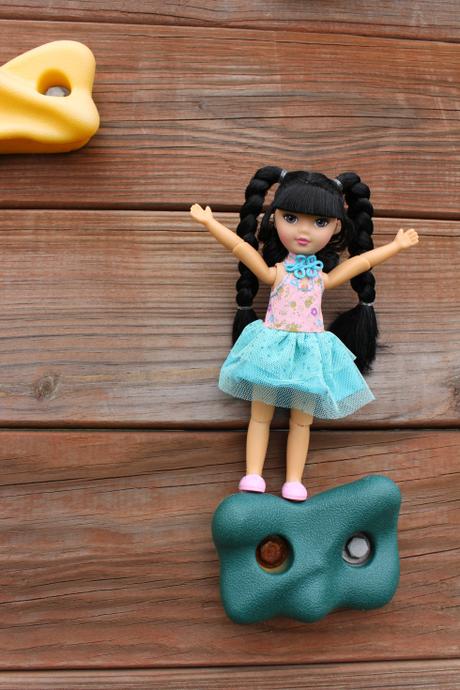 Madame Alexander Travel Friends
While I like that these dolls have joints, they do need some work.  It may just take working them in a bit more, but right now, the joints seem a bit stiff.  It took a while for me to get the gist of posing the elbows, but the more I play with them, the easier it's getting. I understand wrist joints wouldn't work for a doll that is aimed at 3 and up, but the photographer in me would love to see them! The hip and knee joints work well and allow the dolls to stand relatively easily.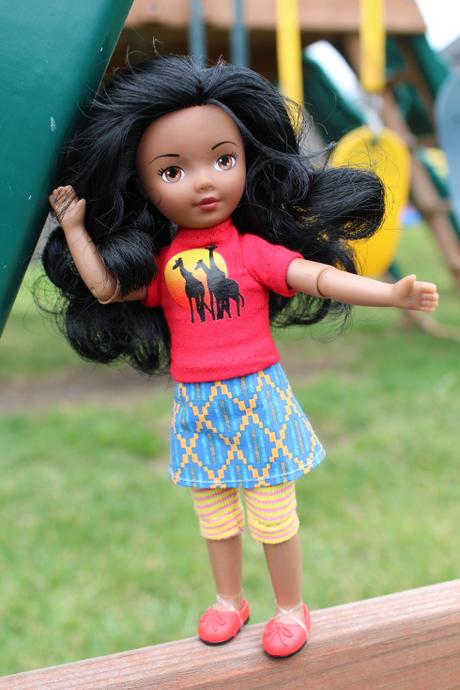 Madame Alexander Travel Friends
Kenya wears a cute, colorful outfit. She wears a bright red t-shirt decorated with giraffes silhouetted by the sun, a skirt with a bold blue and gold pattern, striped pink and yellow leggings and fun red flats.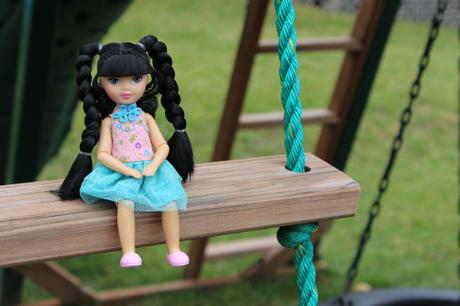 Madame Alexander Travel Friends
China's outfit is composed of more muted tones.  She wears a sleeveless dress with a pink bodice and blue skirt.  There's some blue tulle on the skirt for extra body. She wears baby pink flats.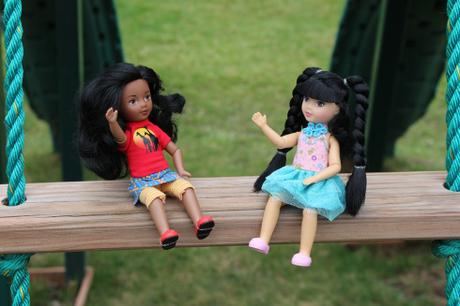 Madame Alexander Travel Friends
What about their faces, you ask?  I quite like their little faces! The features are placed well and are proportioned just right.  I wouldn't judge these guys by the faces seen in the promo shots on the website.  The produced dolls look different, better in my opinion!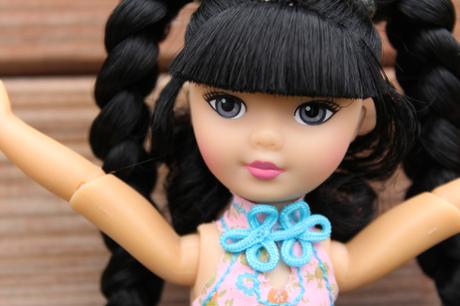 Madame Alexander Travel Friends
Typically, I don't dig decal faces.  However, that's not the case with these two dolls. China has fantastic gray eyes, pink lips and light blush. Kenya has two shades of brown in her eyes and a dark red lip.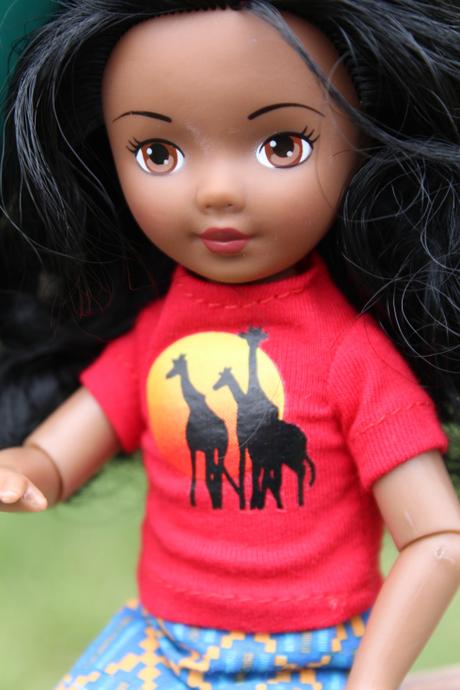 Madame Alexander Travel Friends
Overall, Madame Alexanders 7″ play line has many high points.  The first being the pretty faces and perfect 'backpack' friendly size.  I also like that they're jointed. That being said, the biggest thing they need to work on are the joints, specifically the elbow joints.  They could be more fluid in movement.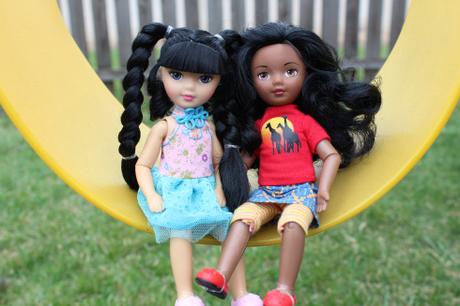 Madame Alexander Travel Friends
More 7″ dolls are on the way from Madame Alexander, as displayed at Toy Fair 2015, including a career line and a NASCAR line.  What do you think of the 7″ Madame Alexander Travel Friends International Collection? Who's your favorite? Share your thoughts below.
*These were received for review. All opinions stated are my own.
April 12, 2015. Tags: madame alexander, review, video review. Introductions & Reviews.