For months now, the web has been abuzz over a number of Jun Planning dolls being found in discount store, Tuesday Morning.  They've eluded me and my mother every visit– until now!  My last visit to Tuesday Morning brought two new kinds of dolls into my diverse collection.  One of these was the much talked about Ai Ball Jointed Doll.  The other, a J-Doll, will be reviewed in a different post!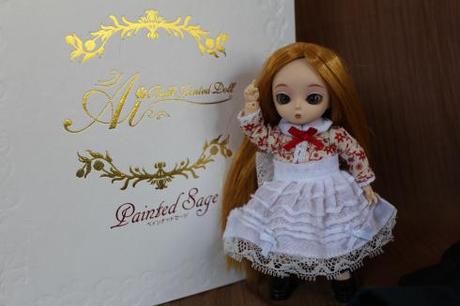 Ai Ball Jointed Doll, Painted Sage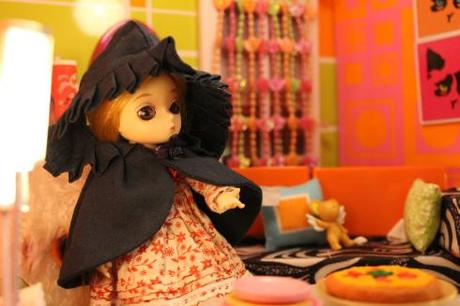 Painted Sage
Ai's were manufactured by Jun Planning, maker of Pullips and J-Dolls.  According to Pullips and Junk, a fantastic Pullip site, these were released between 2007 and 2013.  Both Ai's my mom and I picked up during this shopping trip, Painted Sage and Cuphea, were released in 2007 and 2008.  There are multiple face molds and face ups.  Many, if not all of the dolls, seem to be named after flowers.  A quick side note here:  the cashier was totally freaked out by all the dolls we purchased during our visit.  She seemed to think Painted Sage was strange looking. Me?  I think Painted Sage looks just right!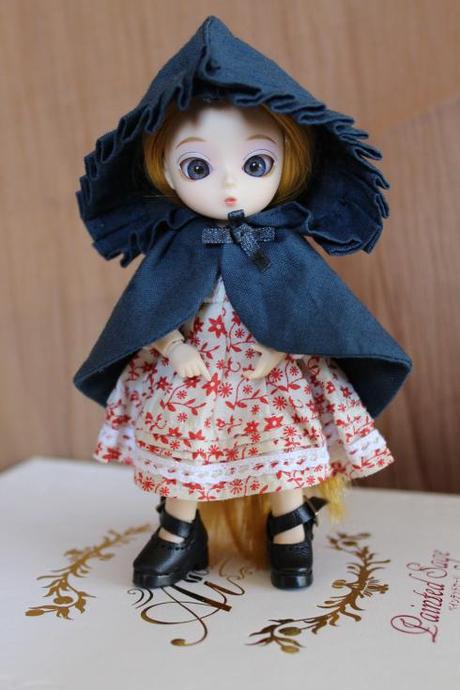 Painted Sage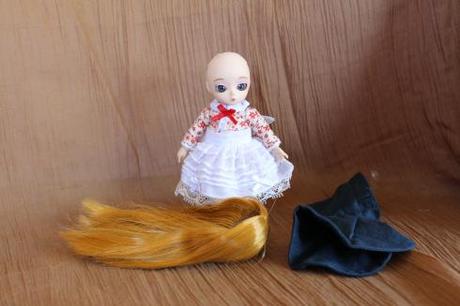 Painted Sage
Ai's are made of ABS and are around 5″ tall.  Originally priced around $79.99 (according to the Tuesday Morning tag), those who find them at Tuesday Morning could walk away with one for $29.99.  eBay seems to have these guys around the $30.00 price point, as well.  A fantastic price for an adorable starter BJD like this one.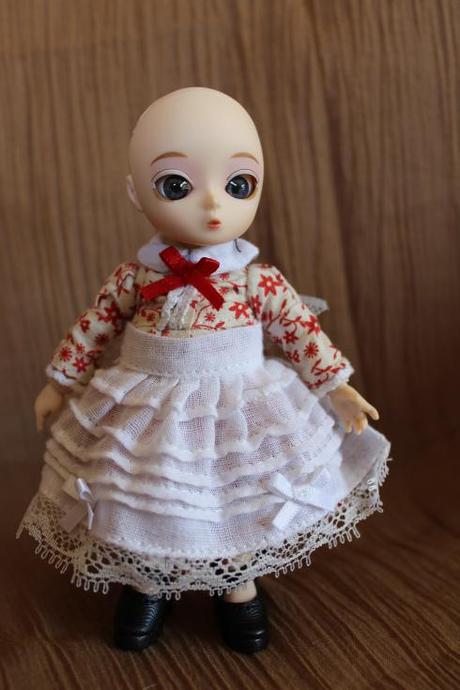 Painted Sage Without Wig
Like your traditional BJD's, Ai's are customizable.  They have a magnetic head cap that allows you to get into the head and change the eyes.  A note to those who might be giving this to a child.  The magnetic head cap on my Ai is covered in magnet fragments.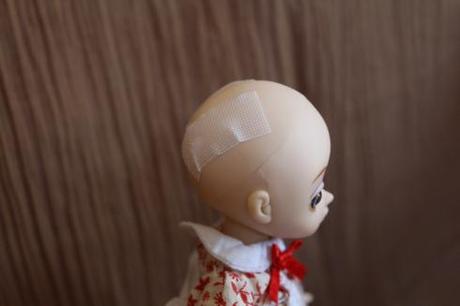 Painted Sage Headcap with Factory Velcro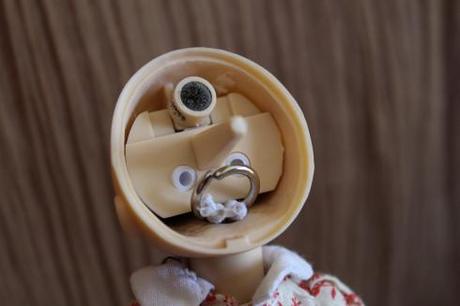 Painted Sage Headcap with Magnetic Fragments and Eye Mech
It seems that this isn't normal, though, as my mom's was just your normal magnet.  Before giving it to a child, I would double check that the head cap is fragment free.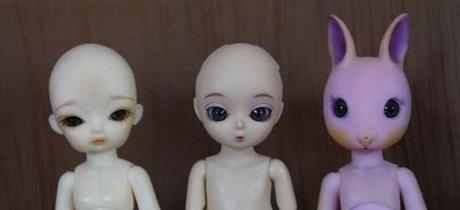 Hujoo Baby Is, Ai Painted Sage, Junky Spot Nano Rabi
I'm not exactly sure what size eye came with Painted Sage, but it must be around 10mm, because the head is very similar in size to the Hujoo Babies, who wear that size eye.  Eye putty is included, in case you need it.  My Ai, Painted Sage, has a contraption in its head that allows the eyes to stay in without putty (as seen in an earlier photo).  My mom's Cuphea, however, needed putty to hold the eyes in.  (Strangely enough, my mom's putty was in a fancy cardboard box, while mine was just packaged in a plastic bag!)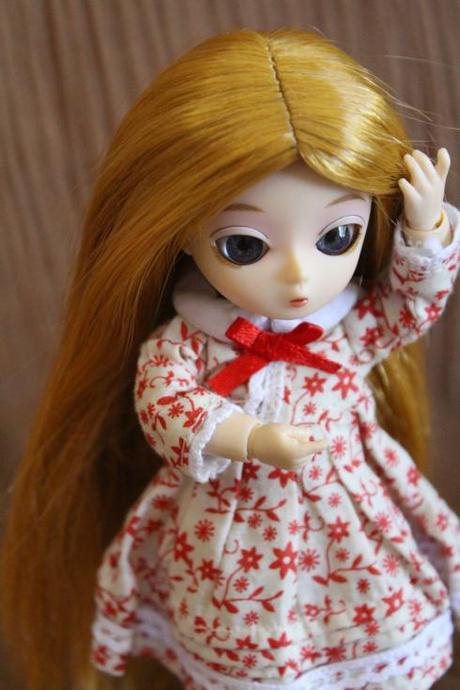 Painted Sage's Wig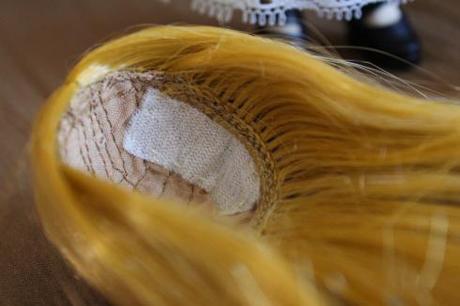 Velcro in Wig
Painted Sage is wigged.  She has factory placed velcro on her head and inside her wig.  Lining the pieces up can be hard to do, but the wig stays on well, even when a little off.  For those with Hujoo babies, you're in luck!  With velcro, this wig size seems practically perfect for tiny Hujoo's.  Painted Sage has a long, dirty blonde wig.  It's nice and looks high quality.  I can't say I know what wig size this is, though.  What wig sizes fit your Ai's?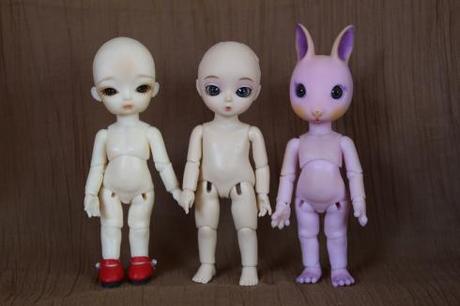 Hujoo Baby is, Ai Painted Sage, Junky Spot Nano Rabi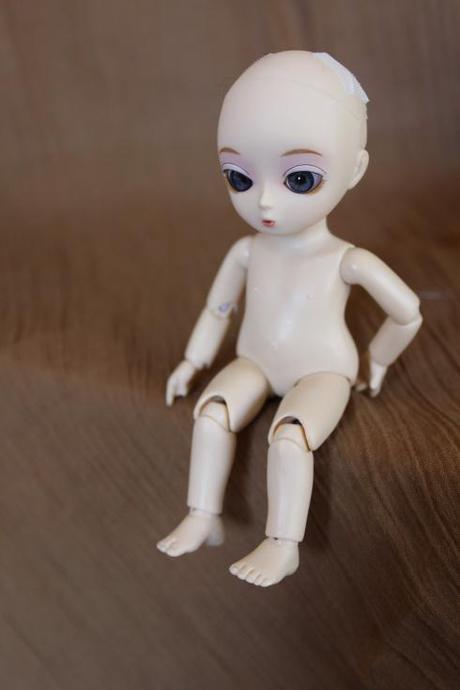 Painted Sage
She is jointed in multiple places, including her shoulders, elbow, wrist, hip, knee and ankle.  Because she's classified as a ball jointed doll, she is strung with a thin white string.  If your doll is flopsy, you may want to re-string her.  Painted Sage arrived well strung.  She stands well on her own and holds poses.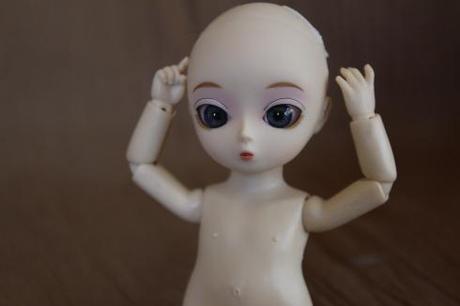 Painted Sage
The only other tinies of this size I have are made by Hujoo.  They have a joint in the torso area.  Ai's don't have a torso joint.  A torso joint would have added a nice bit of extra pose-ability, but Painted Sage does well with the joints she has.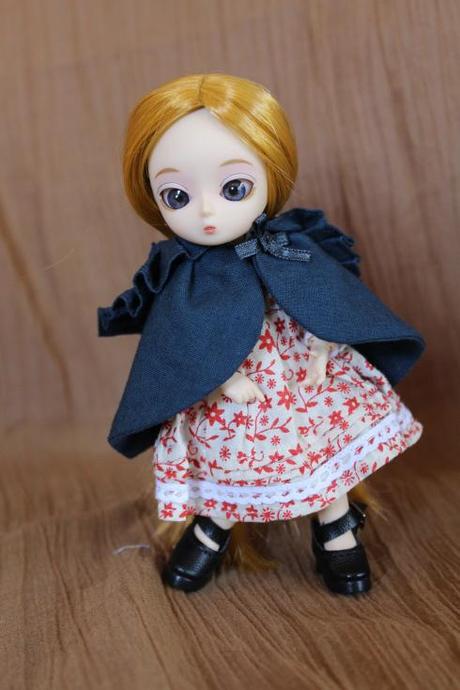 Painted Sage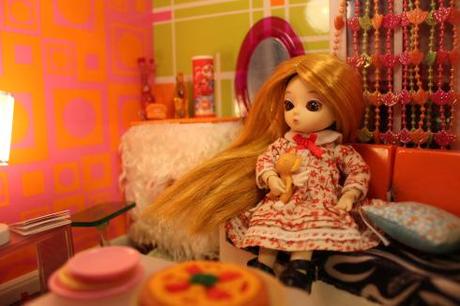 Painted Sage
Ai's come with a number of accessories, depending on which one you get.  Painted Sage wears an adorable off white dress with red decorations. She wears pantaloons and an apron, too. According to one description of her, she was styled with Little Red Riding Hood in mind.  Her main accessory is her blue hooded cape.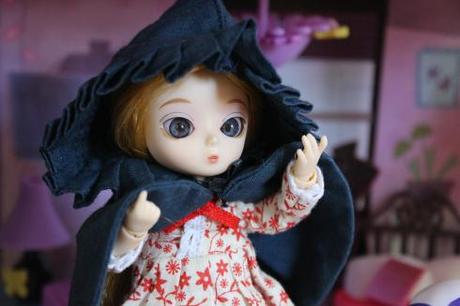 Painted Sage
I love her cape. It's so neat and looks fantastic on her.  It gives her a very 'mystical' kind of feel!  She comes with socks and shoes, too.  I had a lot of trouble getting the shoes over the socks, so in the end, I took the socks off.  The shoes are okay, they just fit oddly.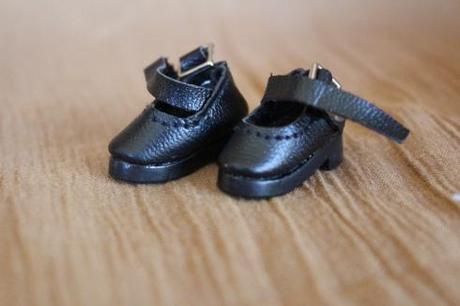 Painted Sage
They're my least favorite part of the outfit and varied between the two dolls we picked up during our shopping trip.  They seem both too large and too small at the same time.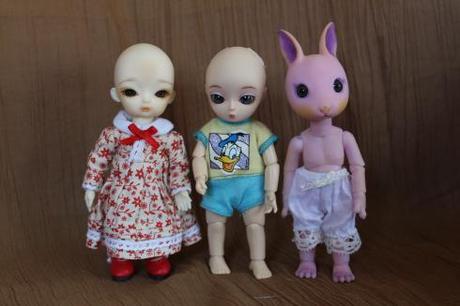 Baby Hujoo Is in Ai outfit, Ai in a Mattel outfit, Nano Rabi in Ai pantaloons
If you're looking for clothing for your Hujoo tinies, you should definitely keep an eye out for Ai's.  Outfits with long sleeves will be a bit troublesome on anthro's, but short sleeve or no sleeve Ai outfits should fit Hujoo tinies.  At least, my Hujoo baby fits Painted Sage's outfit.  I couldn't test it on my anthro's, unfortunately, because of her paws.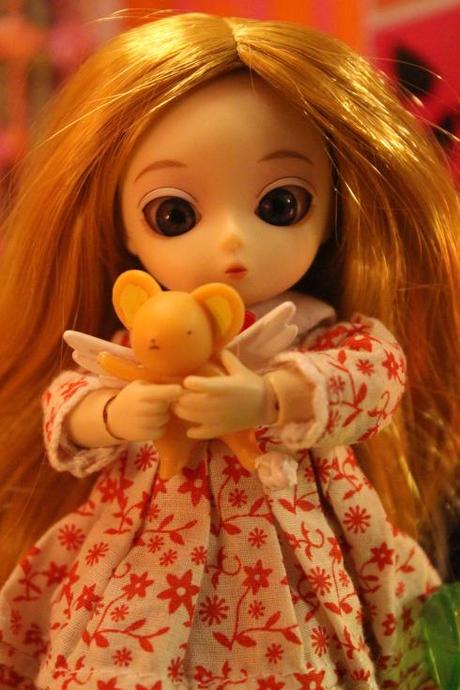 Painted Sage and Kero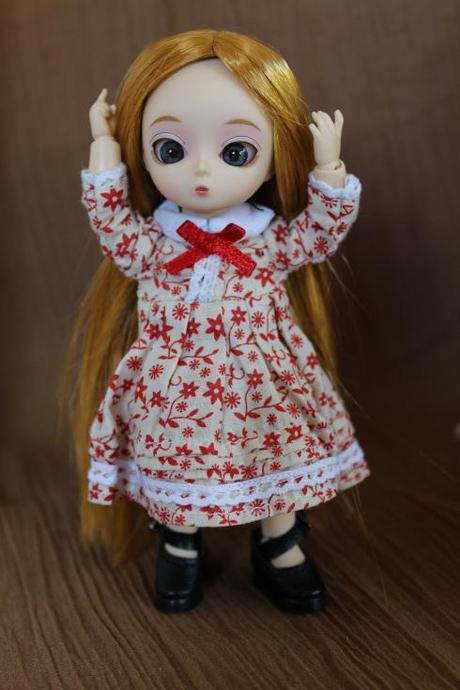 Painted Sage
Painted Sage has an adorable face up! I love her wide eyed expression.  She has a white shadow directly over her eye that is topped with a very light red.  She has light brown eye brows and pursed mauve lips.  I don't see any blush on Painted Sage.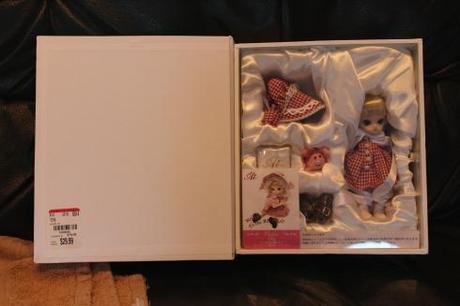 Packaging of Cuphea
Ai's are packaged in a white, magnetic box that looks like a book.  The packaging is solid and totally reusable as a treasure or accessory box, but, in my opinion, a little over done.  I imagine the dolls could have been a little more affordable when they first debuted if the box hadn't been so fancy.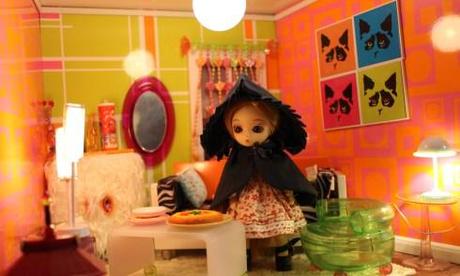 Painted Sage in AG Mini Room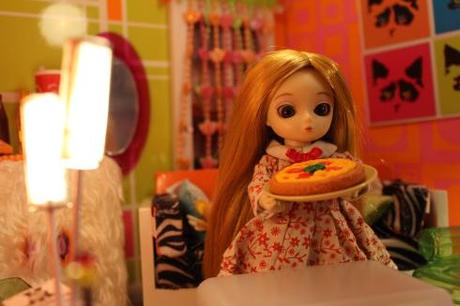 Painted Sage in AG Mini Room and Eraser Pizza
Painted Sage was a steal at $29.99 and totally worth every penny I paid for her!  The Ai Ball Jointed Doll seems like a great little starter doll for those who are interested in BJD's, but don't want to take the leap into expensive resin. Because she's ABS, she's durable and purse friendly.  She photographs really well, too!  If I were you, I would most definitely add 'visit Tuesday Morning' to your next to-do list!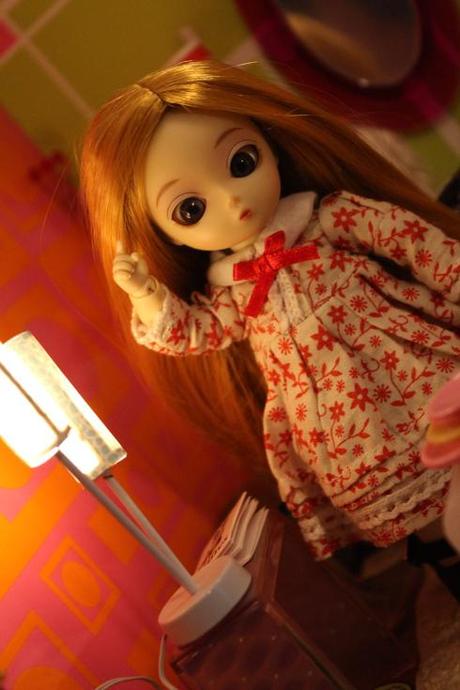 Painted Sage
Do you have an Ai Ball Jointed Doll?  What do you think of yours?  Have you scouted around your Tuesday Morning?  Share your thoughts below.
October 14, 2014. Tags: bjd, dolly review, jun planning. Category: Introductions & Reviews, Category: Uncategorized.