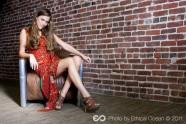 By Brenna Donoghue of Ethical Ocean.
Starting a business designed to "do good" is actually pretty easy. There are an infinite number of social problems worthy of attention; when you tell people about your business, you instantly earn social credibility; and at the end of the day, throwing yourself at a start-up that has the potential to drive positive change just feels good.
Thing is, maintaining that steadfast focus on producing social value can be the bigger challenge.
We launched Ethical Ocean with a vision of being the place for socially-minded people to discover and shop for products that reflect their values. We knew that shopping ethically was hard and that ethical brands struggled to get in front of customers who care – we wanted to be the match maker in the equation, housing all those good-for-the-world-products in one place and becoming the shopping destination for people who care.
A few months after we launched a number of events happened all at once, suddenly moving us from being unknown to being on a path to fast growth – we raised $500,000 in angel investment, we had a 4 minute spot on national television, and a few of the brands we carried got some amazing media attention. Suddenly people knew the business and were shopping with us.
So we focused on how to grow the business – part of our strategy was to increase our catalog, which contains three categories of products: eco-friendly, people friendly, and animal friendly.  Our growth allowed us to bring in more companies that we thought met these three standards and ultimately, the expansion secured our spot as the largest retailer of ethical products. We went from 1000 products to 5000 seemingly overnight.
In our haste for growth we lost sight of what we wanted to be. We had some truly amazing brands that made beautiful products that were manufactured ethically. But we also had built up a lot of crap: Products that were designed with the best of intentions but were low quality, or products that looked great but that were produced with questionable ethics. We wanted our members to be able to trust that the products they purchased were meeting eco, people, and animal standards.
We started 2012 asking ourselves if we were proud of what we had become – and while we were happy with the growth we'd seen, we knew we had drifted too far from our original vision and let our standards slip. So we slashed our catalog – we went from 500 brands sold on Ethical Ocean to 200. Sure, that's a big cut but today, there isn't a single product on the site I wouldn't happily recommend.
And the surprise effect: it hasn't hurt our growth. People can now find products they love and believe in quickly, and our credibility is far stronger.
Balancing good intentions can be hard, but in the end we realized that if social value is truly core to your corporate DNA, then in the end, they will actually be aligned.