When I adopted my sweet pug, Meatball, from the Humane Society in July of 2008 – I knew he'd come with some special needs.  On top of being a dog who was shuffled around to many homes, and living his first four years of life outdoors(he's a pug!) – he has a permanently broken jaw and isn't able to chew food normally.  He chews on one side or he just swallows food whole, which is his preferred pug method.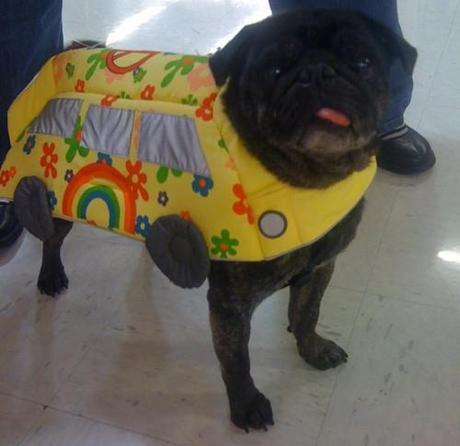 My mom makes my food, so I let her dress me up sometimes...
In 2009, Meatball developed Struvite Crystals - which made it very painful for him to urinate.  The vet's solution was "prescription dog-food" that can only be purchased at a Veternarian's office, and was incredibly costly.  To add insult to injury – the food is all fillers of corn, wheat, meat by-products etc. loaded with vitamins.  I had been feeding Meatball a grain-free kibble, and grinding it up with a little pumpkin – which he loved.  He is allergic to grains – especially corn and wheat and when he has either of them – he does this horrible sounding "reverse sneeze" sound and it really freaks him out!(And me the first few times it happened – poor guy…)
I began doing some research and decided that it was time to make his own food for his health, and my wallet.  Think about it, dogs have been around for how many years as pets?  And how many years has commercial dog food been available?  Now, I'm not saying feed your dog whatever you eat – BUT there are many options out there for feeding your dog real, nutrient rich food – it just takes a little bit more time, energy, and education on your part.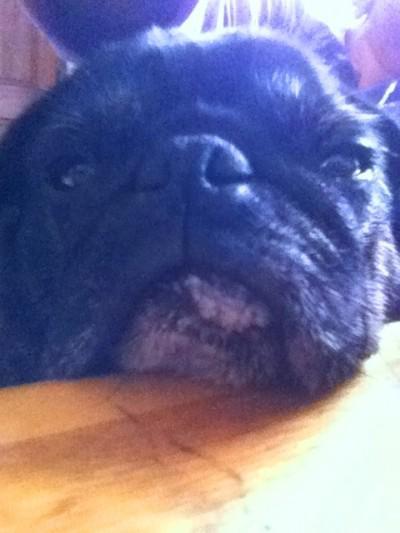 yaaawwwwn, let's get to the part about the good food you make me already!
I don't prepare all of Meatball's food(though I have at times) he currently gets kibble for two meals a day, and a homemade meal once.  When I am preparing all of his food, I make sure to supplement with multivitamins and fish oil.
This week, Meatball is enjoying a combination of chicken, mushrooms, and squash.  One of the best things about dogs eating real foods is that you don't even need "transition time" like you would if you were switching from one commercial dog food, to another.  Every time I have done that, no matter how slow I make the process – it seems Meatball's b.m.'s are affected.  When I feed him his homemade goodies – there is no disruption to his system.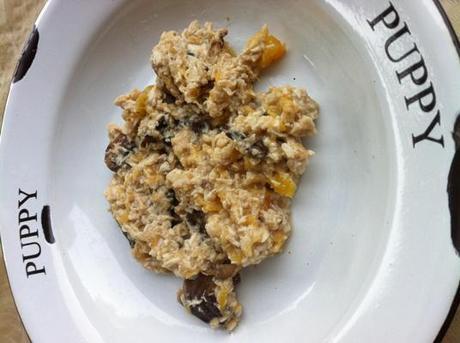 Chicken, squash, and portabello mushrooms
My experience is, that much like doctors, veterinarians have had very little nutritional education.  They are approached by dog food reps to carry certain products – and they make money when they sell those products.  Again, I urge you to consider the source of commercial dog food… when was it created?  What was the purpose of it?  With all of the recalls – at the very least consider purchasing your dog's food from a reputable retailer who really knows about the products they carry – and the products should have all of the information you need listed very openly on their packaging.  My favorite place to shop locally is Canine Utopia.  The owners Evan (Meatball's bff) and Jason, are invested in ensuring you not only get the best products available, but they are incredibly knowledgeable and helpful.  I buy Meatball's kibble and many other things from them.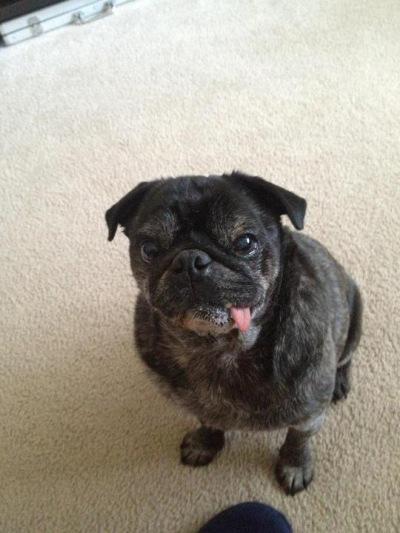 You will feed me now... you will feed me now... you will feed me now... droooool.
Doesn't that little face just say it all?  If you have questions about this post, or anything – don't hesitate to comment below or send me an email!  Cheers to your health and your little dog too!