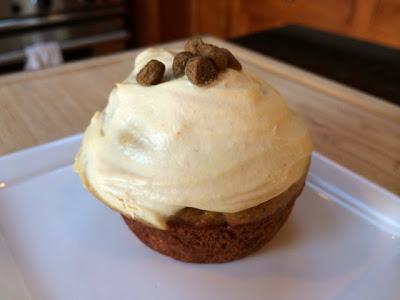 Oh.. you are one of THOSE people who make cupcakes for your dog's birthday. Roll your eyes if you may ,but I make my fur baby lots of treats. Most of them are super easy to make and I already have the ingredients on hand, which was the case for these pupcakes. It was Meatball's fur friend, Pheobe's 1st birthday so her moms wanted to throw her a birthday party. Cue in the pupcakes. These pupcakes cannot be easier to make. I threw them together in thirty minutes. They were such a hit! Meatball and Pheobe ate them in less than a minute.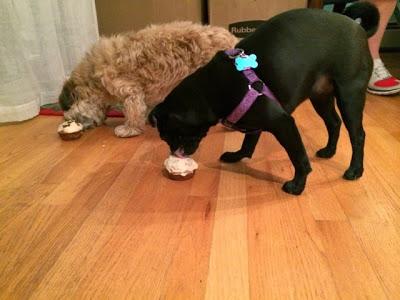 If your fur baby has a birthday coming up whip these up for them for them and their puppy friends! You can even make a batch ( makes 6 cupcakes) and freeze them. 
Dog Friendly" Pupcakes"
Makes 6 servings
Ingredients:
1 cup whole wheat flour1/2 sugar free apple sauce1/3 cup honey1 egg1 tsp baking powder1/4 cup peanut butter1/4 cup shredded carrots

"Frosting"
1/3 cup plain yogurt2 tablespoons peanut butter 
Directions:
1. Mix flour and baking powder. In a separate bowl mix apple sauce, honey, egg, peanut butter and carrots then add to flour mixture. 
2. Fill the cupcake tins with the mixture and bake at 350F for 30 minutes. Let cool. 
3. Mix peanut butter and yogurt in a small bowl. Frost cooled pupcakes and top with your dog's favorite treat!