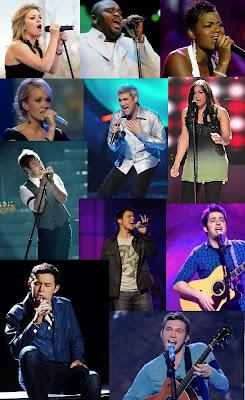 American Idol was really part of my childhood. My family started watching during Season 3, and we watched every year obsessively. We still watch it, although we're getting kinda sick of it, especially since Simon Cowell and Paula Abdul left their judge positions and the contestants who have won recently aren't our taste. (That's code for "aren't very talented, especially compared to the runner-ups and other finalists.")
Recently, the media has been buzzing that Idol has a woman problem. Well, the stats don't lie.
Kelly Clarkson (Season 1, 2002)

  

Justin Guarini

  

Nikki McKibbin

Reuben Studdard (Season 2, 2003)

  

Clay Aiken

  

Kimberley Locke

Fantasia Barrino (Season 3, 2004)

  

Diana DeGarmo

  

Jasmine TriasCarrie Underwood (Season 4, 2005)

  

Bo Bice

  

Vonzell Solomon

Taylor Hicks (Season 5, 2006)

  

Katharine McPhee

  

Elliott Yamin (Jewish)

Jordin Sparks (Season 6, 2007)

  

Blake Lewis

  

Melinda Doolittle

David Cook (Season 7, 2008)

  

David Archuleta

  

Syesha Mercado

Kris Allen (Season 8, 2009)

  

Adam Lambert (Jewish and gay)

  

Danny GokeyLee DeWyze (Season 9, 2010)

  

Crystal Bowersox

  

Casey James

Scotty McCreery (Season 10, 2011)

  

Lauren Alaina

  

Haley ReinhartPhillip Phillips (Season 11, 2012)

  

Jessica Sanchez

  

Joshua Ledet


Out of the winners, 4/11 are women. Yes, you read that correctly, folks, a mere third (36%) of American Idolwinners are female. Including all of the top-three finalists, it evens out to about half and half, with 16 women and 17 men (48% female). However, it's clear to see that the American voting public has gotten more male-centric as the years have gone on; there hasn't been a female winner since Jordin Sparks in 2007.
The main reason that more men have won is because the people most likely to vote (and vote obsessively) is the pre-teen/tween girl demographic. Considering girls from this age group have made singers like Justin Bieber wildly successful, it's not surprising that they vote for relatively cute, younger guys. (Kris Allen was 24 while on the show, Lee DeWyze 24, Scotty McCreery 17, and Phillip Phillips 21.)
While I'm talking about American Idol, I'd like to rant a little about Season 9. That was the year Kris Allen won, and Adam Lambert placed second. I'm a wild Adam Lambert fan (I saw him four times in concert, once at a meet and greet, and am looking forward to his upcoming concert tour), and was deeply upset when he lost, since it was clear to everybody that his voice was just superior to Allen's. I guess it wasn't a big surprise. I mean, who was tweenage middle America going to vote for: Kris Allen, the cute, boy-next-door, Christian Southerner, or Adam Lambert, the gay, Jewish, uber-cool Californian with dyed black hair? Well, the tweens might've voted for Allen, but they didn't stick with him after Idol ended. His first album has yet to make it to Gold certification, and I couldn't find records of sales for his second album, even though it's been out for over a month. Adam Lambert's first album, despite a lot of controversy, quickly passed Gold. His recently-released second album, Trespassing, debuted at number one on the Billboard (the first by an openly gay artist to do so).
It's unfortunate that female contestants are going onto shows like American Idol are at a major disadvantage. The statistics about women winners on Idol are mirrored on other American singing competitions: men won both seasons of The Voice (and only 3/8 finalists, 38%, are female), a woman won the only season of The X Factor (she was the only woman among the top three finalists, though), and two boys co-won The Glee Project (the runner-ups were one girl and one boy).
Tweenage girls: next season of Idol, could you please vote for the female contestants, if they're just as talented (if not more) than their male counterparts?