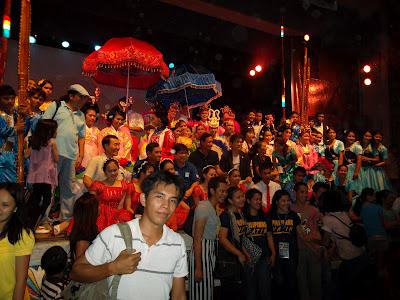 The victims of Sendong and the students of Mindanao State University-Iligan Institute of Technology got amazed from the performance of the Doalnara Performing Arts Group showcasing their talents in dancing, singing and playing some musical instruments. On March 11, 2012 "The World is One, We are all Family" was staged at MSU-IIT Gymnasium.  The showcased production and show-off of talents is a benefit performance for the victims of Typhoon Sendong. 
Members of the said group are composed of performers from Korea and from the municipality of Claveria in Misamis Oriental. In an interview with one member of the group, the whole production itself is composed of not less than 40 performers, more or less 20 staff and majority of the performers came from the town of Claveria. Many of the audience wowed from the amazing synchronized dances of the performers. Most especially when a group of performers dance instinctively and while dancing from time to time the color of their costume "dresses" changes. It was really amazing! Definitely the P50 admission ticket was all worth it.
At the end of the performances, everyone got overwhelmed. The audience also got the chance of taking pictures with the performers. For me the show was beneficial to me and to the rest of the audience. It made me feel alive after the performance. For awhile I did appreciate other culture aside from my own. The performance on the other hand is a mix of Korean Culture and Filipino Culture since some of the showcased productions were traditional song and dances of the Filipinos.  
&appId;
&appId;