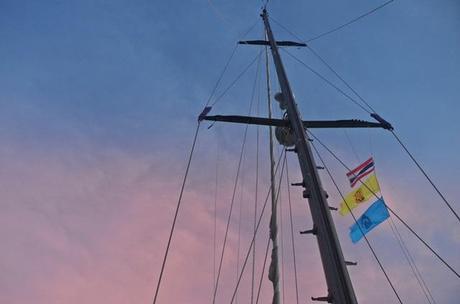 Flag etiquette rules aren't required as a cruiser, but you should know the basics to avoid embarrassing yourself or offending others. Beyond that is up to you, but there's a whole language to flags that is interesting to learn. As a fan of flag etiquette.  I like to think I know a few things about flags, but I learned so much from this great infographic that reader John Tissot of the East Freemantle Yacht Club emailed!
Eleven years ago this month, we sailed with a group of fellow Seattle Yacht Club members on an organized cruise. It was our first time clearing into another country, and we were so excited to use our snappy new Canadian courtesy flag when we cleared in at Ganges. Imagine our dismay when a few hours later, a patient sailor pointed out that in our haste, we had hoisted it…upside down. An international sign of distress, although in our case the distress followed the flag instead of vice versa!
Normally, we love flying flags on Totem: courtesy flags are always up as cruisers, we're proud to fly an ensign, and we enjoy others as well, from burgees to flags of local significance. If we weren't in such an uninteresting spot at the moment, I'd get a glamor shot of the pretty new American flag now off Totem's transom. This "Battle Tough" flag look sharp, and will be taking us though some big miles in the next year.
Thank you John for sending this infographic! Take a look, see what you know, and what you can learn. I predict this will spawen sundowner hour quizzes around here later…

Courteous readers know we love it when you read this on the Sailfeed website.