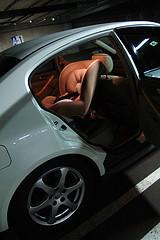 Child safety seat. (Photo credit: MIKI Yoshihito (´・ω・))
I cannot say that I am a fan of winter, I much prefer the sunshine and the worst part of winter is the dreaded school runs. I don't drive and neither does my husband so we are left with walking everywhere.
Thankfully the school is not too far away but with a 3, 4 and 5 year old, you can guess it takes twice as long as it should.
Even when they are wrapped up warm, they are still cold and one day last week the rain was bitter cold against the wind. I was alone on the school run and when a friend offered us a lift home, I almost accepted.
The problem was that meant 2 of my 3 young children would not have been in a car seat and one would even have had to sit on my knee.
Now I could argue that it is just a few minutes' drive away and to be fair it would have saved them getting wet and complaining of freezing, but my anxiety kicked in and I declined the lift.
Now I know a few may have jumped at the chance of a lift but I was far too scared of an accident happening.
Yes very extreme but what if we did have an accident, would I ever be able to forgive myself?
Car seats are there for a reason and it scares me to see so many ignoring the law and taking unnecessary risks.
Child car seat laws are there to protect our children and as far as I am concerned they should always be followed.
The rules on child seats can sometimes be a little confusing for parents, a quick guide to booster seat law is a handy resource if you're unsure what the rules are once your kid has outgrown their infant car seat.
Although we do not drive I do have car seats and booster seats for the older children, because we do get lifts and taken places by friends and family.
I bought a maxi cosi car seat as it was suitable for all 3 of the children at one time, suitable from 9 months to 4 years it meant I was able to use the same car seat if I had to take any one of the children anywhere.
The law requires all children traveling in cars to use the correct child restraint until they are either 135 cm in height or the age of 12 (which ever they reach first). So despite Casey 11 and Cameron 10 not too happy to have to seat in booster seats, I always make sure they do.
Are you strict when it comes to the car seat laws?
Or am I being too anxious?

If you enjoyed this post, please consider leaving a comment or
subscribing to the RSS feed
to have future articles delivered to your feed reader.