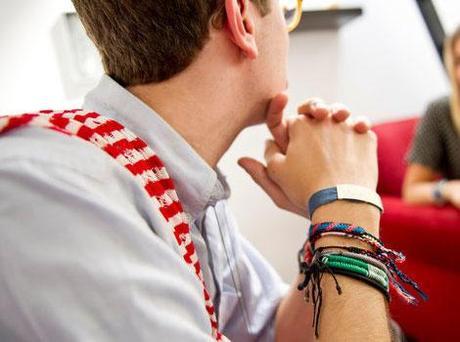 The trend in men's bracelets in recent times has moved firmly away from chunky gold link bracelets towards cord and woven friendship bracelets. Many men wear several such bracelets on their wrists alongside bracelets handed out at festivals and gigs to allow access to venues.
But do those styles of bracelets really lend themselves to a professional working environment? As our next generation of teachers, lawyers, doctors, bankers and accountants join the workforce, will we grow accustomed to their choice of rather informal, youthful jewellery?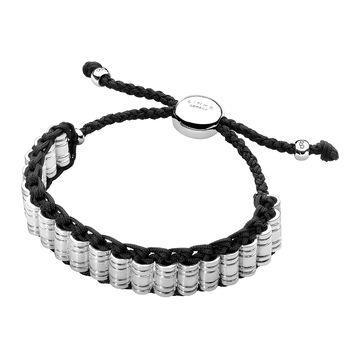 In fact, although most men who choose to wear woven bracelets tend to be in their twenties and early thirties, there are many older men who choose to wear them because they are stylish, modern, and comfortable to wear and do not need to be removed. Depending on their financial circumstances, men may choose to wear the freebie wristbands from their favorite festivals, buy inexpensive woven bands or treat themselves to designer bracelets. Those who can afford to do the latter tend to be style-conscious young men without commitments and older men who are wealthy and secure enough in their jobs to be able to do spend freely on accessories.
More About Bracelets: Three Alternative Brands Of Charm Bracelets
Wearing any designer jewelry is a sign of wealth and status amongst men, and bracelets are no exception. The Links of London friendship bracelet is a distinctive design unique to that brand, so it will be obvious to others who can afford designer jewelry that the bracelet is valuable. It also looks a lot smarter than a simple leather woven friendship bracelet which can become tattered and folded over time. To keep a Links of London friendship bracelet looking new, it can be removed quickly and easily using a sterling silver toggle clasp (traditionally, friendship bracelets are not removed unless and until the friendship ends).
More About Jewellery: Top tips when selecting your next jewelry
So the friendship band can look smart and it can be put on and taken off when required. It is comfortable enough to be worn all the time yet easy enough to remove, for example if the wearer were uncomfortable displaying it during an important meeting. Long sleeves do not cover up bracelets when the arm is extended, so this removable feature is helpful to those who may work in an office with a very strict dress code.
Professional-looking alternatives to the modern friendship bracelet include bangles (chunky designs made from sterling silver), ID bracelets and cuff bracelets. Again, the use of silver in bracelets (as in the friendship bracelet by Links) adds a certain masculine elegance to a suit.
Perhaps the only type of bracelet to avoid for work in a professional setting is the style of bracelet that features a lot of leather and skulls. Although those designs are very popular and undoubtedly look masculine, fun and stylish, they are unlikely to fit well with a professional company's dress code. A man who wears this style teamed with a designer suit, designer shoes and a designer watch is actually showing that he is wealthy, successful and either self-employed or high up in the seniority of a company's structure… and he can wear whatever he wants.
Featured images:

 

License: Image author owned
This is a guest post by Claire Chat a new Londoner, jewelry passionate and animal lover. She blogs about Jewellery, Pets and Travelling in Europe. If you want Claire to write you specific content, you can find email her here or contact her on Twitter (Claire_Chat).