Last weekend I headed to the first spot on my degree show map - Duncan of Jordanstone College of Art & Design. I love this time of year and DJCAD always put on a great show. The posters for the show had been catching my eye in the run up, attracting me with there color combinations and simple message: Come See Our Show. They convinced me anyway.
One of the first places I headed was into the Textile Design display, taking me back to my own uni days. There was lots of great work on offer and, as always, I was attracted to the printed pieces. I am a sucker for an interesting pattern.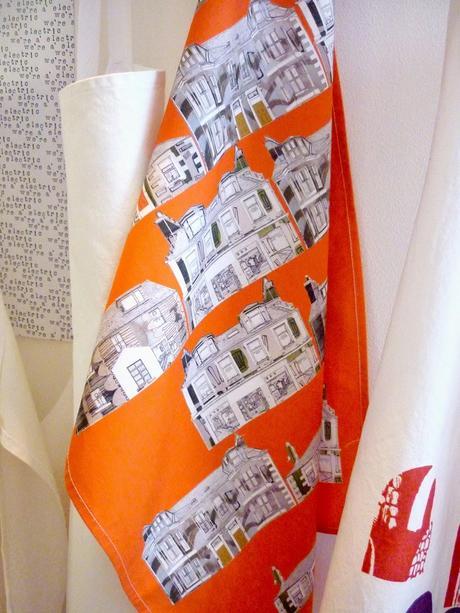 Anna Duffy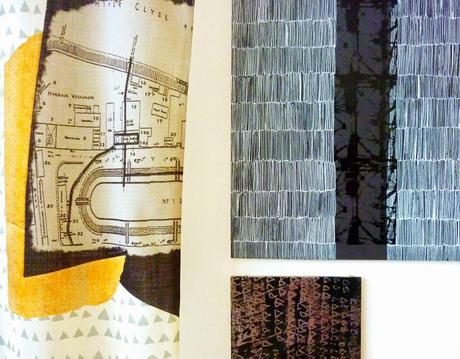 Laura Speirs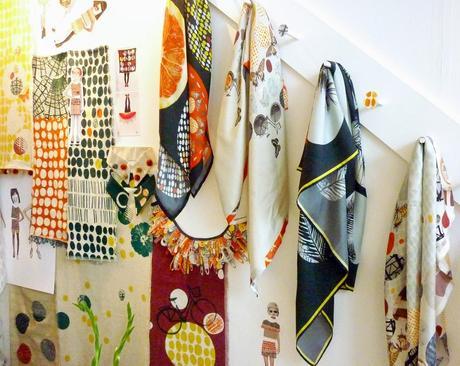 Errin Miller


I was drawn to Anna Duffy's house prints. Her collection of tea towels, aprons and tote bags featured Dundee buildings, showcasing the beauty of the city's everyday places. I especially liked the houses against the bright orange background.  
Laura Speirs' collection of interior fabrics focused on another Scottish city, Glasgow. Different industrial imagery was brought together to create lots of interesting prints celebrating the city's shipyards. I loved how all the elements worked together, particularly the map section.
The work of Errin Miller also used a mix of different elements. Influenced by collage, her colourful pieces featured fruit, bicycles and butterflies. The flashes of orange definitely caught my eye, along with her beautiful printed scarves.
Looking around, it wasn't just the prints that captured my attention. I was also attracted by some lovely knitwear.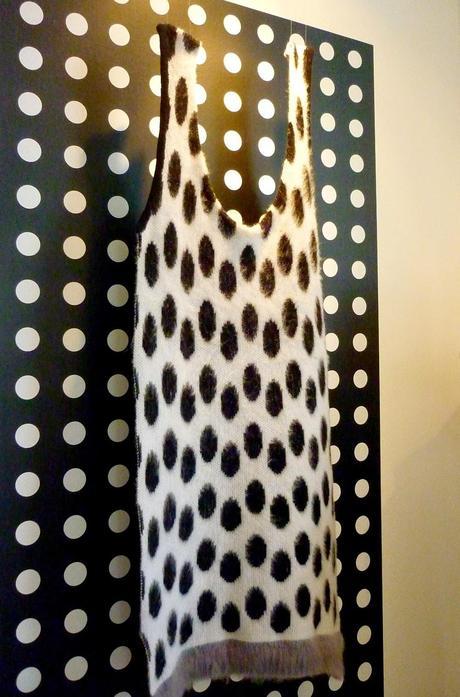 Kristen Neillie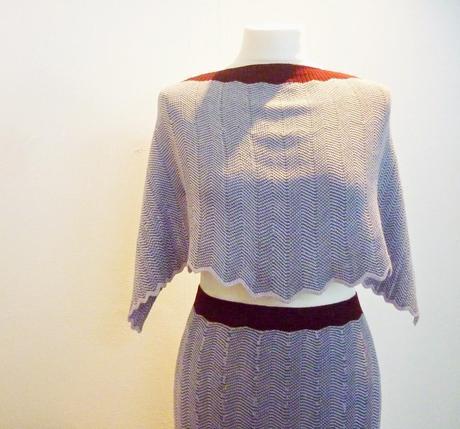 Lisa Gibson


As much as I love bright colours, I'm also a huge fan of a strong monochrome contrast, so Kristen Neillie's polka dot piece was a winner for me. The texture looked so soft and I loved the display against the reversed color backdrop. Take a look at her website, Dizy Knitwear, for many more beautifully simple pieces and some stunning photography.
Another knitwear student that caught my eye was Lisa Gibson. I fell for her muted colours and the way the edging mirrored the pattern of the knit. Knitwear with class.
But, when picking my favorite display, I headed straight back to my love of print. Rosa Howie's fish prints were truly magical. She used modern materials and technical textiles to create fabrics that came to life, with the fishes scales glowing with iridescent light and given the appearance of moving through water.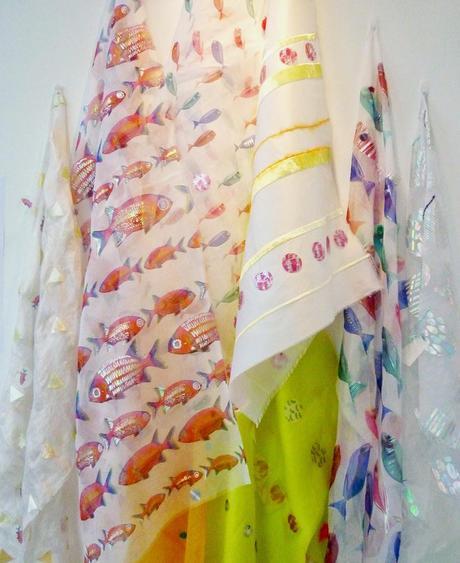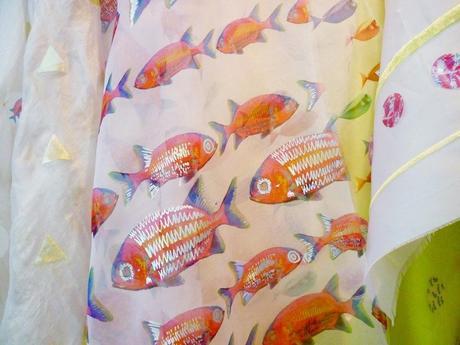 Rosa Howie


The show continues until 25th May and I'll be posting more of my facourites on the blog in the coming week. Warning: there's quite a lot.