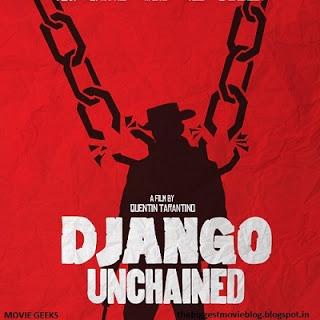 The day I learnt about this upcoming movie "Django Unchained" and the people associated with it, I knew this is going to be epic, and I could not agree more. This Is Epic. It made me fall in love with Quentin Tarantino style of film making all over again. This is truly a Tarantino film.
The Actors were fabulous, all of them, from Christoph Waltz, Samuel L Jackson, Kerry Washington, Jamie Foxx to Leonardo Di Caprio. We couldn't ask for any better cast. It was a treat to watch them all on the screen together.
The film was a bit longer than any other Tarantino films, but then again, you can't really think of eliminating any particular scene. This film is although named after the character played by Jamie Foxx, but you will observe that there are multiple protagonists in the film. It's not just the story of a black man.
There is a great scene in which Christoph Waltz [the white man] tells Django [the black man] to buy some clothes of his choice. Django feels amazed at this strange generosity by the white man, he could not believe it. After a while, we see Django in his cowboy outfit, this scene was humor with emotions. But tells the whole plot of the movie, and it signifies that the color of the man is no more a thing to worry for Django. Django is unchained.
I recommend it. You should not miss it on the big screen.
Django Unchained Ratings: 8.5/10
Cast: Jamie Foxx, Leonardo Di Caprio, Samuel L Jackson, Christopher Waltz, Kerry Washington.
Directed by: Quentin Tarantino.
-------------------------
Author: Amrit Rukhaiyaar