I've spent the last few days getting things ready for our big wedding DIY weekend. I realized late last night that I didn't have a blog post for today.  Instead of not posting, I decided to give you all a post showing you some of my personal favorite DIY projects.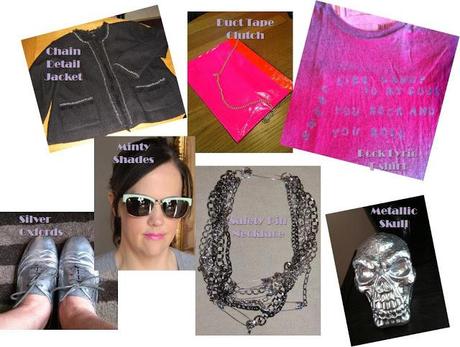 Chain Detail Jacket - I love that just some craft store chain can elevate a jacket.  It was one of my early DIY projects and one of my favorites. I wear this jacket often.
Duck Tape Clutch - The reason I love this DIY is because you can use any color or style of duct tape you like.  You can make it your own.
Rock Lyric Tee - Inexpensive t-shirt, stick on letters, spray paint, and your favorite rock lyric are all you need to create this t-shirt. It's a fun and cool addition to your casual wardrobe.
Silver Oxfords - If you have a pair of old oxfords or can grab a pair at the thrift store, you can create these shoes in just a few hours. I used silver but you could use any color you like. Neon pink would be fantastic.
Minty Shades - Nail polish as paint? Yes! The mint green polish elevated these shades from boring to wow and this entire project was finished in about an hour.
Safety Pin Necklace - I love DIY because I can create a designer style necklace for $900 less than the original.  Maybe it's my life long love of punk rock looks but safety pins as jewelry are fantastic.
Metallic Skull - Home decor DIYs are the best.  I get bored easily and love changing up the accents in our home.  A $1 plastic Halloween skull becomes a cool home accent with a little spray paint.
I hope these favorites of mine inspire you to get creative.  I'd love to hear about any projects you create.