How to Make a Minnie Mouse Drawstring Backpack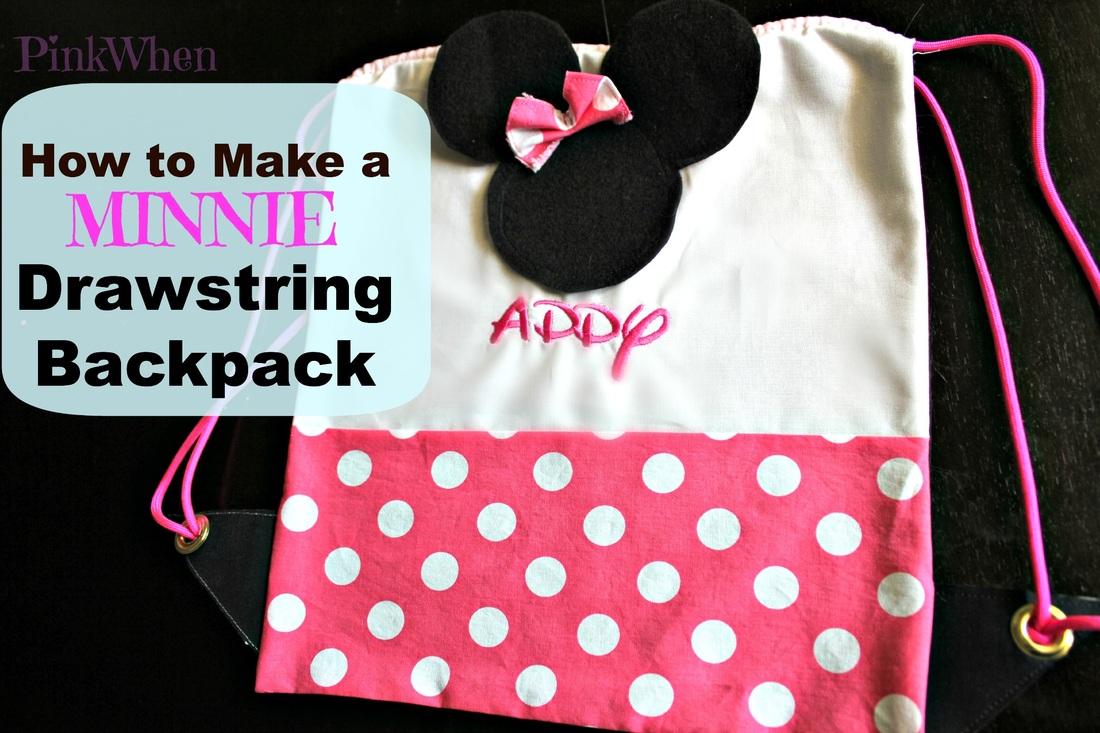 Minnie Drawstring Backpack

While we have been getting ready to go to Disney World, I decided I needed to make a fun little backpack for Addy to carry on the plane.  To stuff with all of her little toys and crayons, and maybe even her favorite Mickey Mouse. After making a drawstring backpack earlier this summer, I realized just how easy it was and had to make another! ( I am sure I will be getting lots of requests after this from all of the kiddos in the house. ) And if you remember this post, then you know we LOVE Minnie Mouse around here.  I am not going to recreate the tutorial I have already done, but I will tell you of a few changes I made while making this one! 
First, you are going to still need all of the same supplies you needed with the original tutorial, so make sure to go back and read up on those!
This is the change:  For the front facing fabric I took a white fabric and I took the pink fabric and I sewed the two together.  The pink fabric is 6 inches, with the remaining being white.  The backing is solid black, as well as the fabric for the grommets.
For the Minnie Mouse face I went and purchased some black felt that has the peel away backing.  I took a coffee cup and drew the face, and then a smaller cup and made the ears. I cut out the face, peeled the backing off of the face (NOT THE EARS). I want them to stick out (see the photo below).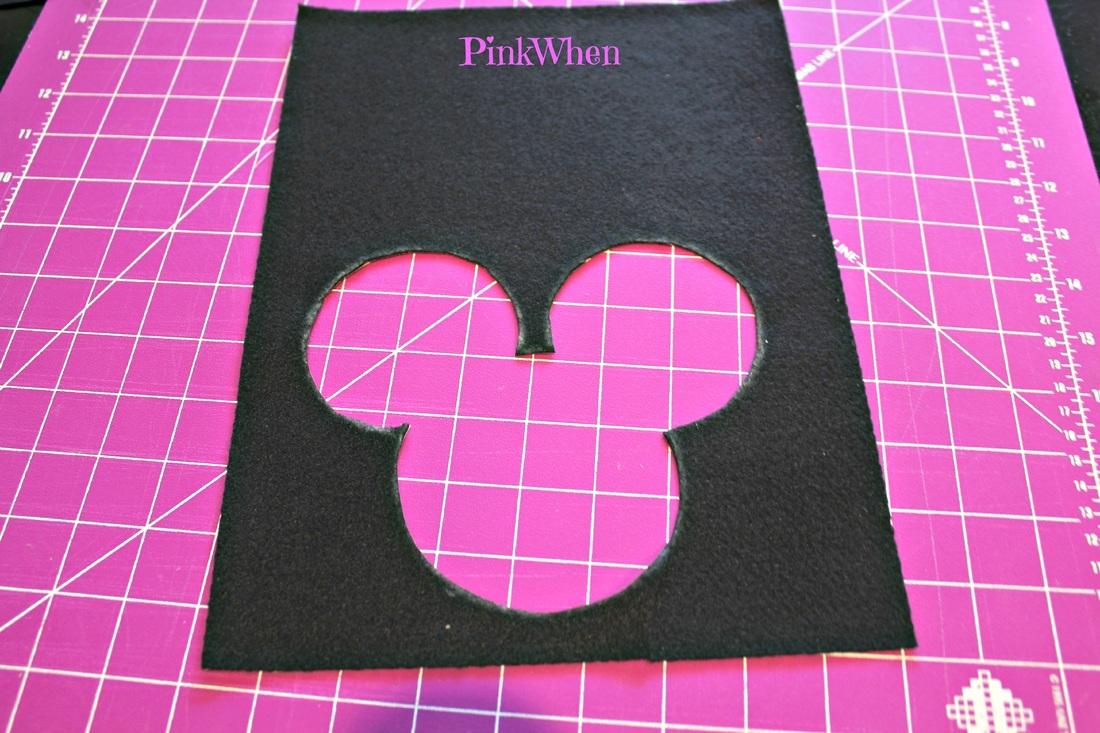 Felt face My sewing machine also happens to double as an embroidery machine, so I decided to add her name at the bottom of the face.  You can go online and download the Disney font, and I had that from a few things I had monogrammed last year.
For the bow I took a small 5 inch rectangle of fabric and then did a straight stitch around all of the edges.  I pressed it down in the middle and did another small straight stitch to cinch it down.  Then another to attach it to the face.
The only other change I decided to do was NOT make a lining.  It's going to be hot in the parks, and having something lightweight is going to be preferable to something thicker and heavier. (I am sure it will be STUFFED till the seams burst, but hey, it's Disney, right?)
Those are the few little changes I made, and here is her final product!! She was so excited to see this….she loves her little Minnie backpack.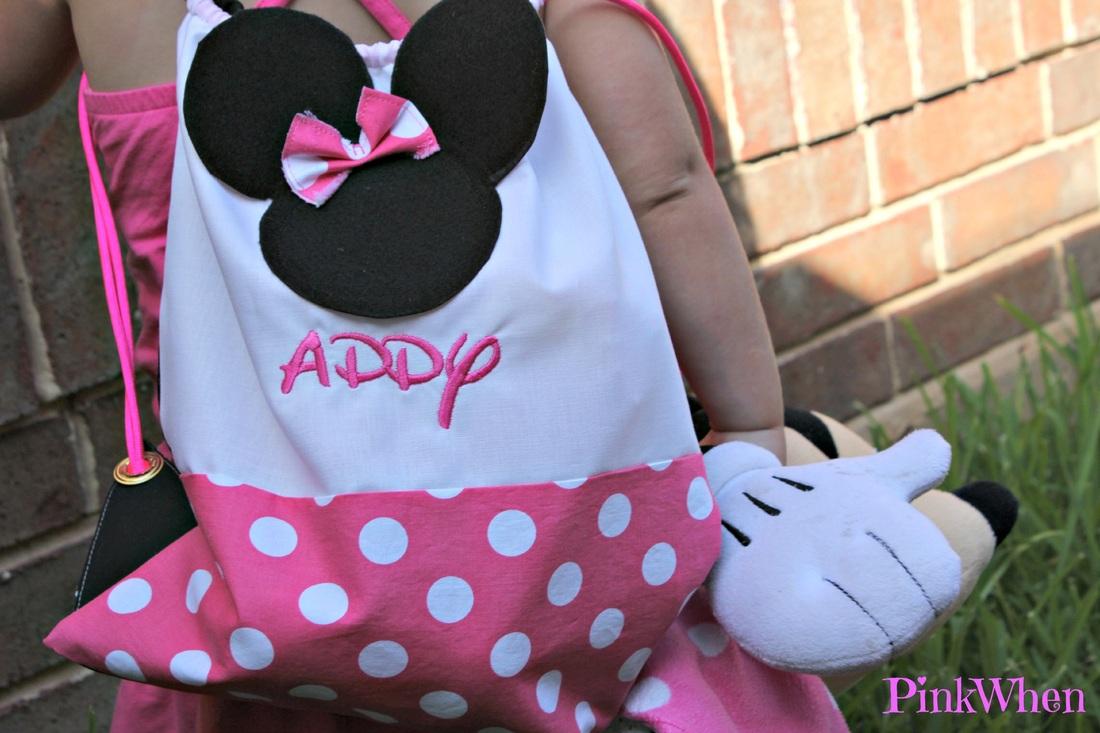 Minnie Mouse Drawstring Backpack

Isn't this cool??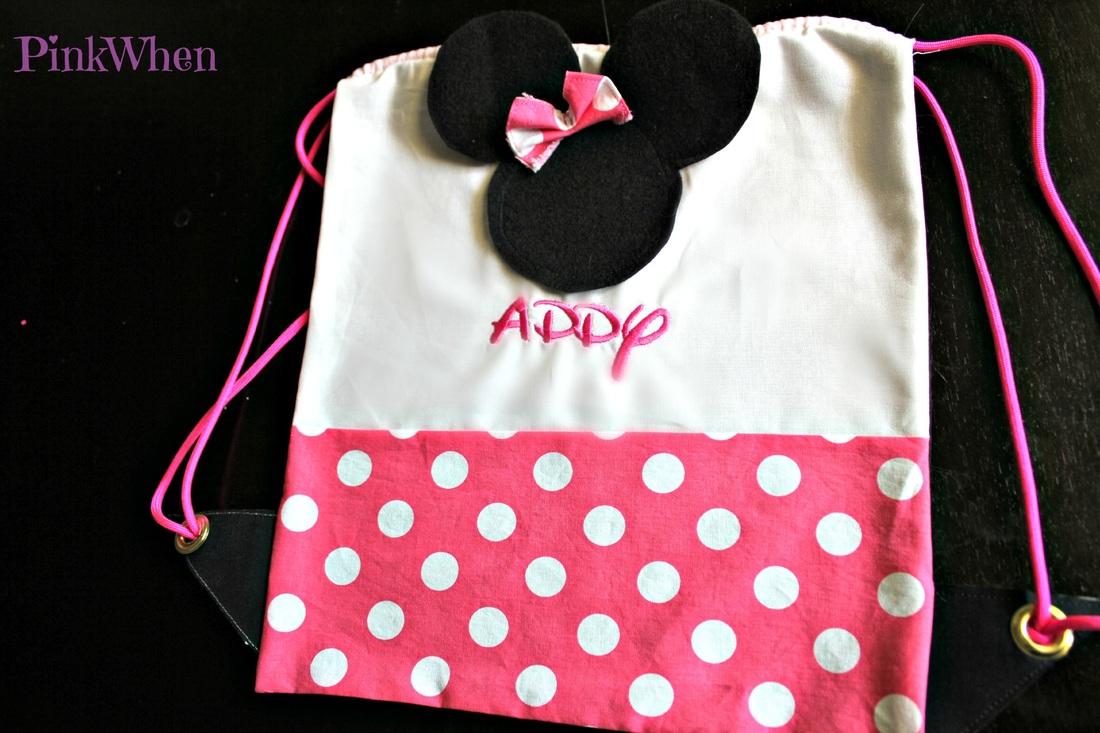 How to Make a Minnie Mouse Drawstring Backpack I will still be posting throughout our visit, but make sure you follow me on Instagram and
Facebook
to follow along with some of our little 
Disney Adventures!!