Gold brogues are currently here, there and every where. Gracing the feet of celebs like Jessie J and Ellie Goulding, and being seriously out of my price range. That and the fact I have sworn myself off shopping for 30 days, I took the challenge upon myself to turn a pair of cheap brogues I never wear, to brogues that even celebs would be envy of.
What you will need:
A pair of brogues
Gold spray paint
Newspaper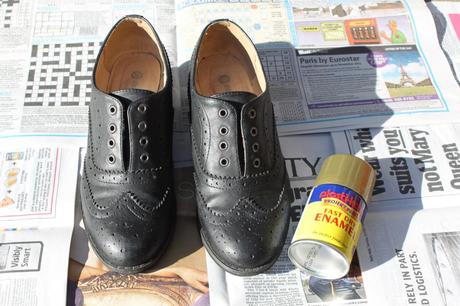 Start by placing your shoes on newspaper, removing the laces and making sure your shoes are clean and free of dirt and dust.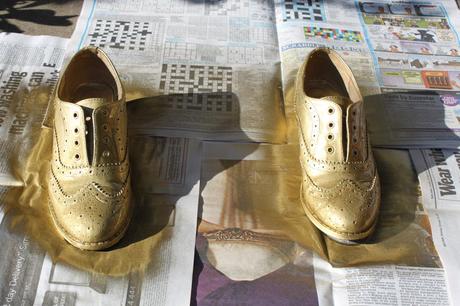 If you've never used spray paint before, do a few short light strokes on the newspaper first to get your hang of it. Then start to spray the whole shoe in short, light strokes, making sure every part is covered including the heel, and the tongue. When doing the tongue I would advise to wear either latex or washing up gloves and you will get it on your fingers.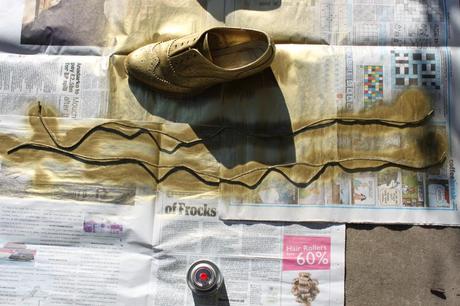 Then lay the laces out straight and spray, wait til dry and turn them over and repeat. Then leave along with the shoes to fully dry for a couple of hours.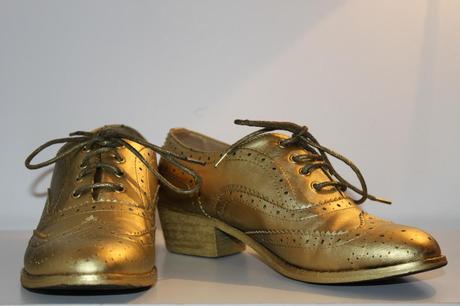 Once dry lace your shoes back up, and there you have it, a pair of fantastic gold brogues to brighten up your autumn/winter wardrobe.
What do you think of my gold brogues? Will you be following in my foot steps and creating your own pair? Will you save yourself the trouble and go spend £50+ on a pair? Or are gold brogues not your thing?
I'd love to know what you think!
"believe in yourself"