Fourth of July is coming around, and that means cookouts, fireworks, and stars and stripes! Decorating your house is a must if you're having a lot of guests, but how does one go about decorating their bathroom for such an occasion?
1. Red, White, and Blue
Combine the colors of the Stars and Stripes to produce a patriotic feel in the restroom. If your bathroom is painted white, use red and blue towels to complete the picture. If it's red, use white and blue towels and shower curtains; if it's blue, use white and red.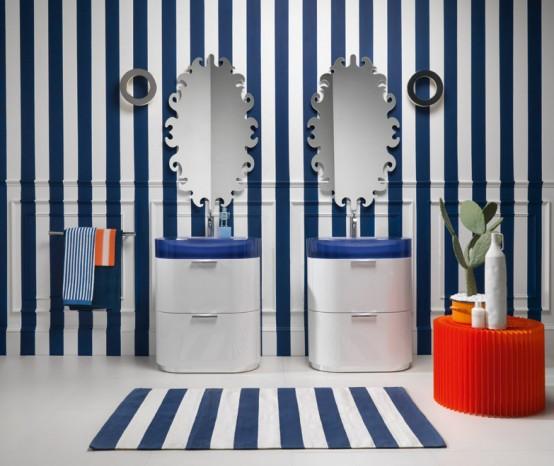 via Examiner; a cool stripe-themed patriotic bathroom.
The best fix for a bathroom painted a different color (such as green, yellow, orange, brown) is to put up complete flags. If you wanna go all out, get an American Flag shower curtain! Here's a cool one on Amazon.
2. Accessories
Of the possible shapes and sizes used to accessorize a Fourth-of-July bathroom, two stand out the most: stars and flags.
Stars always work. I'd say splatter your walls with them but that might be taking it a bit too far. Red stars, blue stars, white stars, silver stars: put them everywhere!
One thing I like to do is to attach a star to each knob in the bathroom. Each of the pull drawers and the cabinets has a star on them on the anniversary of the land of the free, home of the brave.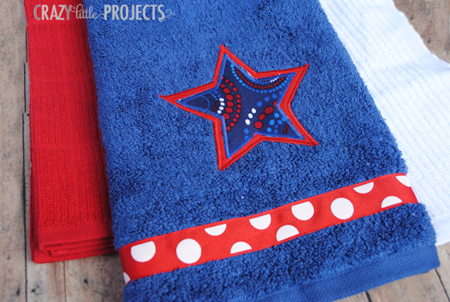 Remember to make sure that your colors are matching. Try to keep the star colors at an even 25% between red, white, blue, and silver. Use shiny stars whenever possible. Glowing stars are always cooler than plain ones!
Use flags lightly but boldly. Instead of taping a flag on the door or a wall, get yourself some flag accessories (an American flag soap dispenser? Don't mind if I do!) to decorate the bathroom.

via amazon; this particular soap dispenser comes with a toothbrush holder too!
Whatever your plans are, here's to a fun Independence Day celebration! Enjoy the hot dogs, the people, and the fireworks. Stay safe and have a happy Fourth of July!
Michael Ellis is a writer and home decorator who currently resides in New York. He loves using color to express different moods and feelings. When he's not working, you can find him hiking and swimming.