Sometimes I feel like I'm not creative enough to come up with my DIY projects. I follow all these amazing bloggers who come up with rad stuff and, 90% of the time, I do a palm-to-forehead gesture. This particular DIY isn't exactly professional or super in depth. I didn't have all the proper tools so *confession* my nails and teeth may have helped create this little number. 
The chunky silver bracelet you see below is something I found at Target ages ago. I've had it forever but stopped wearing it because it would slide off my wrist unless I had a watch or other accessories on. The long silver chain I've also had for ages and would change up different gem pendants to have the feeling of a new accessory once in a while. Yesterday, while getting ready in my bathroom this whole bracelet to necklace came to life. I've been obsessed with chunky necklaces and now, I own one.
Getting Started
-Start with your chain of choice. The longer the better for adjusting your length.
-Take an old wrap bracelet or even "break" a few old necklaces to weave the silver chain through to create one larger necklace.
My chunky silver bracelet had one large hook on one end and a large clasp on the other. I removed both and left the small hoops for the chain necklace to go through. Make sure you have Pliers and something strong enough to cut through silver chain (2nd to last photo).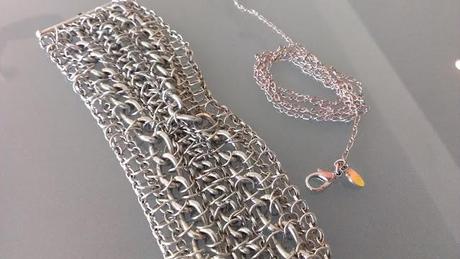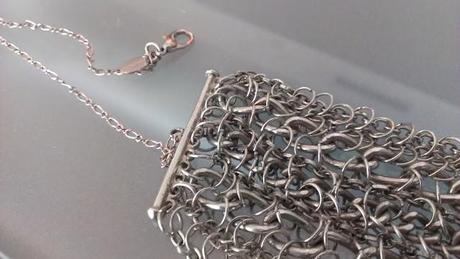 After measuring how far up or low you want the necklace to sit, loop the silver chain with the clasp end through one side of the bracelet and tie a knot with the chain.
Next, run the silver chain through the body of the bracelet. If you don't do this, your bracelet will hang without any body and look odd.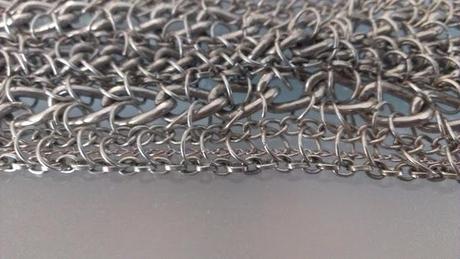 Once you get the chain all the way through the bracelet loop the silver chain through the silver hoop on the other end of the bracelet and tie the silver chain in a knot just like you did on the other side.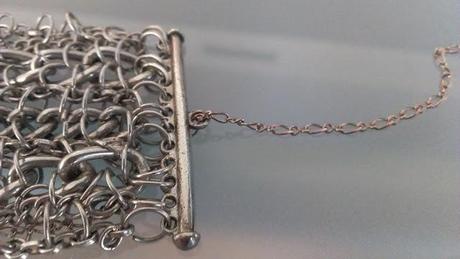 Now, with your one measured side (the clasp side) hold necklace up on your Decolletage area to measure the other end of the chain. Once you've done this carefully cut the chain until you reach the correct measurement. Reattach the silver loop to the chain so your clasp has something to grasp onto. (Pliers are used to bend hoops. Let me tell ya, my nails and teeth wish I owned pliers. Not happy)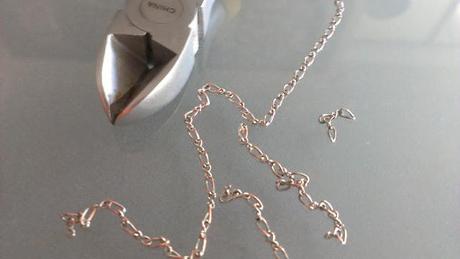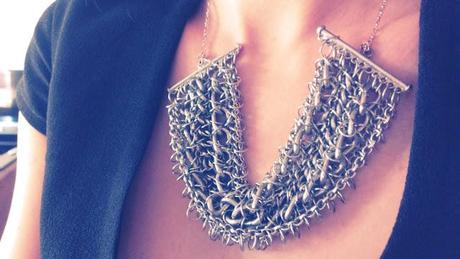 And there you have it. My own chunky necklace. And now, the "bracelet" will actually get some use.