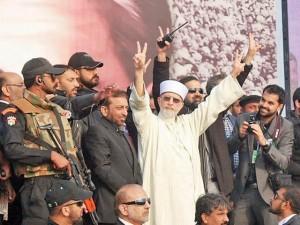 Terming the parliament and provincial assemblies null and void, Tehreek Minhaj-ul-Quran chief Tahir-ul-Qadri in wee hours of Tuesday gave the government one-day ultimatum to dissolve them.
While addressing to a mass rally at Jinnah Avenue upon reaching Islamabad with his Democracy March late on Monday, Tahir-ul-Qadri said that the government has lost its mandate and if the assemblies aren't dissolved voluntarily by 11:00 AM, the people will start taking decisions of their own.
 "Morally, your government and your assemblies have ended tonight. I will give you a deadline until tomorrow to dissolve the federal parliament and provincial assemblies. After that, the people's assembly here will take their own decision," said Tahir-ul-Qadri.
The cleric said the president and ministers no longer on their posts and they have became former president and ministers.
 "The ones sitting in the offices out there are former president and prime minister. Their time is up, our time is now", he said.
 The TMQ chief gave the five-minute ultimatum to Islamabad's administration to shift the venue of the sit-in to D-Chowk in front of Parliament House.
"I am giving them five minutes to move the stage and the lights to the place of our choice", he said.
Tahir-ul-Qadri termed his long march biggest in the history of world and invited all the politicians including President Asif Ali Zardari, Mian Nawaz Sharif, Mian Shahbaz Sharif, and Asfandyar Wali to see his rally.
Earlier the democracy that had started from Lahore at about 2:00 pm reached Islamabad after the nerve-wreaking journey of 38 hours.
The participants of long march have brought the food, drinking water and other necessities for life with them.