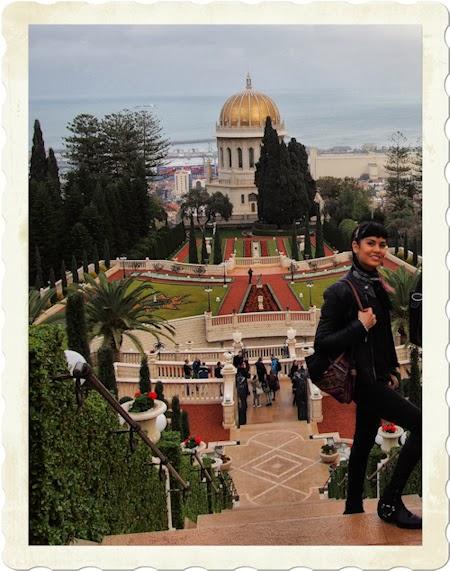 One of the biggest perks of working in Science is traveling.
If you are part of a well-established institution (i.e. with a big budget), you get lots of opportunities to travel either for free or very cheaply to all kinds of destinations.
Many of the most memorable journeys that I've made have been on account of my scientific career.
 The interesting part is that, since the majority of times the destinations were not chosen by me,
I have come to travel to places I never imagined I would ever visit.
Israel was one of them.
During one of our meetings, my supervisor told me "I think it would be highly beneficial for you to join this specialized school, it has a high curricular value and you will get to spend six months of your PhD in an extended stay in Israel!" I paled before such proposition because back then, this was pretty much the mental picture I had in my mind whenever I thought about Israel: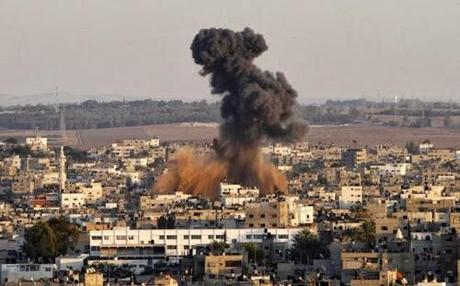 (I guess it is the ignorant equivalent of people thinking that the whole of Mexico looks like a dusty, gritty place with cacti and people riding donkeys while wearing sombreros).
And I was not the only one. Guitar Güero and my parents were also greatly distraught by the idea. In spite of that, since it was truly a prestigious graduate program with many benefits, I applied and was accepted.
Once more –just like I did when I first came to Berlin in 2009– I signed up like Bilbo Baggins, embarking on an unexpected journey into the unknown, with no idea of what life had in store for me.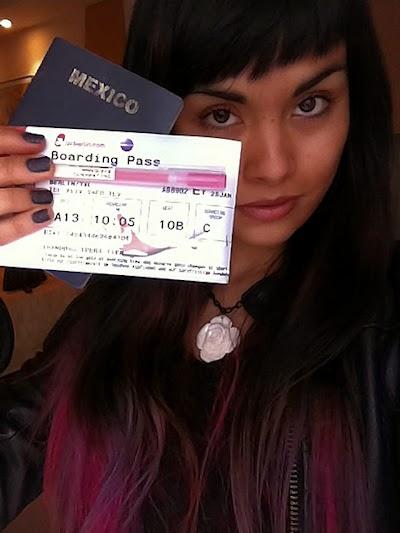 Whenever opportinity knocks on your door, just say yes!
Only two weeks after I landed back in Berlin from my Mexican holiday, it was time to pack my suitcase again and fly to Israel for the first scientific meeting of the program. After landing in Tel Aviv we headed to Haifa, the city hosting the Symposium. I have to tell you, taxi drivers over there have some crazy style of driving!
After touching base and getting installed at the
Crowne Plaza
in Haifa, my roommate –another student from the same program – and I decided to go out and get some Israeli food. After walking just a block or two from the hotel,
we were met with the most amazing view of the city below us. Big boats in the bay, black waves bathing the shore and a myriad of lights sparkling in the dark surrounding the water: an absolutely beautiful panorama.
We walked along the boulevard all ecstatic and starry-eyed, saying every now and then "I can't believe I am in Israel!"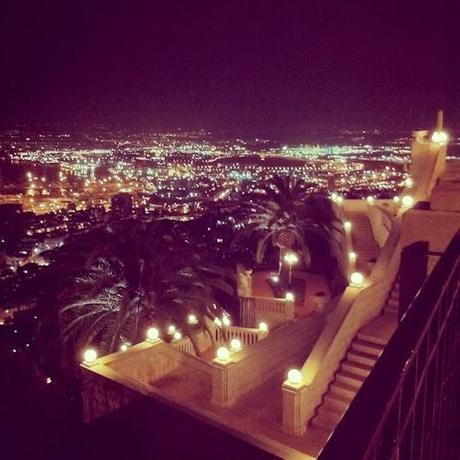 The magical panorama of Haifa by night as seen from the top of the Ba'Hai Gardens.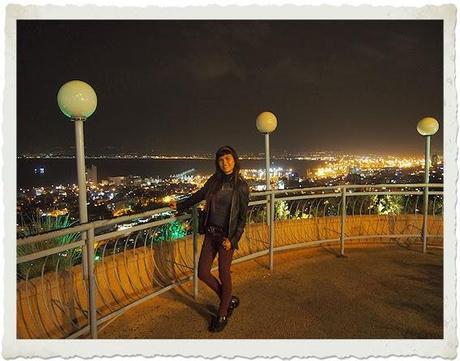 The Haifa bay in the background, with its myriad of multicolored lights. 
At the café we chose we encountered our first Israeli salad, along with warm humus and roasted aubergine with tahini sauce. After having only a very early breakfast –I categorically refused to eat those disgusting plastic sandwiches offered on the plane– it was just what I needed: fresh and not too heavy. We finished with some apple, mint and ginger tea with cinnamon.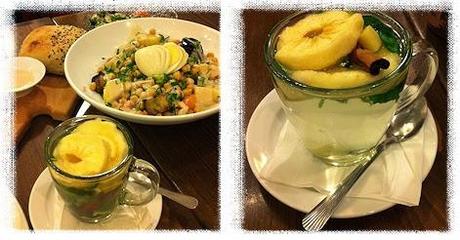 One of my favorite things that seemed to be ever-present in Israel: mint tea!
The next day started with my usual early run.
I was eager to see what the city looked like by day,
and boy, was I surprised! Bathed in the early morning light, the beauty of Haifa unfolded all the way to the horizon. I felt so alive running
along the boulevard, past the Ba'Hai gardens, feeling the wind, with the view of the city awakening below me.
Haifa is a very hilly city, though, so running can be one hell of a workout there…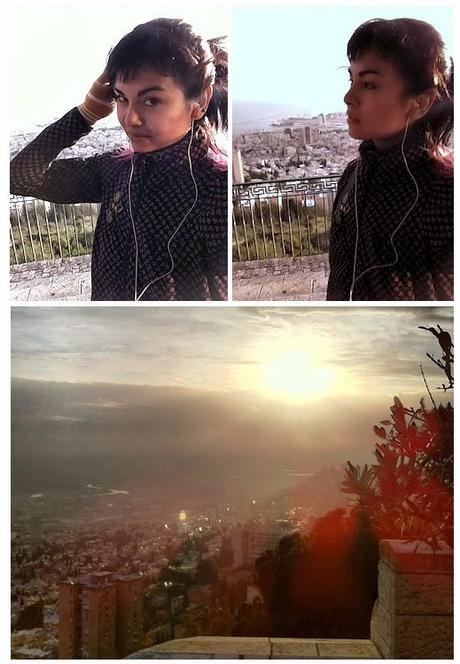 Because one should always Instagram their first workout  in a new country, of course!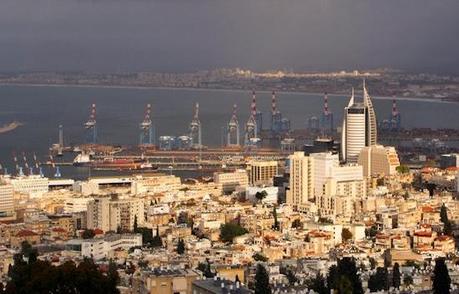 One of the many wonderful views of Haifa, bathed by soft sunlight.
Breakfast is my favorite meal of the day, since it really can set your day up to a great start. I was very pleasantly surprised to find that the hotel had a very wide selection of fresh vegetables, cheese and fruit for breakfast, along with some smoked fish. Heaven! I got a plate full of fresh vegetables with a few slices of cheese, grapefruit slices with some walnuts and dried fruit, a small portion of yogurt with a glimpse of honey and shakshouka (baked egg in a sauce of spicy tomato with onion and cumin). I poured a cup of tea and sat down to relax and enjoy the food and the view.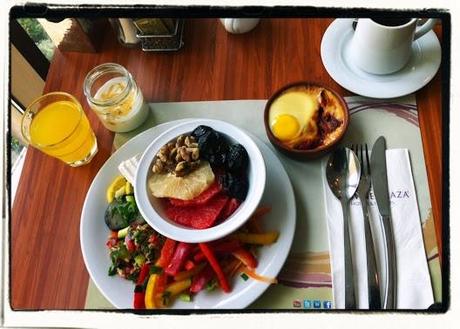 Plenty of fresh vegetables and fruit, nuts and protein to start the day like a champion.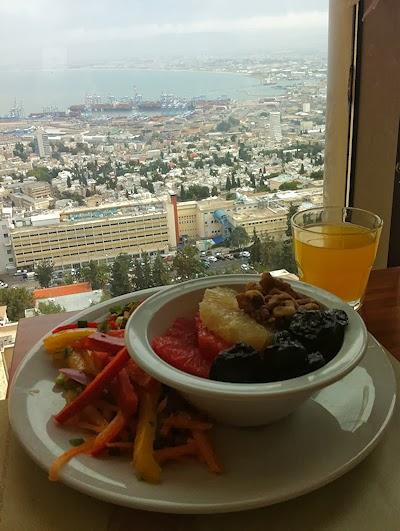 And the view that complemented the experience...
After that,
my scientific supervisor from Israel picked me up at the hotel and we headed to the Technion Institute of Technology, were I gave a seminar about my work and met his team members,
who were all very welcoming and gave me some great scientific feedback. After having humus for lunch and being encouraged to eat with my hands instead of dipping small pieces of vegetables in it using fork and knife, I had the afternoon for myself to walk around and soak in the different views of the city.
Haifa - Highlights & Notes
The Food
The food there is amazing, seriously. A big part of its unique flavor comes from the
incredible freshness of the ingredients used.
There was a special dinner organized for us at a different restaurant every evening, and they spoiled us rotten. I ate a delicious
grilled salmon
 next to a huge picture of an alternative-looking asian girl serving as a backdrop at
Barbarossa
; I had some nice
sea bass with a side of roasted eggplant with tahini
–a dish that has taken Israel by storm, according to my supervisor– at the 
Crowne Plaza
.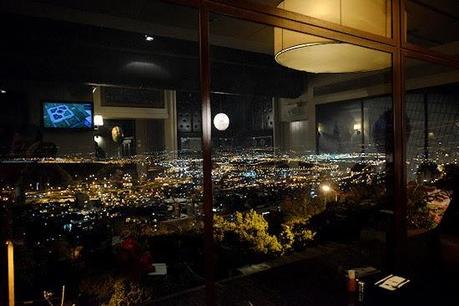 View of the city from the restaurant Barbarossa in Haifa - Photo by Lorenzo Borghi, click here to see some of his amazing captures of the city's landscape!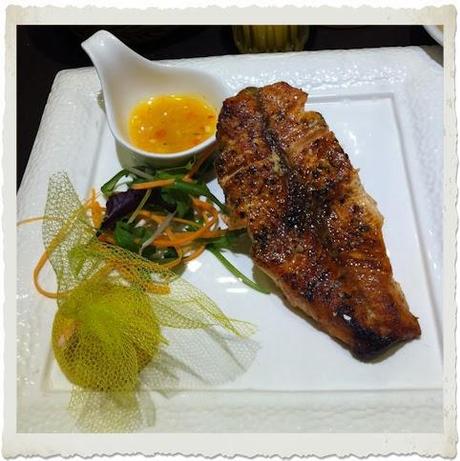 Grilled salmon, one of my favorite dishes.
However, my favorite dinner by far was the one we had at Shawatina, a restaurant with Arabic-style cuisine and a killer view of the bay.
We were met with a cornucopia of starters, each one more delicious than the other, followed by the main dish (again, grilled salmon for me) and then some
mint tea
and
kanafeh
, which is some sort of sweet cheese pastry served drenched in syrup and topped with pistaccio.
Gathering for the evening meal at Shawatina.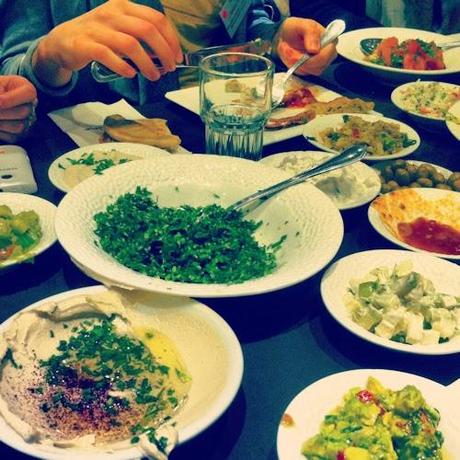 So many delicious starters to choose from... and this was only the beginning of our evening feast!
The People
During my brief experience in the country,
I found Israeli people to be very open, welcoming and relaxed.
They are very direct and straight forward, although they can also be a bit blunt and cheeky sometimes! Also, they are not afraid to approach you and start a conversation even if you are a complete stranger.
 I felt like their attitude towards life was more similar with that of Mexican people than that of Germans. People in Israel are very hard-working, but they also enjoy the fun side of science and don't take things too seriously. I was also told was that, contrary to popular belief, most people in Haifa are not very religious.
Interesting Places, My Feeling Of The City.
With a schedule of around 7 to 8 hours of scientific talks and discussions per day, there was not much time left for leisure and exploring the city. Still,
we visited the Ba'Hai Gardens, comprised of a series of beautifully designed terraces on Mount Carmel.
The gardens contain the Shrine of Báb, being a place of worship for the Ba'Hai. As it was explained to us, the Ba'Hai people believe in spiritual unity independently of religion, and put especial emphasis on equality of nations, races and genders. A big focus of the Ba'Hai philosophy is to be helpful and serve those around you to make their lives better. Although I don't agree with certain aspects of their doctrine (they don't accept homosexual unions, for example), I found the experience to be very interesting and philosophically stimulating.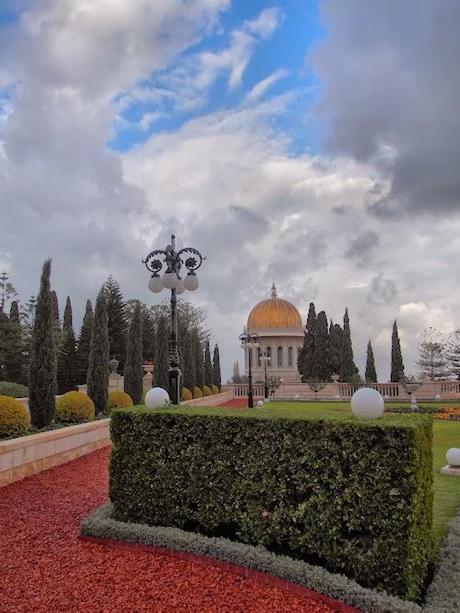 The view from one of the central terraces at the Ba'Hai Gardens.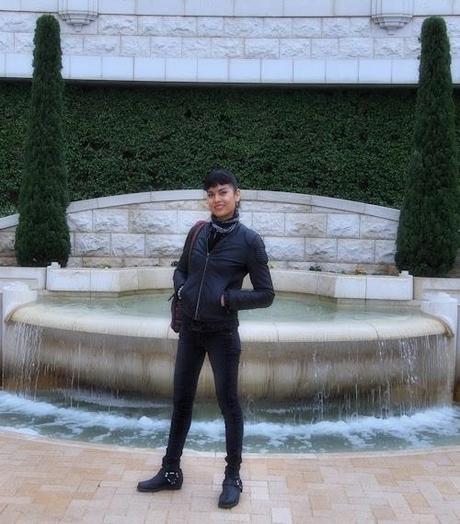 One of my favorite aspects was the running water cascading all the way down from the top terrace, bringing  freshness and a beautiful sound to every step.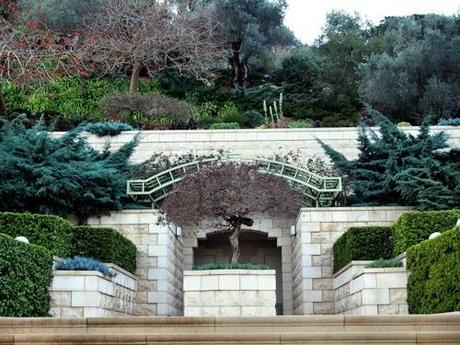 Surreal colors of the carefully chosen vegetation covering the Ba'Hai Gardens.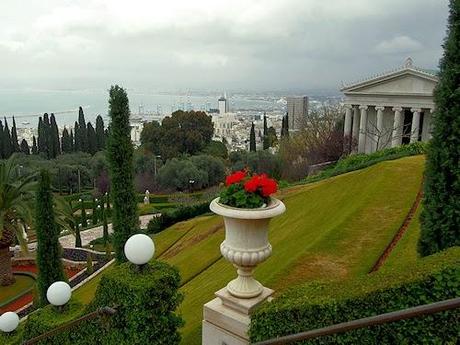 Breathtaking views of the city from the gardens.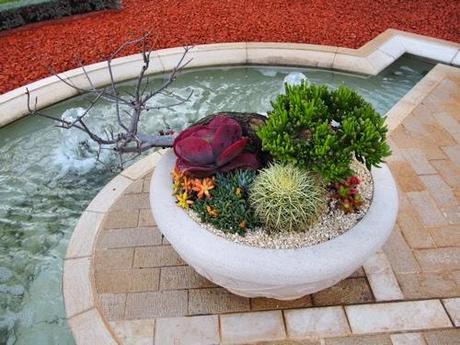 A beautiful , colorful accent: cacti arrangement next to one of the fountains. I would love to replicate it at home!
Another place I got to know was the
Technion City
, constituted by the different buildings that comprise the
Technology and Science Institute along with student residences, recreation areas, libraries, cafés, and small restaurants.
It is very big and safe, with lots of small green areas and small reminders everywhere of its prestige, hosting a wide array of high-profile scientists and Nobel prize winners.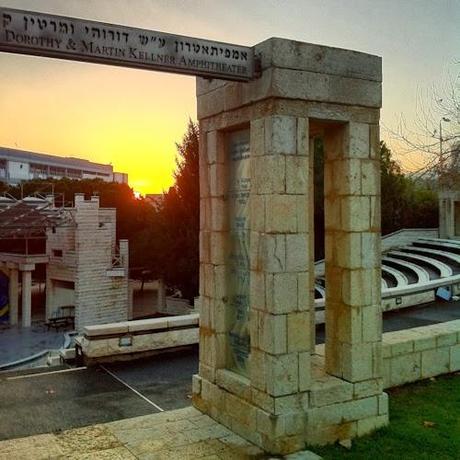 I saw the sunrise many times while I was in Israel. Here, as seen from the Amphiteather at the Technion Campus. This was the spot I chose for my morning yoga stretches.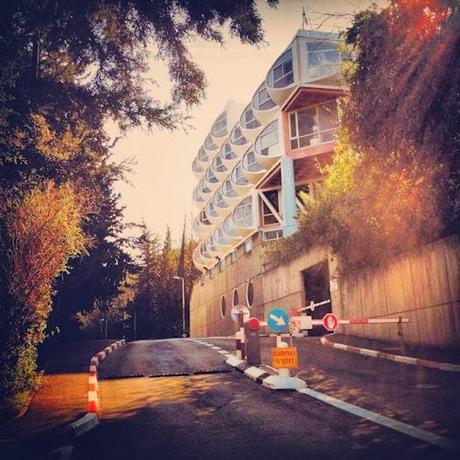 An example of the interesting architecture that one can find in the Technion City Campus.
Haifa was built on very uneven territory and has many attractive viewing points because of that. There are also many protected areas to preserve local nature, which give the city a very fresh and green aspect.
I didn't get to the Bay area and only saw the beach on my way back to Tel Aviv airport, but I am looking forward to explore them in my next visit! Also, there seems to be many good options to eat out and have interesting culinary experiences.
Another big difference with Germany is that there are lots of stray cats roaming around, although surprisingly they all looked rather well-fed and healthy, I must say.
***
Since this post was getting ridiculously long (kudos if you managed to read until this point! Wow!),
I decided to split the chronicle in two... next episode will include the places we visited outside of Haifa, most of them very old places of great cultural significance.
Stay tuned for more, coming soon!
Thank you for reading!