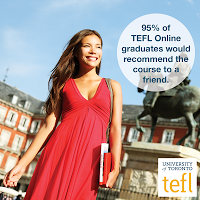 **$50 off until Thursday 31st at midnight (EST)** 
University of Toronto TEFL Online is celebrating that 95% of graduates would recommend the course to a friend or colleague. To celebrate, they are offering $50 off the 120-hour TEFL course to the first 10 people who sign up.
Use the discount coupon 'TEFLTIPS'  
Enroll here.