Is it just me, or is electronic music getting younger? Maybe I'm just getting older– but while that's obviously true, I don't think it quite hits the nail on the head. Daft Punk's grandiose Random Access Memories may be all about harking back to a bygone era, but there will always be kids with computers who aren't so much interested in the past. They're not willing to accept the declaration that a particular genre is dead, simply because they've got so much life left ahead of them.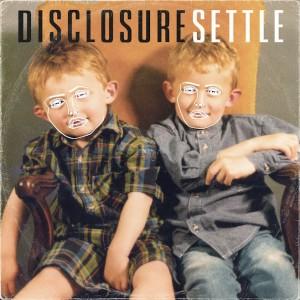 Take Disclosure's totally killer debut, for example. Anticipation for Settle has been building for what feels like years, which would basically put the band's members back in diapers. While you and your brother were busy playing Power Rangers and watching Saturday morning cartoons, Guy and Howard Lawrence were clearly getting shit done. Now, at the ages of just 21 and 18, respectively, they've already built a solid foundation for their future. Born and bred in the '90s, these baby-faced Brits are single-handedly blazing straight through the old and ringing in the new.
Lucky for EDM heads and snooty music critics alike, Disclosure have enormous crossover appeal; Settle is jam-packed with U.K. garage and early house influenced sounds that are still ripe for radio picking. "Latch" is the sort of song that sails through a crowd like a rip current, pulling all who listen helplessly into its powerful center– either dance with the current, or die. Of course, that starting point is Sam Smith, whose velvety vocals teeter masterfully over Disclosure's glittering production. "Latch" is weighty and magnetic, but not in the way that dub step– a genre on which we should really just pull the plug– is dirty, dense and grimy.  Refreshingly, Disclosure's brand of dance music is insanely groove-worthy, but positively brimming with precision and grace.
It's been said before, but the Brothers Lawrence seem to borrow heavily from fellow U.K. duo Basement Jaxx, who also strike an excellent balance between underground house and straight-up pop. "White Noise" featuring AlunaGeorge is playful enough to please the masses (it's already a major hit across the pond). There's also plenty of diversity on Settle, a collection that makes choosing a sole standout damn near impossible. The high-energy bounce of "Stimulation" works nicely against the hazy, heavenly sex appeal of "Defeated No More," highlighted gorgeously by Friendly Fires' frontman Ed MacFarlane's ethereal crooning.
Then there's "Confess To Me," Disclosure's collaboration with Jessie Ware, in case you needed more evidence that these boys are destined for bigger and better things. Well, bigger for sure, but better? Despite Disclosure's youth (or perhaps because of it), that's actually pretty hard to imagine.

4.5 / 5 bars