I've gone gluten-free. I've had something wrong with my muffler for some time now and going GF seems to help.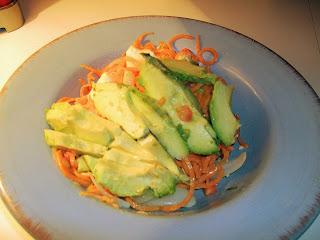 But I really miss pasta and continue to search  for ways to replicate the mouth appeal of the noodle. Luckily for me, there's a vendor at my local farmer's market who sells prepared spiralized yams and sweet potatoes.
Tonight's dinner for one was:
half a small onion, fried until translucent, around 7-8 minutes.
plus some spiralized yams thrown in the pan after steaming for 3 or 4 minutes.
plus 1 tablespoon sheep's cheese
then some crumbled blue cheese
then  1 tablespoon mild  pico de gallo
and half an avocado and some salt.
There, that wasn't so bad. What is bad is my food photography skills. Here are some photos anyway.