Dillington House I think could very well be my favorite local wedding venue, well I say local it's about 30 minutes from me.  The House itself is amazing and historic and as you might expect for one I've illustrated I think as pretty as a picture especially when the sun shines on its ham stone walls.  Then there's the immaculately maintained grounds and gardens complete with water fountains.  Inside it's special to, a real sense of history and unlike a lot of historic venues there's no sense of neglect inside or out.  It also has some of the most comfortable looking chairs for your wedding guests I've ever seen at a wedding venue.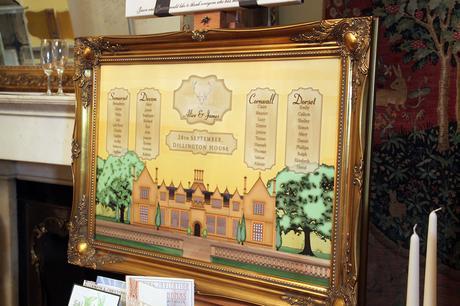 Dillington House framed wedding table plan
The House itself is not alone and there are other buildings onsite including the stable blocks which can also host weddings.  It's a popular conference venue and as such is very professionally run and maintained.  I regularly do a week day wedding fair and at the end of the day it's a pleasure to walk through the grounds and gardens to fetch my car for loading.  It looks beautiful when all lit up.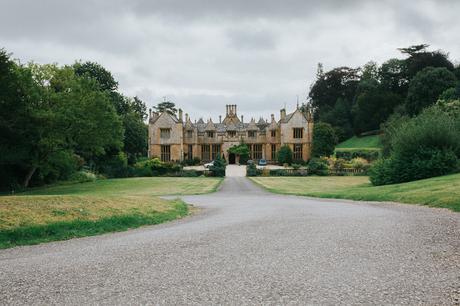 Dillington House Somerset
I follow them on facebook too and the food looks spectacular.  I think the House acts as restaurant and it's definitely on my to do list to check this out.
Like all of my other stationery collections these illustrations can still be tailored to you.  From the color of the sky to the time of year the design reflects and the style of the writing.  Previous clients have also added pets, themselves, personalised design elements and bunting into the designs.  While things like cars and hot air balloons could also be included.  The particular design brings in inspiration from the deer wandering the grounds with a sketched stag head in the central panel.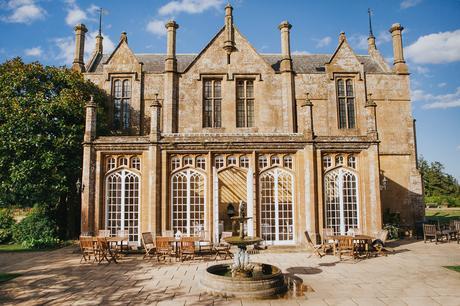 Dillington House Somerset
My venue illustrations can be used on anything from Save the Dates and Invitations to the Day Stationery and Thank You cards.  One of my favorite items is the canvas table plan.  It looks great on the day and makes a brilliant keepsake and as such comes with fixings to be hung and is printed to a fine art reproduction level onto a quality canvas and stretched around quality pine frames.
I think the best invitation type when it comes to the illustrated invites is the large bifold.  A5 in size when folded it has plenty of space to show off the artwork.  It features internal panels glued onto the cover which gives it a real feeling of quality.  I think they make a great impression on your guests.  I can make them to two levels.  The first I use a specialist trade printer to do the printing and cutting.  They're then hand assembled.  This keeps the cost down and offers different choices of card such as those with metallic or pearlescent effects.  The other level is for those who want something really special for their guests.  I print them in house onto a card typically used for fine art reproduction with a printer typically used for that purpose and high quality photographic prints.  Then each piece is individually cut and then they're hand assembled.  Either way guest name printing is included and they're effectively little works of art individually made for each guest.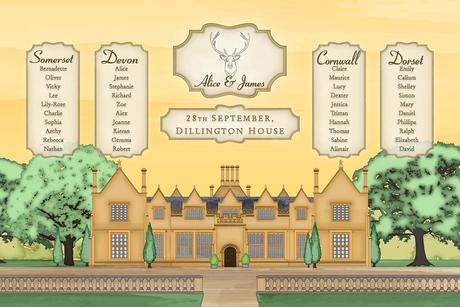 Dillington House illustrated table plan design
Visit the Dillington House page on my website for prices and more information.  http://www.artemisstationery.co.uk/bespoke/wedding_invitation/dillington_house
Or see other venues here http://www.artemisstationery.co.uk/menu/venues
You can visit the Dillington House website here