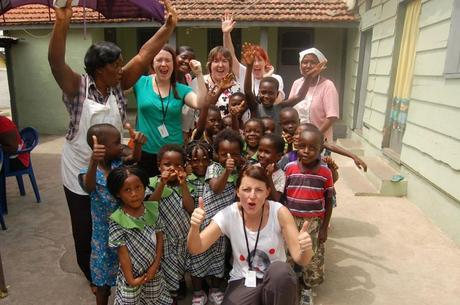 This photo was taken at the Virtuous Women's Bakery! Having helped with the bread and having blown bubbles for the children to chase we stood for photos – everyone was so welcoming it was a real honor be there visiting such an inspiring project !
This is a digital postcard sent from TeamHonk (www.mammasaurus.co.uk; www.aresidence.co.uk; www.mummybarrow.com ) during their travels with Comic Relief in Ghana celebrating #goodwork.
For the past 25 years the money raised through Red Nose Day has been changing the lives of the poorest and most disadvantaged people in the UK and Africa. Let's Keep Up the Good Work. Find out how at rednoseday.com
For other digital postcards please do check out the linky on www.teamhonk.org
I just had to share such amazing news and tell you about 3 amazing mommy bloggers. It is times like this I am proud to be part of such a great community. I would really appreciate it if you could share this on your own Facebook or Twitter account for me.