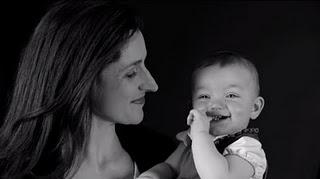 In last couple of months few of our friends were blessed with babies and there are some more who are due in next few months. With the amount of lovely wishes pouring on facebook, while they wait for the baby and on the baby's arrival,it made me wonder whether there is a way to capture all these wonderful wishes.
Coincidentally, during the same time Caroline from TommeeTippee introduced us to their new website appropriately named The Day baby was born. It offers a free service that automatically gathers information about the day your child was born, based on your selections, to create a storybook that you can share with family and friends.Digital journaling is getting very popular these days.Something as special as a new baby is a perfect time to do Digital Journaling. With a new born at home, parents are busy taking care of the new member. Definitely, everybody is excited and the messages keep coming from all the well wishers. With social networks getting so popular and facebook being the most popular one, many of them are on facebook. It would be great if those special moments are captured in an easy and quick way, without spending much time and energy. Digital Journaling comes handy in such situations.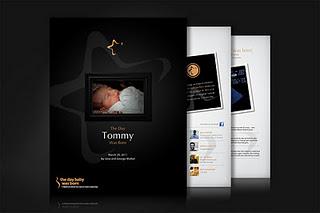 A free web application like The day baby was born is a wonderful way to start the story telling.I must say I was really touched by the sample storybook they have put together.When my daughter was born I did make a small Digital storybook of a different kind but, it definitely didn't capture the facebook messages etc. Like many of us, I still have piles of memories yet to be put in a proper scrapbook someday. And all the parents out there will agree that it gets busier with every passing day.Take advantage of the technology and get going, do give this Digital Journaling a try. In this web application the information is captured from the facebook wall post, news sites and data feeds selected by you. You can choose to make it extra special and more personalized by adding pictures and stories from your pregnancy and delivery. You do have an option to write a letter to your baby which I think is a wonderful concept.When you are ready to share the news-it creates a Personalised pregnancy and Birth Announcement on Facebook-A storybook that you can share online.The Day Baby was born digital story book is a wonderful keepsake for you as a parent and for your child. It is definitely something to kids would love to know - how the world was when they were born and how much they were loved.Since,this is a web application with captures data from Facebook, they do require you to sign up and allow to access basic information from Facebook. They do have strict privacy policy. Before you sign up, make sure you understand that. As far as we could see, it is similar to those of other facebook web applications.And here is the fun part.Caroline Trainor from Tommee Tippee has generously offered to send the giveaway of Explora Sippie Cup to one lucky reader.For participating in the giveaway -comment on this post, make sure you include your email address within your comment if you don't have a blog or website where your address is easy to find.-You can earn one extra entry for liking our online shop Navanka Creations on facebook . -One more entry can be earned by liking our blog on facebook Tell us if you have done this within your comment or as a separate one.
This giveaway is for US resident only.
Giveaway will close at the end of dayMonday, October 31st.
Winner will be selected by

Random.org

Winner will be Announced on this post. The giveaway will be sent to the winner directly by Tommee Tippee
Please note
:
I have not received compensation in any form from Tommee Tippee for doing this review and Giveaway.