Wonder what happens to your hair a month after getting a digi perm?
Well it's been more than a month, actually 6 weeks, after I got mine. My adventure started here in case you haven't read that post yet. Yes, I call it an adventure because I've never had a perm, digital or otherwise, my entire life and this one is a major change for me!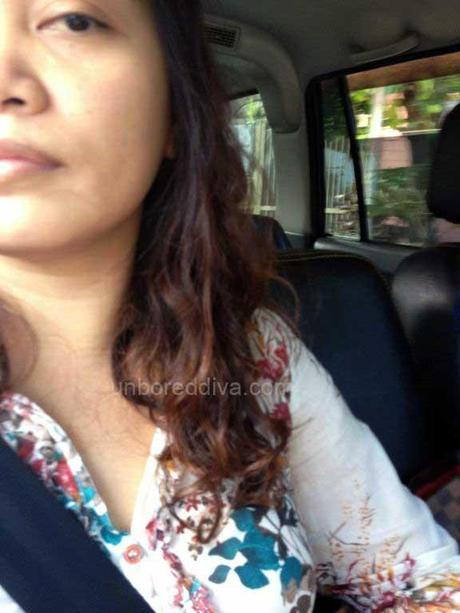 Sorry if the pic is a little blurred
The curls have loosened somewhat now, which is a good thing. I'm just not sure that the layers are okay though because I sometimes find stray curls sticking out from one side of my head like they needed to be tucked somewhere.
I like how the curls stick together in sections after I apply the Kerastase Oleo-curl and my hair had dried. Big 80s, teased hair is the last thing I want mine to look like.
I did notice though that the front part on both sides have lost their curls and are just a little wavy now, which is a little disappointing. I have been religiously sticking to the instructions which are:
- never comb or brush the hair (I only run my fingers through them as I condition. This is to untangle.)
- after shampooing and conditioning, always apply a curl-protecting creme like Kerastase Oleo-curl  (Chad had shown me how to apply it. Put a dollop of the creme on your palm and scrunch your hair with it starting from the tips and working your way up – this way, your curls maintain their shape)
- never use a blow-dryer to heat-dry the hair (I always thoroughly towel-dry my hair without rubbing – just wrap your hair in a towel and gently squeeze. My blow-dryer has a cool setting that I use for a few minutes if I'm in a rush and need to leave the house with my hair dry)
I do miss brushing my hair, and sometimes get the strong urge to pick up a brush. Thankfully (?), I was never the type who liked to constantly brush and make my hair all nice and pretty so it's not a big struggle to get used to not brushing. Also, getting a digi perm is exactly the answer to my laziness. I know girls who spend several minutes in front of the mirror brushing or combing their hair to perfection, until there isn't a stray hair in sight. The image of women in public restrooms spending too much unnecessary time primping and brushing while blocking access to the faucets for the rest of the female population comes to mind. Sorry for getting out of topic – women with no manners is a pet peeve of mine.
I'm guessing 4-5 more months of these curls and my hair will end up with just some wave, which is fine by me. I can always get another digi perm, and by then, my hair will be much longer.
How long did your digi perm last for?